Sign+Digital All Ireland

vehicle wrapping championship.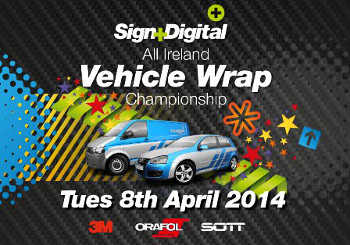 S+D Wrap competitionOn Tuesday the 8th of April, Dublin based Sign+Digital will host the inaugural All Ireland Vehicle Wrap Championship. The event will see 32 companies from around the country compete for the coveted title of Ireland's Best Vehicle Wrapper. If you fancy your wrap skills to be among the best in the business then this is a fantastic opportunity to make your wrap profile sky rocket.
In addition to being named the best vehicle wrapper in the country the winner will represent Ireland at the FESPA Digital World Wrap Masters which takes place in Munich on the 20-23 May. The prize includes flights and accommodation for four nights for two people in Munich during the Wrap Masters as well as a cash prize of €500.
An international judging panel has been carefully selected to judge the competition. On the day, competitors will complete a number of timed challenges and the judges will select the best contestant from each round. Each competitor will compete until he/she is eliminated leaving just one winner who will be announced on the day.
Managing Director of Sign+Digital, Leo Maher said: "This is the first time there has been an event of this kind in Ireland and already we have had a huge response from people looking to enter. The prizes are fantastic and it is a great opportunity to boost your business's profile in the vehicle wrap industry". Leo continued: "Even if you are not involved in vehicle wrapping, everybody is welcome on the day. The event will also mark the opening of our newly expanded premises and we have invited a number of leading brands such as 3M, Orafol, SOTT, Metamark, Aslan and Roland all of whom will be exhibiting on the day. Visitors will be free to move around the event to view the competition and speak to exhibitors as we well as receive a tour of our recently renovated Creative Centre so there is plenty of reason to visit".
The competition is open to all companies involved in the sign making and digital printing and entrants must be representing a company and not themselves. To enter, apply online via the Sign+Digital Facebook page: www.facebook.com/signanddigital or contact Sign+Digital for an application form on 00353 (0) 1 4275240
00353 (0) 1 4275240
You will need to submit a photo of your best vehicle wrap with your application form and the closing date for entries is the close of business on Friday the 7th of March. Entries without a photo will not be considered. Entrants selected to compete in the live competition will be contacted in early March.
For more information visit: www.signanddigital.com

Follow us on Twitter - @DigiPrintNews
Like us on Facebook www.facebook.com/DPNLive - (click the 'LIKED' button/top of page as well)