Ricoh Equitrac office print management and
cost recovery solution provided by Kopikat.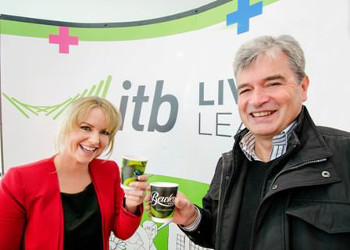 L R Fiona Harrison sales manager Kopikat and Dave Curran IT manager ITBKopikat, a leading Irish provider of business and print equipment, has announced that it has implemented a new print system for the Institute of Technology Blanchardstown (ITB), based in Dublin. The company said that the new solution will see the third level college employ a campus-wide cashless print management system which is both sustainable and cost saving.
The institute currently has 3,000 full time students, 90 academic staff, and 85 administration and management staff. It is the most recent institute of technology in Ireland with a strong focus on innovation and technological advancement throughout its campus.
ITB had a concern about holding cash on campus and so it tendered for an integrated software solution to manage its print system and replace the old printing cards, with a new web-based payment system using smart card technology. Kopikat won the tender and provided a Ricoh Equitrac office print management and cost recovery solution. This is designed to facilitate the use of smart cards for the student population, in addition to helping the college meet sustainability objectives and reduce the costs associated with printing.
Students can now log-on to an online payment service where they can top up their smart cards using a credit or debit card.
This allows students to simply charge their print jobs to the smart card, removing the need for any cash to be held by the college for printing.
The new solution also offers a wide-ranging suite of reporting and audit tools which are helping the IT department to have greater visibility over all photocopies and print activities at the college.
One of the features of the new print system is the "Follow You" mechanism which allows students and academic staff to securely print documents at the device closest to them. Security was at the heart of the decision making process to implement this system, not only to remove cash from the college but also to ensure the confidentiality of documents. Now files cannot be released for printing until the individual swipes their card at a printer. ITB maintains that for academic staff this is particularly beneficial because it ensures the privacy of material such as exam papers or student grades.
The new solution is also helping the college reduce its carbon footprint, through reduced volumes of unwanted or unclaimed prints.
Documents that are abandoned in the print queue are automatically deleted after a certain amount of time. Quotas are also in place for colour copying and a focus on duplex only print settings further supports the college's sustainability goals which has reduced the colleges carbon footprint
A further point which ITB highlighted was that by using the Ricoh Equitrac system, students are also saving money as they are more aware of their printing usage and costs. Instead of printing entire documents, they are now only printing the sections they need which have an additional knock on effect on environmental waste. A bonus to students has been the elimination of long queues at printers during exam time.
According to Dave Curran, IT manager at IT Blanchardstown, "Since implementing the new system, we have seen immediate benefits through reduced cost of printing and a more streamlined management of our entire print network. Kopikat has proven itself to be an incredible partner and has provided us with excellent service.
"We are so pleased with the success of the new cashless print system that we are looking to extend the smart cards to include other services such estate management, the canteen, shop, and potentially time and attendance."
Fiona Harrison, sales manager, Kopikat said, "Third level students print an enormous amount of material for their classes and this can lead to very high costs for the students and the college. The new solution in place at ITB is having a significant effect on their bottom line and reducing the costs of the entire printing process. It is also saving valuable time for students, lecturers and staff, particularly during busy periods such as exams."
Institute of Technology Blanchardstown

For more information visit: www.kopikat.ie

Copyright © 2012, DPNLIVE – All Rights Reserved