Investment made due to demand for shorter run-lengths, multiple label types, and ever-tighter production deadlines.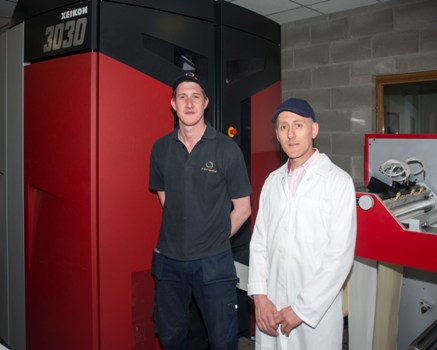 The new Xeikon 3030 machine with Stuart McCord, Xeikon Operator, left, and Keith Hamilton, Managing Director rightXeikon has announced details of the installation of its first digital label press in Northern Ireland. The machine, a Xeikon 3030 label press was purchased by JH Label Solutions, Lurgan.
The company, (James Hamilton Group), were established almost seven years ago in order to produce high quality and fast turnaround labels for the food packaging industry, in which it was already involved. "Clear plastic packaging suddenly got very popular in the FMCG sector and that also that needed labelling," said Keith Hamilton, Managing Director of JH Label Solutions. "We relied on outsourcing labels prior, but eventually realized that there was a need in the market for a competitive, innovative, flexible with speed-to-market label printer. It was decided that we should buy our own UV flexographic press – we ended up with three in a very short time! Two eight-colour and one four-colour Nilpeter machines, as demand for our label output grew rapidly and as beverage customers also wanted our high quality and speed-to-market labels."
"Digital is already beginning to follow a similar path. We recognised the trend in shorter run-lengths, multiple label types, and ever-tighter production deadlines. We had to react to our market and our customers' market demands if we were to still lead the way in innovation, quality and speed. Label printing technology is moving very quickly and we needed to be at the forefront of it. We went to the Xeikon Café Exhibition towards the end of 2014, and they were able to show us the latest in digital printing technology."
The Xeikon 3030 digital label press and offline Xeikon Dcoat finishing unit are now in production at the company's Lurgan plant and Hamilton is already surprised at the speed that the project is moving forward at: "The press was only up-and-running at beginning of February and already word is getting around and the machine is very busy," he added.
Xeikon 3030 is the narrow web entry-level press of the Xeikon 3000 Series. It is designed for label converters looking to make their first move into digital production. In addition to prime label applications, the press is also suitable for producing promotional and transfer applications.
The Xeikon 3030 has a variable web width ranging from 200 mm (7.9 inches) up to 330 mm (13 inches). It runs at a top speed of 9.6 m/min (31.5 ft/min) and can handle production volumes of up to 190 m2/hour (294.5 MSI/hour). Based on customer requirements, the Xeikon 3030 can be field-upgraded to one of the higher speed and / or wider press models of the Xeikon 3000 Series.
The Xeikon Dcoat post-press unit that was also installed provides for laminating, varnishing, die-cutting, and stripping. The unit is being used in an offline configuration.
"As is our style, we wanted to be at the forefront of the digital label business in Northern Ireland. We did major market research on digital machines around Europe and analysed their advantages and disadvantages and Xeikon stood out as the supplier of choice – they understand our ethos of innovation, technology, quality and speed-to-market solutions. We did see the Xeikon machines installed at some of their current customers, and they were very honest with us about the benefits of going digital, all of which helped us with our decision," continued Hamilton.
Commenting about the machine installation, Filip Weymans, Director Segment Marketing and Business Development Labels and Packaging at Xeikon, said: "It is great to get our first machine into Northern Ireland, and to have been able to convince Keith and the team at JH Label Solutions that Xeikon is the perfect partner for them. Similar to what happened when they moved into flexographic label printing, I am sure that it will not be long before they are looking for a second Xeikon to support their digital move!"
For further information on the company visit http://www.jhlabelsolutions.com/
For more information, visit www.xeikon.com.
You can Tweet, Like us on Facebook, Share, Google+, Pinit, print and email from the top of this article.
Copyright © 2015, DPNLIVE – All Rights Reserved.