McGowans launches
new logo and brand.
McGowans Logo PinkIrish based McGowans Print announced on 5 January 2015 the launch of its new logo and brand, a development it said represents an exciting era for the company, which has locations in both Dublin and Belfast.
For the past few months, the company, founded by Mal McGowan in 1989, and which is today considered to be the leading digital printer in Ireland employing 100 people, has been on a major rebrand journey.
It strongly feels the result is a brand that reflects energy, passion and commitment to delivering the very best in digital printing and print innovation. The new tagline, "making ideas happen" along with a bright new logo have been designed to symbolise the commitment McGowans has to supersede the expectations of its customers. Having won the coveted "Digital Printer of the Year Award" at the Irish Print Awards last November, the company maintain that this achievement solidifies its dedication to bringing the very best in digital print innovation to all its customers' product.
"The new logo for the company reflects the businesses commitment to innovate and represents the need for McGowans to evolve, along with our customers. We are dedicated to delivering a best in class service within the digital print arena, and are confident that together with the technology we have in Dublin and Belfast, married with a passion for print – we promise we will make ideas happen for our customers and the new logo reflects this drive to deliver the best, every time", said Sue O'Grady, Marketing Manager, McGowans Print.
"You'll also notice that we haven't limited ourselves to just one colour, so you'll see our different brand palette (orange, pink, green and blue) executed across a range of different communication mediums. Displaying such vibrancy is reflective of our brand personality and our passion to be creative and to deliver the best, every time" continued O'Grady.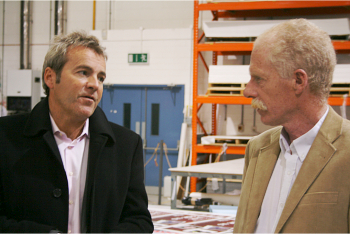 Mal McGowan, on the left, talking to Martin O'Driscoll from DPNliveFor the past twenty five years, the McGowans name has been synonymous with the development of the digital print industry in Ireland. First to market not only in Ireland but in Europe with the latest digital technologies, it now operate over twenty digital printing presses, working across a vast number of substrates in large and small format, with production runs from one to many thousand. From design, business print services, retail POS, cardboard engineering, outdoor media, event signage and direct mail capability to signage installation, McGowans ethos is that planning and print execution are at the heart of its business.
The company is also acutely aware that what it does now affects all our futures; so in 2009 it sought and received accreditation from the FSC (Forest Stewardship Council). This means the bulk of McGowans paper is sourced in a traceable manner from managed sustainable forests.
For further information or to discuss any business opportunities, please contact Conor McDonald @ 00353 (0) 86 820 1958 or email This email address is being protected from spambots. You need JavaScript enabled to view it. for a quote.
You can Tweet, Like us on Facebook, Share, Google+, Pinit, print and email from the top of this article.
Copyright © 2015, DPNLIVE – All Rights Reserved.