Mimaki UJV55-320 is the machine of choice for Signscript Ltd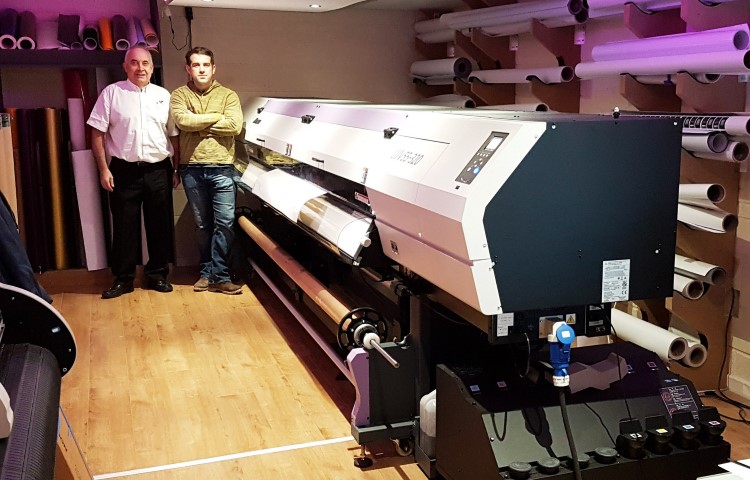 GPMI Reprocentre's Bill Forde (left) with Sign Script's Brendan Nugent (right) with the newly installed Mimaki UJV55-320.
After spending 15 years building its reputation as a go-to signage and grand format print company, with Mimaki printers at its heart, Carrickfergus-based Signscript Ltd knew that the new Mimaki UJV55-320 LED UV roll-fed printer would give them the long term quality needed to boost production capacity for the retail and exhibition industries.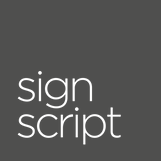 Signscript can be found on Meadowbank Road in Carrickfergus.  Carrickferfus is a lovely little town just north of Belfast in Northern Ireland on the shore of Belfast Lough.  While Carrickfergus's history goes back about 840 years, Signscript can go back about 20 years.  Over the years, Signscrip has extended its product range to include outdoor and indoor banners, pop-up banners, pop-up stands,pavement signs, window graphics, cut out letters, signage and wallpaper.  Their client base covers the 32 counties of Ireland.
Brendan Nugent is Signscript's Managing Director.  He said
"We invested in the new 3.2m UV Mimaki printer because we knew it would give us quality, performance and reliability.  After 15 years of using Mimaki printers they have proven to be the best performing printers in the market, with year on year advancement in production speeds."
Signscript's motto is 'Launching your ideas to new heights' and they've even produced a marriage proposal to hang off the back of a plane along with a whole host of signage, banners and other digital print along the way. The investment in the Mimaki UJV55-320 will serve to strengthen that promise, with particular emphasis on an increase in production for retail and exhibition graphics.
Brendan explained
"Having the capacity to print up to 3.2m wide is essential for winning bigger contracts in the retail PoS and exhibition sectors.  UV inks give vibrant colours and high blockout which is perfect for customers looking for backlit signage. The UJV55 is terrific value for money and we get low running costs thanks to LED UV curing lamps and economical UV inks."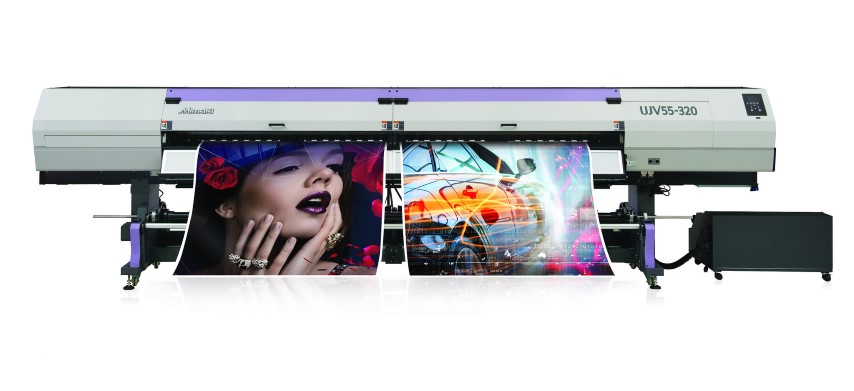 The Mimaki UJV55-320 3.2m roll-to-roll LED UV printer.The Mimaki UJV55-320 was released in April 2016 and has become a very popular product due to its keen price point and unique set of features. The provision of an inline, post-print LED lightbox allows print quality of backlit signage to be checked during the production run, simulating its installed look and reducing waste and time. The UJV55-320 also features twin roll printing capability, enabling printing on two separate rolls of the same media for simultaneous printing of two different jobs.
Signscript made the investment through specialist Mimaki reseller GPMI Reprocentre who have installed a flurry of UJV55 printers throughout Ireland. "We started providing Signscript with service support and inks five years ago and we've seen them make terrific progress," says Bill Forde, General Manager for GPMI Reprocentre in Northern Ireland. "Their investment in a Mimaki UJV55-320 will give them the tools and production capacity to make a big impact on sectors such as retail and exhibitions and take the company to the next level."
Further information about Signscript Ltd can be found on its websites www.signscript.eu and www.signscript.ie
For GPMI Reprocentre visit www.reprocentre.ie.
For full details of all Mimaki's products for the UK and Ireland visit the company's UK and Irish distributor, Hybrid Services' website www.hybridservices.co.uk.