Theme is: Discover. Learn. Be Inspired.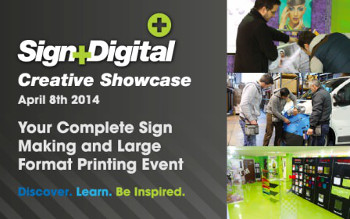 Creative ShowcaseThe countdown is officially on to the first ever All Ireland Vehicle Wrapping Championship being hosted by Dublin based supplier, Sign+Digital, on Tuesday the 8th of April. The event will see 32 companies from every corner of Ireland compete for the title of Ireland's best vehicle wrapper. The winner will go on to represent Ireland at the FESPA Digital World Masters in Munich in May, making 2014, the first year there will be a representative from this country in the competition.
Sign+Digital, a Roland Authorised Dealer, based in Tallaght, supply a wide range of printing equipment and consumables to the sign making and large format printing industry. Stocking leading brands such as 3M, Orafol, Metamark and R-Tape, its Creative Centre is open to the trade Monday to Friday, 8.30-17.00.
Speaking about the contest, Managing Director of Sign+Digital, Leo Maher said: "This is the first time there has been an event of this kind in Ireland. We initially asked customers who were interested in competing to submit a photo of a vehicle wrap they had completed. The response was overwhelming and we were inundated with photos from competition hopefuls." Leo continued: "There are lots of fantastic vehicle wrappers in Ireland but there is currently no competition or body in place to acknowledge their skill. We are really delighted that the winner will take part in the FESPA Digital World Wrap Masters. This is a real acknowledgement that Irish vehicle wrappers can compete with the best in the business."
The All Ireland Vehicle Wrap Championship live final will take place at the Sign+Digital Creative Showcase on Tuesday the 8th of April 2014 and the event will be hosted at the newly expanded Sign+Digital Creative Centre in Tallaght, Dublin.24. The Sign+Digital Creative Showcase will bring together a number of leading brands who will be exhibiting on the day, including Roland, 3M, Orafol, Metamark, R-Tape and many more. There will also be demonstrations on all the latest innovations in wide format digital printing equipment and visitors will be free to visit the Creative Centre which brings the world of sign making and digital printing to life so they can see exactly how to grow and expand their business.
Leo added: "It was recently announced that Print Ireland would not go ahead. This is the 2nd year in a row that the event has been cancelled and as a result Irish customers have being travelling abroad in order to keep up to date with developments in the market. As a result we saw the opportunity to put together an industry wide event for our Irish customers. The theme of the event is 'Discover. Learn. Be Inspired'. A huge effort has gone into creating an event that will cater to every visitor's needs and we really do believe there is something for everyone at the Creative Showcase."
The Sign+Digital Creative Showcase is open to the trade and is free to attend. To receive an entry ticket to the event, email This email address is being protected from spambots. You need JavaScript enabled to view it." mce_' + path + '\'' + prefix + ':' + addy47942 + '\'>'+addy_text47942+'<\/a>'; //--> or call 00353 (0) 1 427 5240
00353 (0) 1 427 5240
For more information visit: www.signanddigital.com

Courtesy of Sign + Digital (edited)
Follow us on Twitter - @DigiPrintNews
Like us on Facebook www.facebook.com/DPNLive - (click the 'LIKED' button/top of page as well)