Expansion at company to create 10 new jobs.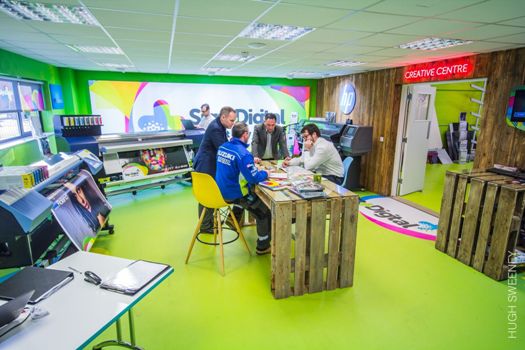 See the latest Large Format Digital Printers from Roland and HP in the new Creative Centre Dublin headquartered Sign+Digital Materials Limited has just opened a new interactive creative centre in Antrim, Northern Ireland with the prospect of 10 new jobs being created as a result. This expansion comes on the back of significant growth in Ireland where the company is now a leading supplier of signage materials to sign makers and large format digital printers.
The new creative centre has been kitted out with the latest technology in large format printing as well as an Aladdin's cave of creative ideas for sign makers. Like its Dublin centre, it has been designed to help them win more business and also to develop their skills in marketing their businesses to consumers. The company currently employs three staff in Northern Ireland and intends to grow that workforce by a further ten to service Northern Ireland and the UK through.
Ole "Sunshine" Solskin, the leading expert in vehicle wrapping and window tint said
"I have travelled the world and seen lots of companies supplying materials to the signage industry, but what Sign + Materials Limited have done here in this showroom to assist sign makers is out of this world".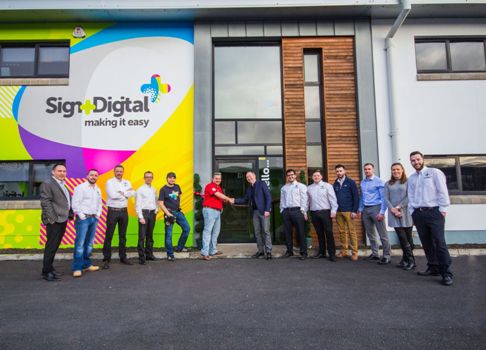 The Official Opening of the new Sign and Digital Creative Centre in Antrim At the opening, Leo Maher, Managing Director of Sign + Digital Materials commented,
"I am proud to be opening our second creative centre in Antrim and bringing our knowledge and range to sign makers across Northern Ireland and Scotland. Building on our existing workforce of twenty eight, we see ourselves growing by another ten staff in the coming two years".
Those interested in taking a tour of the creative centre should log onto www.signanddigital.co.uk or contact Sign+Digital directly at This email address is being protected from spambots. You need JavaScript enabled to view it.
You can Tweet, Like us on Facebook, Share, Google+, Pinit, print and email from the top of this article.