Ricoh Ireland and ReCreate partner

to promote creativity, sustainability and cost savings.
---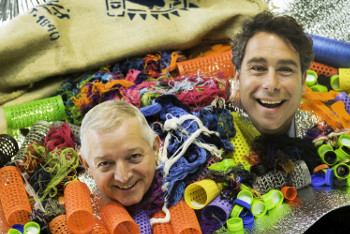 Pictured (l-R) Gary Hopwood Ricoh Ireland and Dara Connolly ReCreate Ricoh Ireland has just announced a new partnership with ReCreate, a national social enterprise that collects unwanted, end of line and surplus items from businesses in Ireland and reuses them as arts materials which it markets from its Creative Resource Centre in Ballymount, Dublin.
---
---
ReCreate is a not for profit membership organisation and anyone can join. The company's ethos is to encourage children to engage in open-ended play through creating art from end of line, surplus or excess materials from businesses. In doing so, it aims to increase their creativity, curiosity and lateral thinking, while simultaneously raising awareness of sustainability and reuse.
Ricoh said that the holistic philosophy of the project means that there are benefits for everyone; schools save money on art materials, businesses reduce costs on disposal of materials, landfill is reduced, while at the same time stimulating creativeness and resourcefulness in young minds.
Since opening its doors in November 2013, more than 15,000 children, parents and teachers have participated in art projects using materials from ReCreate, either at their schools, youth centres or onsite in ReCreate's Creative Resource Centre called the 'Warehouse of Wonders'. Ricoh added that in its first year, ReCreate estimates it will save 150 tonnes of material from being thrown into landfill by Irish businesses.
Ricoh plans to work closely with ReCreate through this new partnership, particularly by increasing the quantity and quality of re-usable materials that can be used by children for art projects. This includes cardboard, paper, posters, cylinders, spools, fabrics, mounting board and a whole range of other materials. The company confirmed that it will divert surplus materials from its own production print facility in Park West, Dublin and will also encourage its partner network and customer base to do the same.
In addition, Ricoh will be donating one of its Eco-line multi-functional print devices to ReCreate and will also take on the production and printing of promotional and educational collateral for ReCreate from its production print facility.
This new partnership takes place against the backdrop of Ricoh's Global Eco Action Month which aims at improving environmental awareness and understanding and engaging in environmental activities. The company has set aggressive long term targets to cut CO2 emissions by 87.5 per cent by 2050. Tied in to this, its approach to lifecycle management will consider all aspects of product and business activities, which it believes in turn will minimises resource use and maximises the reuse, recycle and reduction of raw materials.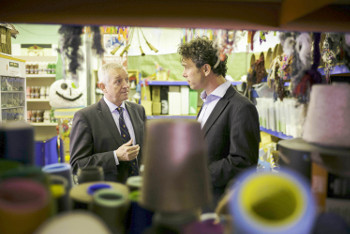 Pictured (l-R) Gary Hopwood Ricoh Ireland and Dara Connolly ReCreate in thoughtful conversation Gary Hopwood, general manager, Ricoh Ireland, said, "We have been hugely impressed by ReCreate's passion and ability to make such a positive creative impact on school children in Ireland. At Ricoh, we also have a zero waste to landfill policy so this perfectly complements our requirements. We are delighted that some of our surplus materials can now also be used for educational purposes. We would encourage all Irish businesses to look at engaging with ReCreate, or similar initiatives, so that we're all working together to create a more sustainable future for younger generations."
Dara Connolly, executive director, ReCreate, added, "Our mission is to not only further the educational experience and imaginations of children but also to promote environmental awareness and the reuse of materials. Ricoh is a fantastic partner for us because they share our beliefs about the environment and about education.
"We're committed to growing ReCreate significantly in the coming years by expanding our membership to pre-schools, schools and all kinds of community groups and individuals. We aim to influence everybody from pre-schoolers to university students and everybody in between to engage in creative re-use. We hope that more forward thinking organisations like Ricoh will join us on our exciting mission."
Ricoh's environmental credentials have seen it being named in many credible sustainability global indexes such as the Global 100 most sustainable corporations in the world and the FTSE4Good index series. In Ireland, Ricoh has held certification for ISO 14001 for effective environmental management since 2001.
For further information, please visit www.ricoh.ie
Information about ReCreate can be found at http://recreate.ie/
Follow us on Twitter - @DigiPrintNews
Like us on Facebook www.facebook.com/DPNLive - (click the 'LIKED' button/top of page as well)
Copyright © 2014, DPNLIVE – All Rights Reserved.