GP Digital celebrates '10 years in print'.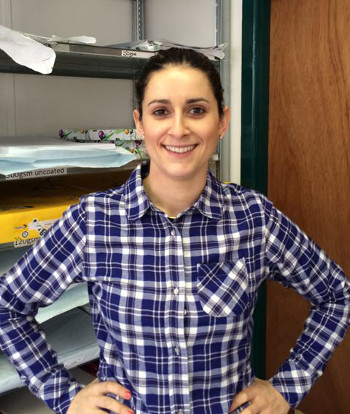 Nyssan Deeb When Nyssan Deeb, Managing Director of GP Digital was asked, what is the most important thing to you regarding GP Digital, her answer epitomised what has made this lady and her company survive '10 years in print'.
---
"Making sure we don't neglect any area of the business, customer service, quality, staff, even our office, so everything I suppose", she answered.
GP Digital is a family business, but with a twist. To-day it's run by three sisters that are very close in age, therefore sharing the same goals. In essence, they each bring different attributes to the table.
The origins of the company span back to when Nyssan, her sister Seren and Pierce Ivory worked for her father's company, Techni Graphoplan, a repro house.
This ceased trading in 2004. However, Nyssan, Seren and Pierce decided to take over the lease and GP Digital was born.
The trio started business with an inherited Agfa Chromapress which as Pierce explained was old.
"It was kind of on its last legs and we were struggling to get work out of it for some of our original customers who had repro needs and some digital print work, "he said.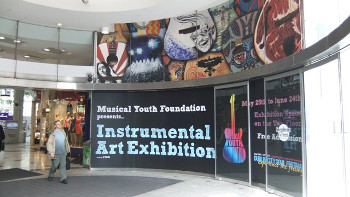 GP printed indoor graphics at Stephens Green Centre In the early stages GP Digital's main business was CD booklets, business cards, letterheads, all small format work.
"We were really struggling," continued Pierce, "and after six months there was a conversation about whether we should stop. However we secured one big job and that just kicked us on."
GP Digital decided to purchase a new machine, a Xerox 3535, full colour digital small format printer. Its client base then was local businesses and a few graphic designers.
Time moved on and the company's next move was to install a HP 5500 for poster work followed by a solvent machine, a HP 8000 which proved to be the catalyst for expanding its large format and outdoor work.
"An example of one of our projects at the time was for Peter Mark, one of Ireland's best known hairdressing brand's, where GP Digital did three or four installations which involved wall graphics, wallpaper, ceiling graphics etc," said Pierce. "So we were really getting into large format, although the small format end was also growing because there was a lot of brochure work coming on line then."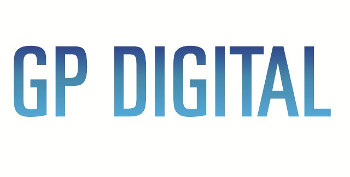 GP Digital logo Pierce describes Nyssan as very strong."When she has an idea she will do everything to follow it through," he said." She's quite progressive and understands the need for keeping up to date with technology and also about marketing, particularly digitally marketing the product. Nyssan is a doer. She sets her sights on a particular goal and chases it until she gets it. Everything she does is for the good of the company."
Her sister Seren's focus comes from a customer service direction. "She has a great rapport with all of GP's clients and they engage with her," added Pierce. "Likewise, Kyma is the technical one. She is a problem solver. Her knowledge of technology keeps GP Digital on its toes."
When the downturn hit a few years ago, GP digital worked effectively with a skeleton staff and Nyssan stepped up to the bar by becoming more involved in production while still fulfilling her management role.
"All three sisters, Nyssan, Seren and Kyma have a very strong work ethic," Pierce pointed out. "I think they inherited this from their father."
What makes GP Digital Different!
"We understand from our own experience of building a company what our customer's struggles and challenges are, so it allows us to be sympathetic to their needs," commented Pierce. "Also because there are three sisters involved, it's more than a business, it's a way of life for them."
GP Digital's production armoury these days is a bit more substantial than in 2004.
Print Equipment
Konica Develop 6000
Xerox Docu Color 250
HP Designjet Z6200
HP Designjet L25500 (latex)
Finishing Equipment
Docucreaser
Ideal Guillotine
Nagel - Bookletmaker.
As you can see, the three girls all offer something different. They are sisters but when it comes to GP Digital, they are also business partners. All three have the ability to leave the sibling dynamic at the door if needed. Because they are sisters the business means much more to them. They each rely on it and each other. The business is never far from the conversation when they are at home. One of the most important parts of their success is that they are friends and they always have each other's backs. If a business were to be seen as a triangle they would form the perfect one.
The company's market these days is Graphic Designers, Creative's, Media, Music, Construction, Interior Fit Out Companies, PR and Communication and Marketing, IT and Hospitality etc.
A last word from Nyssan sums up her philosophy and that of her sisters.
How do you manage to keep a balance between your work and personal life?
"Like everyone else, it's tough for sure. Having family support and routines in place is the key!"
Seems like the perfect triangle for '10 Years in Print!'
http://www.gpdigital.ie/
You can Tweet, Like us on Facebook, Share, Google+, Pinit, print and email from the top of this article.
Copyright © 2014, DPNLIVE – All Rights Reserved.