Ricoh exhibition looks at the

five global technology challenges

that are driving businesses to-day.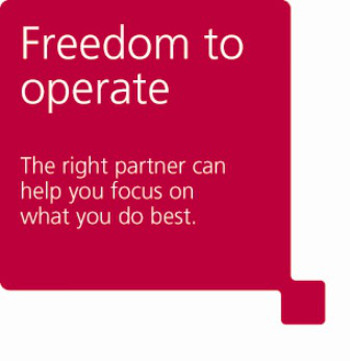 Freedom to operate logoIn the inner sanctum of the magnificent Royal Hospital Kilmainham, the Ricoh 'Freedom to Operate' exhibition rolled into Dublin on the 19th-20th November. The event focused on the fact that although technology makes things simple, more data will be created in 2013 than in the past 5,000 years. The trouble with this scenario is how organizations can handle this.
Ricoh zoomed in on five business sectors and used three key themes to explain and demonstrate how this impacts on businesses to-day. The company pointed out that workers are spending on average seven hours a week looking for the information they need to be able to do their job. So, in Ricoh's view, what if organisations could give their people that one day a week back!
DPNlive decided to visit the event and talk to some of the people involved. We wanted to see what Ricoh had to offer as solutions to this undoubtedly rollercoaster ride that's occurring, not just in business, but also in our own personal lives.
The exhibition and presentations concentrated on three specific zones.
Anytime, Anywhere
Parallel Paths
Business as Unusual
Chas Moloney, marketing director for Ricoh Ireland and UK gave us an initial insight into the event.
"The spirit of this exhibition is how to help organizations deal with the five global technology challenges that are driving businesses" he explained. "So if you look at clouds, mobility, large data, social media, security, these are all impacting our businesses. Now some organizations are embracing them and harnessing the power of those mega trends, others are drowning in a sea of data. So 'freedom to operate' is looking at these five mega trends, looking at the challenges they face, coming up with not all the solutions, but some ideas to deal with this around in sourcing, outsourcing of certain non-core functions, looking at how we can collaborate and integrate workers across multiple areas to ensure the mobility side works, and ensure that their document and print processes are effectively saving money. Ultimately it's to harness those five mega trends and add value to your business."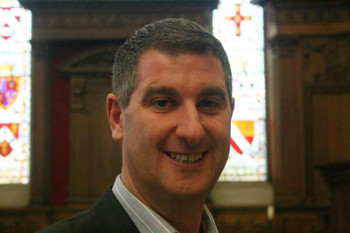 Chas Moloney In the plush rooms of the Royal Hospital Kilmainham, Ricoh set up three individual zones to present its view on how it can address these mega trends using speakers and product demonstrations.
Robert Butterfield who works for Ricoh's digital and interactive solutions team explained some more about his zone at the show.
"Anytime, Anywhere which I present, really was our chance to introduce the fact that Ricoh can deliver much more than just print, such as IT services, but more importantly, to showcase our new devices and services, such as video conferencing tools", he said. " This gave us a chance to talk to our customers about the new world of work and how we can help them adapt from their standard way of working to the newer way of working, more efficient, more cost effective and of course, a better environmental footprint."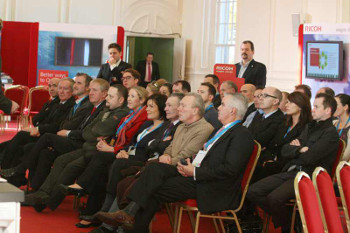 Visitors at one of the zone presentations Butterfield also pointed out that many people, particularly in Ireland were unaware that Ricoh was very much involved in IT.
"The company has been involved in the IT services side for 15 years now," he commented. "Actually we manage some very big market name customers throughout the UK and the world. Ricoh is a significant gold partner with Microsoft and have accreditations around their cloud services, device management etc. So these sessions were a great opportunity to let visitors know about this and also to demonstrate how they can reduce the time required to work on documents with other people who may be located in different countries in order to get that finished document to clients such as solicitors, architects or even professional printers. It really is all to do with reducing the time which is wasted in coming together, face to face just to work on a printed out piece of paper."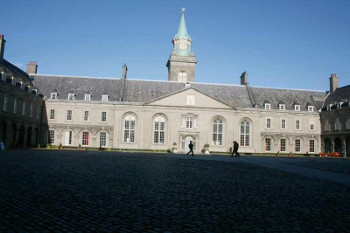 The Royal Hospital Kilmainham Products demonstrated included, Interactive whiteboard D5500, P3000 Unified communications system, Ultra Short throw projector 4130N and Desk edge projectors 4240N.
The second Zone was named Parallel Paths which concentrated on solutions for 'Business Critical Document Processes'.
Jonathan Reader, Marketing Communications Project Manager at Ricoh UK & Ireland talked a little about this.
"This is all about getting documents into the system from the start in a smart form, not just simply scanning, but scanning in a way that can be read and how the information in that document can be used", he explained. "An invoice is a good example of a critical process. A unique identifier is given to it so that it goes to the relevant section and so on. The reason Parallel Paths was given the name was to demonstrate the difference between managing those processes yourself in-house or whether you choose to outsource."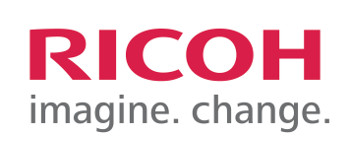 ricoh Also on show in this zone was the Ricoh PRO C5100S, a light production printer that offers high colour production values without the cost. Ricoh highlighted the fact that it employs innovative technologies, which are used in Ricoh's high-end printers, to help reduce operation costs and boost performance. It also offers broad paper handling including heavy and coated media as well as textured finishes. The printer boasts a small footprint and is aimed at corporate print rooms or commercial printer's where space is at a premium and the requirement is for high quality light print runs."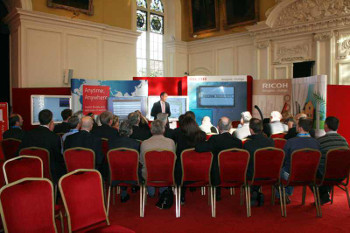 Robert Butterfield presenting 'Anytime, Anywhere'On show in this zone was, Touchless Document Management, Output Manager, Marcoms Central and the Pro C5100.
The third zone, aptly named 'Business as Unusual' concentrated on office printing, managing documents and security.
Again, Reader gave an insight into this and said, "This zone really is designed about how you do your office printing and managing your documents in an effective way. Cloud printing is one example, MFP's another, printing from iPad's, supporting mobile workers which is a key theme of Freedom to Operate, all of these are being demonstrated in this third theatre."
Products displayed here included, MPC3502, 5503, 4503 and 3003 MFP's, Equitrac, Streamline NX and an SPC3510SF.
Ricoh uses two sales channels in Ireland, direct and indirect, and feels both are equally important. The company's Irish base is located in Glasnevin, Dublin which has a back office function to offer support and sales. It then has a very important and strategic channel route to market using resellers, the largest being Bizquip based in Sandyford, south Dublin, with other resellers in Dublin, as well as Cork and Galway.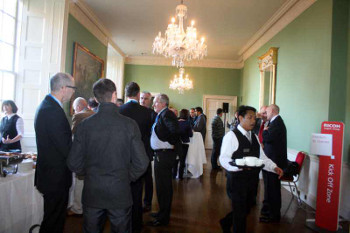 Freedom To Operate VisitorsMoloney summed up 'Freedom to Operate' from his perspective and what the event hoped to achieve.
"What we are saying is what we want to do because every organization is different. We need to work with people and look at their people processes and the technology that's being used because quite often people look at these challenges from a technology perspective only. What companies don't often do is look at the implications of the people. Is there a change management process in place so that these people understand why these changes are being undertaken? So if you introduce technology and don't effectively communicate, train, and educate, then the technology investment will not reap the ROI.
"So what we are trying to show here is how you can link people, processes and technology together as one. You can't do them individually, or if you do, you risk more chance of failure or certainly more chance of not generating the return on investment you made in the technology in the first place. Bringing the three together will ensure you deliver the goals that you set out with in the first place, whether that be print, collaboration, IT services, document management, whatever remit it might be."
Ricoh now believes that in Ireland, with the work it has done and the success achieved so far, the company is now more associated with managed document services than with purely print.
The Royal Hospital Kilmainham was a superb venue to allow both customers and resellers hear and see Ricoh's vision of 'Freedom to Operate'.
DPNlive would like to take this opportunity to thank both Ricoh and Barry Chapman from Comit Communications & Marketing for all their help in arranging our visit.
Follow us on Twitter - @DigiPrintNews
Like us on Facebook www.facebook.com/DPNLive - (click the 'LIKED' button/top of page as well)
Copyright © 2013, DPNLIVE – All Rights Reserved.