Select Digital Print Group saves the day for Facebook.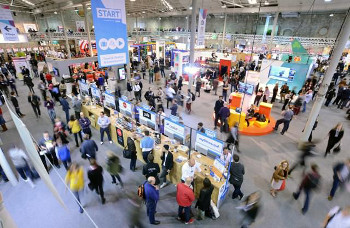 Main Hall in full swing, graphics printed on Anapurna Flat Bed PrinterIt's been dubbed "the best technology conference on the planet" – and this year's Dublin Web Summit, held at the RDS in Dublin, 4 November 2014 - Thursday 6 November 2014 didn't disappoint the thousands who attended, garnished particularly by the superb signage and graphics supplied by Dublin based Select Digital Print Group.
Add to this a request from Facebook for a hand and you have all the hallmarks of 'pain, sweat and tears'.
In just five years the event has grown from having just 400 attendees to being the largest tech conference of its kind in Europe. It's 'now nicknamed "Davos for geeks," and this year saw speakers from Google, Amazon, Cisco, Twitter and Apple, among others, as well as celebrity faces such as U2 frontman Bono, pro-skateboarder Tony Hawk and actress Eva Longoria took part, with a record attendance of over 20,000 people.
The conference is all about start-ups and entrepreneurs seeking out business opportunities.
But to do that required some 'Razzle and Dazz', which is where Select Digital enters the frame.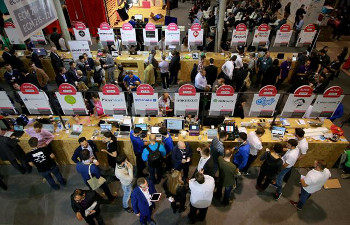 Main exhibitor's hall Established in 2003 by experienced print and design professional Tara Wilson, the company's ethos has always been providing its clients with a high quality product that they can trust at an ethical cost. Staffed by a young, creative intelligent staff who work closely with companies to bring their concepts and ideas to life, Select Digital strongly believes in going the 'extra mile' to ensure clients projects come to fruition, on time and on budget. It's also a multi award-winning Irish print house, with accolades including both the 2012, 2011 and 2010 Large Format Digital Print Awards, as well as the 2004, 2005 and 2006 Irish Print Awards.
DPNlive decided to look deeper into this woman's passion for all things print, and take the Web Summit as an example.
Tara started off with an overview of the event and her personal feelings.
"The Web Summit is over for another year, "she said. " The three day event hosted 22,000+ people from 100+ countries around the globe. It was a tremendous success for the organisers, tech community in Ireland, the economy and of course Select Digital Print who for the fourth year worked tirelessly and into the night alongside the Web Summit creative team to ensure exhibitors, CEO's and attendees had everything they needed to enjoy the event as a whole. Anyone who was in Dublin City over that week, couldn't but have noticed the buzz, the people, and the packed bars and restaurants, and all those smiling visitor's faces!"
Tara added that this year was a bit nostalgic for Select Digital and a huge milestone.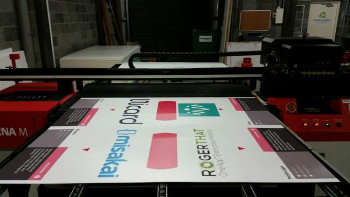 Exhibitors Display Board being printed at Select Digital Print"We installed an Agfa Annapurna flat Bed Printer, supplied from Reprocentre, in the weeks leading up to the Web Summit which enabled us to cope with the rapid growth of the event and the addition of a number of new summits including Sport, Food, Film and Music, which were in addition to the main event. There were 2,000+ start-ups in the exhibition hall this year with every conceivable service and business model on offer. We printed all the exhibitors' boards on the new flatbed printer which offers peak performance and the ideal solution to producing high volumes of one off display boards."
Select Digital also used its Develop Press 7,000+ for the small format items, menu's, name tags, schedules, food/drink vouchers, key card holders, tent cards, note pads etc as well as the company's Mimaki JVS for the window decals, pull ups, marketing decals, posters, podium graphics, pvc banners etc.
"It's a far cry from Web Summit 2010 when we first printed for the organisers," continued Tara, "with only 400 attendees, it now lives up to its reputation as the 'the best technology conference on the planet'. Web Summit has grown up and we've had to grow up too. Select Digital has had to re think its printing techniques in support of this hugely successful annual event. The company had to offer solutions to the expanding exhibitors list and we've had to project manage the printed media, signage etc for the majority of the event ensuring everything arrived on time and in peak condition.
To add to the pressure of the showcase, Facebook got in touch.

"The highlight was getting a call from Facebook to produce some decal stickers for #Instagram and #Dface, flyers and framed photos of none other than Johnny Depp," explained Tara. "Their team misplaced some graphics on the way over form the UK and were given our details as the saviours of exhibitor digital print. We had less than four hours to produce them and get them into the RDS for opening day on Tuesday.
"We print an extensive range of print items for the Web Summit annually. Some of which include the following; Signage, V board outdoor signage, exhibitors display boards, vinyl decals, stickers, showcards, food |drinks vouchers, pull-ups, tent cards, lunch menus, window decals, key card holders, pvc banners, posters, podium graphics, name tags, note pads, A3 fold out schedules, Dinner folded place names, table names, table plan, maps etc .
Web Summit 2015 is to be even more ambitious, with more exhibitor's spaces, speakers and CEO's. "Looking forward to it already", said Tara.
DPNlive likes that 'extra mile', because look where it brings you!
For more information on Select Digital Print, please go to http://www.selectdigital.ie/home/
A short video from Select Digital Print Group can found here:
You can Tweet, Like us on Facebook, Share, Google+, Pinit, print and email from the top of this article.
Copyright © 2014, DPNLIVE – All Rights Reserved.