W.C. O'Brien purchases first Mimaki UJV55-320 at Sign & Digital UK 2016.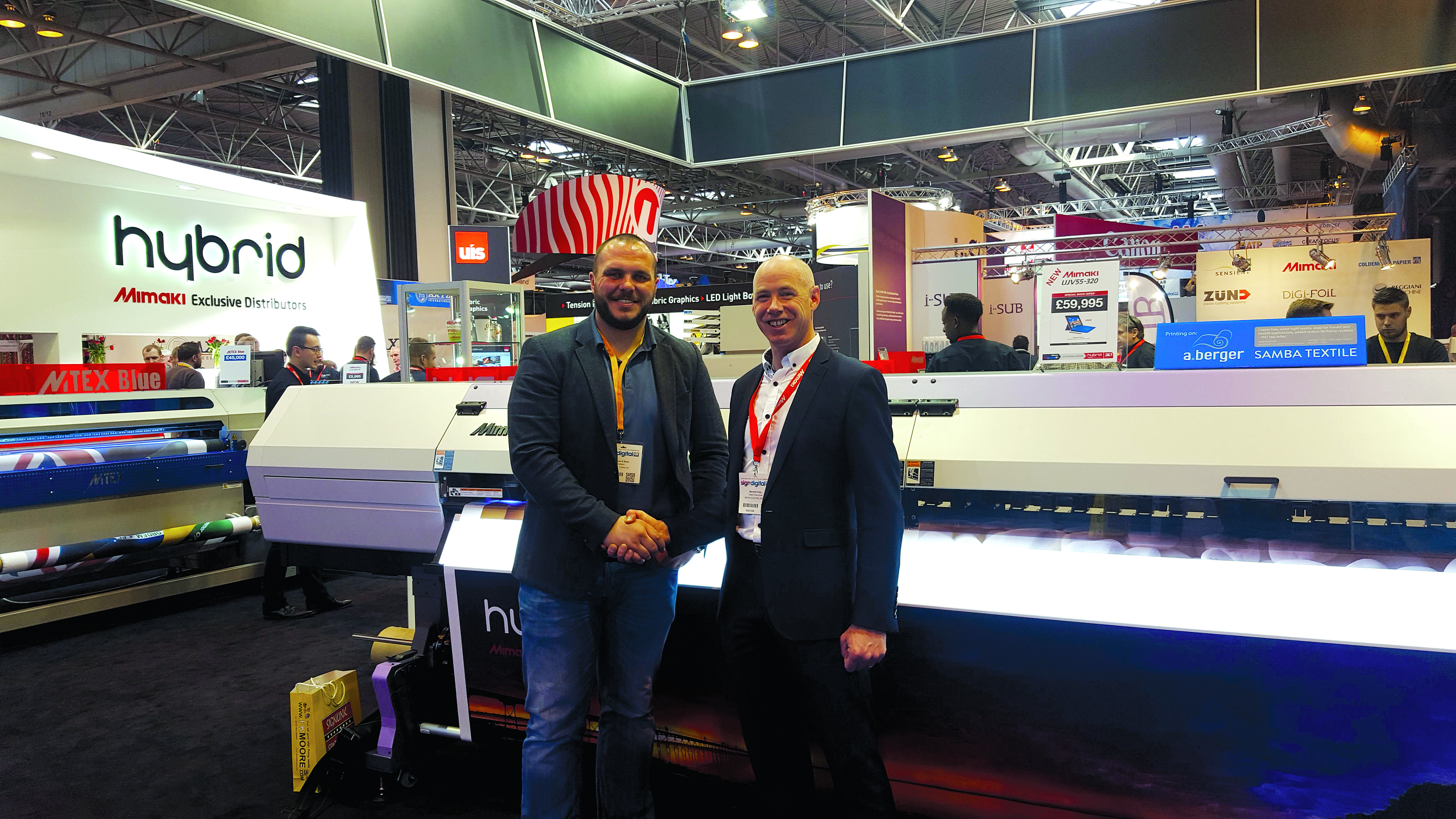 Andrew O'Brien of W.C. O'Brien and Bernard Hoey of Reprocentre with the Mimaki UJV55-320
The first Irish order for the new Mimaki UJV55-320 grand-format, roll-to-roll, UV printer was placed by Dublin-based W.C. O'Brien Sign & Print Ltd during the recent Sign & Digital UK exhibition.
With a production portfolio which encompasses wide format digital print, shop front signage, banners, exhibition stands, vehicle graphics and safety signs, the new investment by W.C. O'Brien was made to expand its range of services, in addition to reducing costs by eliminating many outsourced grand-format jobs and taking them in-house.
"We flew in specifically to have a demo on the new UJV55-320 from Mimaki, having seen the printer at FESPA in March," explained company's director, Andrew O'Brien. "We spoke to Mimaki reseller, Reprocentre and found out the printer was only £60k and realised this was an investment we simply couldn't miss out on."
As part of the evaluation process, the company's own print files were produced at the exhibition on the UJV55-320 by UK & Irish Mimaki distributor, Hybrid Services. O'Brien quickly realised the print quality, size and productivity of the UJV55 along with its keen price point meant it was an opportunity for developing the business further.
The Mimaki UJV55-320 "We're not only going to bring our own grand-format print work in-house, which will speed up our workflow and give us greater control, but we'll be providing a trade service too, working with independent exhibition companies and sign and graphics installers throughout Ireland to deliver a high-quality printing service for display and exhibition graphics," he continued. "We were blown away by the quality, even when our own files were printed at the highest speed the output was exceptional."
The Mimaki UJV55-320 received an excellent reception and a considerable amount of interest at Sign & Digital UK, with visitors giving it the thumbs –up for its impressive price tag and array of features such as twin-roll simultaneous printing, an internal lightbox for proofing backlit applications on the fly and grand format UV printing onto rolls up to 3.2m wide.
For further information about W.C. O'Brien please phone, 00353 (0) 1 8300924. Reprocentre's full portfolio can been found at www.reprocentre.ie. Full details on Mimaki's expansive product portfolio can be found at www.hybridservices.co.uk or by calling 0044 (0) 1270 501900.
You can Tweet, Like us on Facebook, Share, Google+, Pinit, print and email from the top of this article.