Anglo Printers boosts revenue and customer base with €200K Ricoh investment.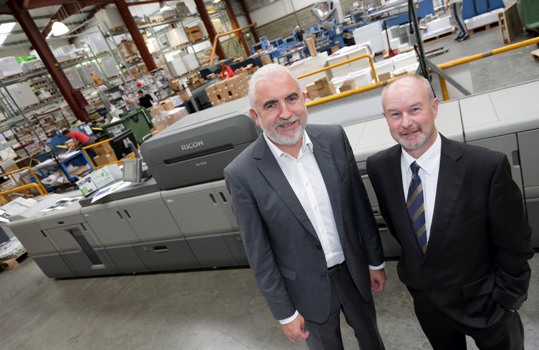 Pictured are (L-R) Padraic Kierans, managing director of Anglo Printers, with Paul Kealy Production Print Division of Ricoh IrelandRicoh Ireland has announced that Irish based Anglo Printers has boosted its revenue and customer base following a new deal with Ricoh Ireland worth almost €200,000. The investment involved the installation of Ricoh's most advanced production print press in Anglo Printers' Drogheda, Co. Louth, premises.
In a highly competitive market, Anglo Printers maintains that the Ricoh Pro C9110 - the first-ever sold in Ireland - is giving the company an immediate edge over its competitors. It added that Ricoh's digital print solution has directly led to extra revenue for the Louth-based printer, through extra work from existing clients and new contracts. Having secured 10 new digital clients in just eight weeks, the company expects a full return on its investment in 18 months.
The company also confirmed that its new partnership with Ricoh Ireland has enabled Anglo Printers to increase digital production speed by 260 per cent, along with upping print capacity by a huge 520 per cent. Just two weeks after installation, the company had to hire a new staff member in order to double the machine's operational hours.
History of company
Established 32 years ago, Anglo Printers was originally set up to serve the horse racing industry; printing race cards and brochures. It has since diversified to meet an ever-increasing demand for its full suite of services and now counts Irish Rail, Enterprise Ireland, Turkish Airlines and Flogas amongst its regular clients.
With two overburdened Komori B1 lithographic presses, Anglo Printers sought to migrate many of its short-run jobs to a new press, as well as improve on the quality and performance of its existing Xerox 5000 AP. Keen to increase its digital printing output, the company decided to welcome proposals from all major printing service providers. In the end, the team found that Ricoh met their requirements on every level.
Padraic Kierans, managing director, Anglo Printers, said: "We rated each proposal according to four pillars: capital and ongoing costs, performance, saleability and quality of output. We were mesmerised by the results: Ricoh won hands-down. We had never worked with Ricoh Ireland before, but we were confident in the output of the Pro C9110 and Ricoh's market reputation."
Ricoh Ireland installed the Ricoh Pro C9110, along with the Ricoh Pro C 651EX - a light digital colour production press. Anglo Printers was able to use both presses on the day of installation. Ricoh also gave full training to staff members and continues to offer training and technical support to the Anglo Printers team.
In further comments, Anglo Printers said it was impressed with its choice of machine, and partner, immediately. The image quality matched that of the Komori B1, thanks to Vertical Cavity Surface Emitting Laser (VCSEL) technology. The press can reach speeds of up to 130 A4 pages per minute, helped by the new vacuum paper feed. It fits the diversity of Anglo Printers' jobs since the new colour production printer can print onto uncoated, textured and coated media from 52gsm to 400gsm. Its output capacity, meanwhile, can reach one million sheets per month.
Kierans continued: "We involved all the team in the decision – from senior management to sales, estimators and production. We did a 'blind' score test on samples received from each of the vendors and on quality, Ricoh prevailed. From the very first sheet, it's been fantastic: the quality is 'litho-esque' in every way, while the speed is incredible. Within the first three weeks, we had done four times our monthly output of short-run print jobs.

"During the downturn, we stepped back from investing significantly in digital printing as it was difficult to see where it was going. Now, for the first time, a digital printer is starting to challenge the quality you get from litho printing—and at the right price point. I challenge anyone to tell the difference between the output of a litho printer and that of the C9110."

Paul Kealy, Production Print Division, Ricoh Ireland, said: "Anglo Printers is an excellent example of an Irish commercial printer that is not afraid to innovate. As a customer-focused business, it is constantly on the lookout for new ways to not just satisfy, but amaze, their customers. This includes delivering superb digital print quality, greater flexibility and much faster turnaround times. Our Pro C9110 and supporting technologies are enabling Anglo Printers to be more productive, and grow revenues and market share. We're delighted to make such a positive difference in a short time, and contribute to the expansion and evolution of their business."
http://www.angloprinters.ie/
www.ricoh.ie
You can Tweet, Like us on Facebook, Share, Google+, Pinit, print and email from the top of this article.
Copyright © 2015, DPNLIVE – All Rights Reserved.