Company's new website a treasure trove of Information.
---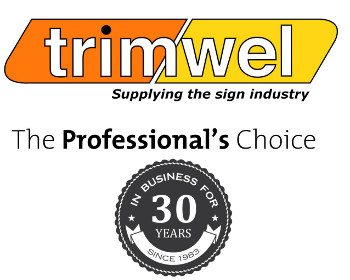 TrimwellDublin based Trimwel, one of the longest established sign and print 'trade only' supply companies in Ireland, has launched a new website, and the emphasis is firmly on digital.
---
The company, established over 30 years ago, and based in the Sandyford Industrial Estate, describes itself as a distributer of products from quality names such as 3M, Metamark and a host of other well know brand names, including SloanLED who has recently appointed Trimwel as its new supplier in Ireland.
The new website has been developed to cater for what Nick Little, MD of Trimwel called, 'a significant change in the industry over the previous number of years'.
Trimwel's Dichroic glass film by 3M creates stunning visual effects "One of the biggest changes over the last 30 years is how the demarcation between signage and printing has all but disappeared", he commented. "These days, with the rapid take-up of large format digital print/cut machines, advancement in plotter technology, as well as lamination equipment, a company might be erecting totem poles one day and the next, cutting out graphics for a car."
Little believes strongly that this 'etching' of the two industries parameters has also been reflected in the huge variety of products now available from all international manufacturers supplying the trade here.
"Companies like Trimwel have had to diversify to meet this change", he added. "Our new website is the first time we have been able to show our customers the true extent of the comprehensive product range we stock which covers materials, signage, equipment and architecture. We have also dramatically added to our digital solutions offering with products such as Contravision Inside Apply with Print On Adhesive, Metamark MD-X Pro Wrap Vinyl and a range of Optically Clear Vinyl's, to name but a few."
Although the new website has been designed around four distinct categories, Trimwel has ensured that people can easily access all the information they require from the sites top menu bar. This is divided into six sections, Materials, Adhesive tapes, Aluminium signs, Display signs, Accessories & Tools and Equipment & Software. Simply by hovering a mouse over any of these sections automatically brings down a dropdown box displaying a complete listing of what product ranges are available. By clicking on the appropriate heading, the user is brought straight to a detailed specification sheet which gives all the information required.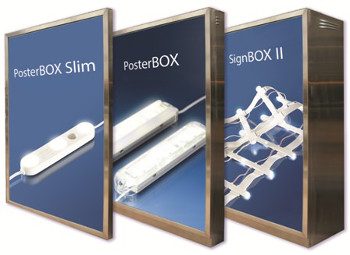 Sloan Posterboxes with Metamark MD-BL2 Digital Backlit Film Little explained; "The benefits of the new site is simplicity in that you are generally just two clicks away from all our products and most of them have the specification sheets attached. In the case of 3M, these include the warranty which can be passed on to the end user. "
These days, Trimwel's list of major international suppliers reads like a 'who's who' from the top manufacturers in the marketplace, just one indication of the quality and range of materials which it has to offer the sign and digital printer.
The company is continually looking to source high quality products for its clients and this is borne out by some recent additions to its product portfolio including a new entry level digital vinyl from Metamark, 3M's 'Architectural Finishes' range which is being promoted in Ireland through Trimwel, the new I-Sign which is a next generation snap frame along with the Shield Laminator and Sloan LED's.
"LED's are an area that is growing rapidly and taking over from florescent lighting", continued Little. "Trimwel can now offer illuminated light boxes cut to size which allows Sign Company's or any printer to just add graphics".
Since it was established over 30 years ago, Trimwell is now well and truly established as a supplier of quality sign and digital products to the Irish trade. The company's new website will undoubtfully surprise a few with the depth and scope of its product portfolio, but, as Little commented, "It means you are just two clicks away from the amazing range of products we have to offer".
Follow us on Twitter - @DigiPrintNews
Like us on Facebook www.facebook.com/DPNLive - (click the 'LIKED' button/top of page as well)
Copyright © 2014, DPNLIVE – All Rights Reserved.
trimwel