Dublin-based IQ Group recently added a Mimaki JV300-160 and CG-160FXII to its machinery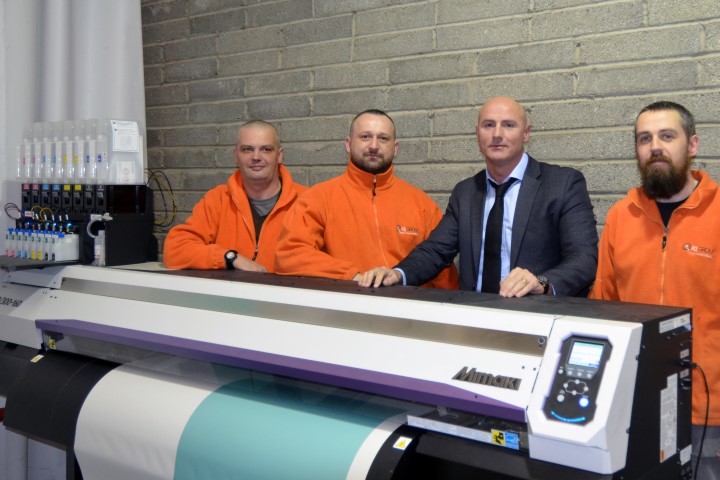 IQ Group's print team (from L to R): Andrew Zugaj, Artur Szubert, Gary Upton and Sean Morgan.
IQ (Image Quest as it is formally known) Group - Dublin based smart visual solutions company – recently added a Mimaki CG-160FXII and JV300-160 to its portfolio of printing hardware through authorised Mimaki reseller, Reprocentre, and the company is delighted with the investment.
The IQ Group formed 5 years ago. It is a lively company in every sense of the word. The Company exudes positive energy and growth from the vivid and high quality print it produces and even through to the dynamic team and bright and quirky premises; it's a flamboyant company. So it's not surprising that, when they decided to expand their hardware portfolio, the Mimaki JV300-160 solvent printer was befitting of a place in the company's print room.
Gary Upton is one of IQ's Directors.  He said
"Quality is key to IQ. The Mimaki JV300 provides great print quality and continuity of colour every time, regardless of changes in temperature, giving us the ability to colour match perfectly. We're a reactive company; we offer a fast turnaround for our customers and the JV300 fits right in here giving us speed and flexibility. We've been really impressed."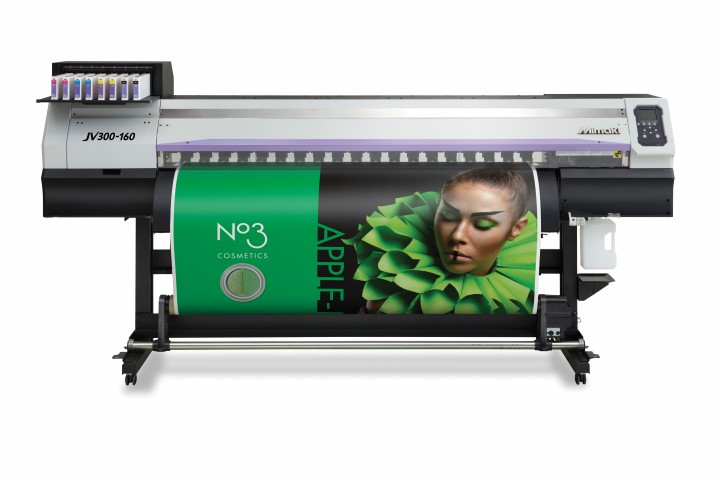 The Mimaki JV300-160 outdoor durable inkjet solvent printer.IQ originally started out as a signage and print management service company, but quickly grew to include in-house print production to offer faster turnaround times, make them more cost effective and give their customers more security and confidentiality.
"We offer the complete workflow in-house," continues Gary. "We have a creative design studio, a highly-productive print department and a team of installation experts, so we can guarantee a premium service and products every time. We do a vast amount of contract work and we need to be consistent on every level, including superior print output, which is exactly what we get with the JV300."
Eoin Honan is the Sales Director of Reprocentre, who are an authorised Mimaki reseller.  IQ made the investment in the Mimaki JV300 through Reprocentre.  Eoin said
"We've provided a variety of hardware and materials for IQ over the last few years, but when they came to us looking for something to increase their productivity without compromising on quality or colour gamut we recommended the Mimaki JV300 solvent printer. It is super-fast and the SS21 solvent inks mean beautiful bright blocks of colour aren't an issue. We also supplied a Mimaki bulk-ink system (MBIS) with the JV300 which gives IQ higher production levels by running the printer overnight and unattended on long runs."
Further information about IQ Group is available via its website www.iqgroup.ie.
Further information about Reprocentre and its products and services can be found at www.reprocentre.ie.
Full details of Mimaki's product portfolio is available via its Irish and UK distributor, Hybrid Services Ltd at www.hybridservices.co.uk.