HP sponsorship of film encourages consumers to "Print and Recycle Like the Lorax"
---
HP has announced that it is sponsoring Dr. Seuss' the Lorax, a 3D-CG (computer graphics) feature film from Universal Pictures and Illumination Entertainment. The film, which opened nationwide on the 20th July, tells the story of the Lorax, a grumpy yet charming creature who fights to protect his world. Using the message of the film, HP hopes to highlight eco-choices when printing and is running a dedicated in-school education programme in Ireland, which pairs science-based education materials with a writing contest that offers students the chance to win prizes.
---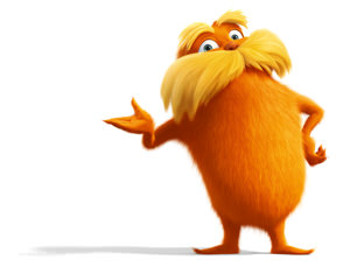 LoraxThe film is an adaptation of the classic tale of a forest creature who shares the enduring power of hope. The animated adventure follows the journey of a 12 year old as he searches for the one thing that will enable him to win the affection of the girl of his dreams. To find it, he must discover the story of the Lorax.
HP is encouraging consumers to recognise that "Every Inkling Makes a Difference" and to "print and recycle like the Lorax". The company said the aim was to promote eco-conscious choices when printing, such as using responsibly sourced paper, energy-efficient printers and cartridges made with recycled plastics.
Jeff Walter, director, Environmental Sustainability, HP said: "The theme of environmental commitment is a priority throughout HP and spreading the message of Dr. Seuss' The Lorax is something we are passionate about. It is not only an inspired tale by Dr. Seuss, one of the world's most beloved children's authors, it is also an ecological challenge that rings true in today's time. HP shares the same values in helping consumers to enjoy printing in the most sustainable way possible by recycling print cartridges, using sustainably-sourced paper and choosing a printer wisely."
Niels Swinkels, Managing Director Universal Pictures UK & Ireland added, "The Lorax is a special story about making better choices and finding balance from a visionary author who has touched the hearts and minds of millions of children and families around the world. We are very pleased to be partnering with HP among others as it is a great fit in terms of environmental commitment and care for a more sustainable future".
HP has also launched a national integrated awareness campaign in the UK across online, mobile, cinema and PR and is also running an exclusive media partnership with the Guardian. Through this media partnership, HP will provide consumers with engaging and easy to implement advice for a sustainable lifestyle through a bespoke mobile micro site.
To find out more, visit www.hp.com/ie/lorax
Copyright © 2012, DPNLIVE – All Rights Reserved