Incredible result for leading Irish solutions provider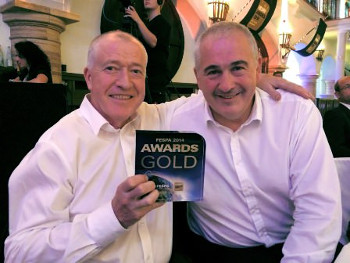 Horizon MD's L-R Ken Kavanagh and Derek Gillen with the winning trophy
---
Well, from all accounts, it was some night of celebration for Ken Kavanagh and Derek Gillen, joint MD's of Dublin based Horizon Digital Print Solutions, as they carried off the 'Gold' at the international FESPA Awards 2014.
---
Horizon's in-house Halloween Promotion and the Heineken Interactive Kick Game won joint gold for Best Integrated Print Campaign at the exhibition.
The Irish company, which is a leading supplier of Point of Sale, Outdoor Advertising, and Interactive Digital Campaigns, has over 30 years experience in the industry. With 60 employees, two purpose built facilities, and continuous investment in industry-leading machinery, its clients include blue chip brands such as Tesco, Heineken, and Cadburys.
FESPA is a global federation of 37 national associations for the screen printing, digital printing and textile printing community. Not only was Horizon there for the awards ceremony, it also wanted to see what the latest technology game changes were in print, and decide what's next to buy.
It was a thrilling win for Horizon at the show, not only because it was peer judged, but it was also open to the popular vote as well, so it was an incredible result.
Word has it that joint MD's Derek and Ken had a great night catching up with all the movers and shakers in the international print world, and raised a few glasses of champers in thanks to all their voters.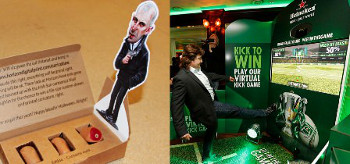 The Horizon Halloween Promotion and Heineken Interactive Print CampaignHorizon believe that advances in large-format digital print are happening extremely rapidly at the moment, so going to FESPA is always an eye opener from its perspective, and well worth bringing back this international expertise to the Irish market.
Siobhán Sacker, marketing manager, Horizon Digital Print commented, "Horizon is a place where brands, designers, marketers and print specialists come together to create amazing and effective print solutions. The company specialises in Retail, Out of Home, and Interactive Print but we also love working with clients on all their company branding needs. Recently Horizon has won Gold for Best Large-Format Digital Printer of the year at the Irish Print Awards 2013, and Silver for Smartest Low-Volume Direct Mail Campaign at the An Post Smart Marketing Awards 2014."
http://www.horizondigitalprint.com/

Follow us on Twitter - @DigiPrintNews
Like us on Facebook www.facebook.com/DPNLive - (click the 'LIKED' button/top of page as well)
Copyright © 2013, DPNLIVE – All Rights Reserved.