Company continues to put pressure on competition with new investments.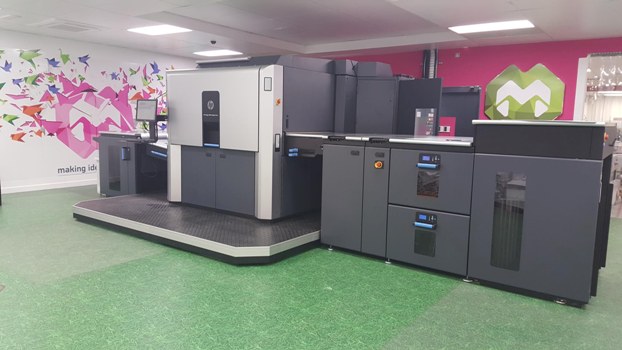 The HP Indigo 10000 Digital Press is the latest addition to McGowans Print
Dublin based, McGowans Print, considered one of the leading specialists in digital print solutions, once again jumped ahead of its competition with the installation of an HP Indigo 10000 Digital Press, making the company the first to market with this technology in Ireland.
The new press investment was made to enable McGowans to produce more short-run personalised jobs and create larger format products using specialised substrates. The company expects to attract new business opportunities and expand creative possibilities available to existing customers.
For the past twenty five years, McGowans has been first to market not only in Ireland but in Europe with the latest digital technologies and now operates over twenty digital printing presses, working a vast number of substrates in large and small format, with production runs from one to many thousand. At the heart of its business is design, business print services, retail POS, cardboard engineering, outdoor media, event signage and direct mail capability to signage installation - planning and print execution.
"As the first to market in Ireland, we have again demonstrated our dedication to delivering a best-in-class service within the print arena," said Tony Roe, Managing Director, McGowans. "We are confident that, together with our passion for print and the advanced technology we already have in our facilities in Dublin and Belfast, we will really make ideas happen with this new machine."
The installation follows the recent announcement of McGowans' company rebrand earlier this year. According to Owner, Mal McGowan, the rebrand reflects its commitment to evolve in line with customer requirements to ensure their brands and products stand out from the crowd.
"There comes a time when you need to re-evaluate your business and ensure that you are offering the customer a range of print services," he said. "The investment so far this year positions us to do just that. The Indigo 10000 is a decisive strategic move, and one that connects digital to litho. Its B2 plus platform keeps us ahead of the curve and allows us to go beyond digital quantities and compete within the litho market. We can now offer our customers the same quality, media range, and volume for all their activities, with all the advantages and flexibility of digital. Essentially, it allows us to offer a one-stop-shop service to our customers."
http://www.hp.com.
http://www.mcgowansprint.com/
You can Tweet, Like us on Facebook, Share, Google+, Pinit, print and email from the top of this article.