Exhibitors pleased with footfall
and interest shown by visitors.
SOYANG Europe CURVORAMA curved bannerThe Wide Format Ireland exhibition held at the at the Louis Fitzgerald Hotel, Dublin on October 24th and 25th appears from all accounts to have been a success for the exhibiting companies.
DPNlive paid a short visit and spoke to a number of them about the products they had on display.
DBC Group
There was a range of products on the DBC Group's stand but one or two in particular caught our eye.
Colm Paul from DBC introduced Tony Hills from Uchida their partner in the new Aerocut, auto card cutter and creaser for digital print finishing who gave us a brief overview of the product.
"The idea of the Aerocut is that it is designed to turn small format digital print jobs into finished work using just one process," explained Hills. "Typically the type of work would be triangular menu holders, perfect binding covers with creases, business cards, any sort of finished job that ordinarily might have to go through three or four different processes can now go through just one machine."
Hills pointed out that the Aerocut featured a 'cut register mark detection sensor 'which detects the position of the printed image on each sheet. This allows the machine to adjust itself automatically and produce a perfect cut every time.
The Aerocut also has an easy to use touch screen control panel with 78 pre-programmed job sizes. The operator can enter different cutting, slitting and creasing dimensions and there are 50 additional memories available to store customised jobs which have special settings and which may be needed at a later date.
With a maximum paper weight of up to 400 gsm the Aerocut can handle most small format printed work. Hills went on to say; "The machine is ideal for copy shops, in-plants, corporate where they have big print engines in-house, In fact anybody who is doing small format digital printing. It's now the fastest selling all in one finishing machine on the market to-day.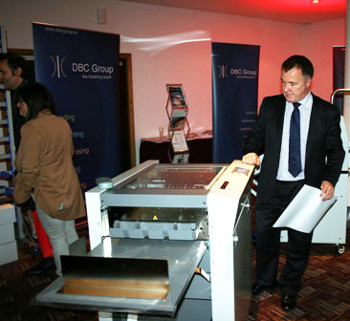 Colm Paul from DBC with the new Aerocut auto card cutter and creaser for digital print finishing from UchidaAs recently appointed distributors for Epson, DBC also had the latest Epson 64" SC30600 Solvent based printer on show with Ultra-Chrome GS2 solvent-based ink technology. DPNlive spoke with Epson's Irish account manager Daniel Rafferty about its latest offering.
"The machine is capable of printing 29 m2/hr in draft mode which is ideal for banner work, "he said. "However what we are doing with this machine is bringing the well known quality, speed and the Epson name to outdoor printing. The other important thing about the SC30600 is that it's eco friendly, so there's no smell, no ventilation required which means that it can be installed in an office environment or showroom and the operator will not suffer any after effects."
Rafferty also confirmed that Epson S range of machines is marketed in Ireland through specialist resellers.
"They are distributed by The DBC Group; Infinity2 in Limerick, Roscommon based Irish Print Support, and Denis D Evans in Belfast," explained Rafferty. "There are 3 models, the 30600, 50600 and 70600."
L-R Chris Davies EPSON UK and Daniel Rafferty EPSON Ireland
Our next port of call was to Soyang Europe where we met Mark Masiter, MD of the company.
"Soyang Europe was founded seven years ago and it's a partnership with Soyang Technologies based in China," said Mashiter. "We are manufacturers of material for the digital market which we produce out in Asia for large and grand format printing, anything up to five metre wide. The grades are PVC banner, PVC backlit, PVC blockout, mesh banner, textiles, roll up banner stand material, all produced to European standards, including the flame retardant certifications required here. Soyang is a top end quality manufacturer and its products reflect this."
Mashiter went on to point out that the majority of substrates can be printed eco-solvent, solvent, UV and latex and its polyester materials these be printed sublimitation as well.
Mark Mashiter, MD SOYANG Europe ltd"We deal directly with the printers in Ireland," continued Mashiter. "In our view the market has matured and certainly evolved and the printers are coming as close to source as they possibly can to get the best deals and the best value for money. In the UK we stock about 1.1 million m2 of product to service the UK, Ireland, Holland, Belgium, Scandinavia and Germany. We hold stock in Blanchardstown in Dublin to service the local big printers around the city and we replenish that stock every week from Manchester.
When DPNlive asked Mashiter to identify his companies strengths in the marketplace he replied:
"Our main product range sellers certainly are the high quality banner grades," he answered. "The billboard market, mesh building wrap and now internal graphics for display stands, that type of thing. Also some of the new material coming along is certainly towards soft signage sublimation which is gathering quite a lot of momentum now."
The next company which we spoke to, Hybrid Services Ireland had one of the largest stands at the show. We managed to get a chance to talk to Duncan Jefferies, marketing manager about what his company had on display.
Mimaki JV33-160 1.6m wide outdoor durable printer"We brought a range of Mimaki kit with us from Dye Sublimation to outdoor durable solvent printers, printing cutters and a printing plotter as well, " he said. "There are also samples of latex and UV inks as well on the stand so visitors can see pretty much all of Mimaki's product range. What seems to have caught the eye of a lot of people is our CJV30 print & cut series because it offers print & cut in one small footprint, its fast, very high quality and we have been printing onto all sorts of different materials with it like wallpaper,banner,Soyang SoFlat and of course self adhesive vinyl as well. What appealed to visitors about this machine is that you have a number of ink options. There is the eco-solvent ink which includes a white and a metallic, ideal for producing high quality decals for example. The most popular however is Mimaki's SS21 ink which is very durable, really very bright and vibrant. It's fast, quick drying and adheres to a very broad range of products as well so a creative signmaker or graphics company could do a lot with it. The CJV30 series comes in four sizes, 60cm, 100cm, 130cm and 160cm."
The Solent team demonstrating the latest technology in desktop banner welding with the Miller Weldmaster T3 hemming a banner at 10 meters a minuteJefferies went on to say that Hybrid was encouraged with the amount of people looking at new technologies.
"Commercial printers in particular who have come and looked at what they could do with products like the CJV30 now realise that they can produce their own POP Ups instead of buying them in or how they could start to offer short runs of labels to people. The savings are huge by doing this work in-house instead of purchasing it from a third part More importantly it means that these printers are in control in terms of quality and lead time. People are not just looking at saving their business these days but how to grow it."
Jefferies finished off by saying that Hybrid was committed to the Irish market with staff employed here and a strong reseller network in both the Republic and the North of Ireland.
As usual business comes first and we were unable to grab a few minutes with Martin Morrissey from Solent Sewing & welding solutions who were demonstrating machines for welding fabrics, heatsealing for PVC,PE and other thermoplastics. He was busy with prospective customers, which was pleasing to see.
The final company we missed out on, i-Sub, again were busy, this time demonstrating the Mimaki TPC-1000, a 1m wide dye sub printer / cutter to potential clients. They are fully authorised to supply and support solutions from leading manufacturers including Mimaki.
Photos by Bob Tallent - The Synergy Group

Copyright © 2012, DPNLIVE – All Rights Reserved