The Mimaki JV300 in the new machine of choice for CoverUp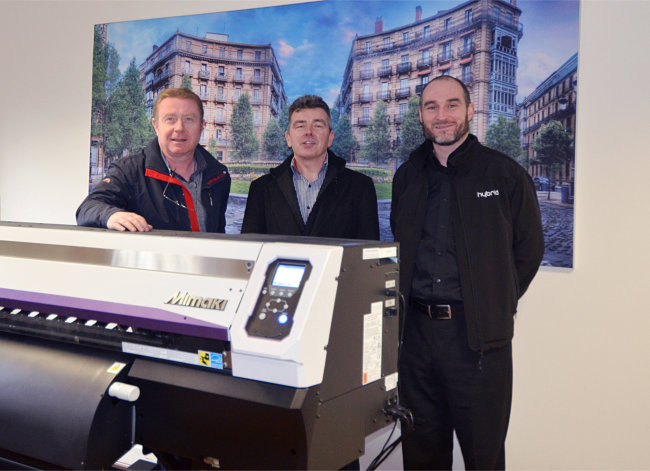 Mimaki JV300 with CoverUp staff
CoverUp are a printing company based in Clondalkin and Sandyford, Dublin.  One of their machines is a Mimaki CJV30-130 and they wanted to upgrade.  Their research brought them straight back to Mimaki.  They bought a JV300 solvent printer.
The company was established around 40 years ago, manufacturing and finishing covers for boats, cars , trucks, motorbikes, etc. In an effort to expand its services in the late '90's the company started to provide printing in-house and eventually made the move to digital print 10 years ago, arming itself with a selection of grand format hardware for flag and fabric printing.  Over the years, the company developed and extended its product portfolio, which encouraged it to invest in a Mimaki CJV30-130 integrated solvent printer/cutter, offering high end window vinyls, pull-up banners and stickers.
The company was so impressed with the machine that it opted for Mimaki once again when it came to updating its hardware, as Operations Director, Anthony Byrne explains;
CoverUp Premises"We have always been impressed by the quality of the print produced using the Mimaki CJV30 and made the decision to invest in a new Mimaki JV300-160 solvent printer along with a matching CG-FXII cutter in order to retain that high-end, wide-format side of our market. The JV300 is extremely fast and the colour we get from the SS21 ink is unrivalled. We needed the extra speed and now we have a separate cutter we can simultaneously run two different jobs."
This new Mimaki JV300 allowed them to carry out some research and development which led to some new products producing print for canvas awnings, the kind popular in al fresco eating areas and trendy cafés. Anthony explained.
"We produce a lot of work for places requiring branded awnings and windbreakers etc, but it's impossible to print direct to rolls of acrylic canvas. So, we developed a process of printing and cutting onto cast vinyl followed by a heat transfer process onto canvas and it produces a great effect, similar to screenprinting. Using solvent inks makes the colour vivid and the overall effect is very striking."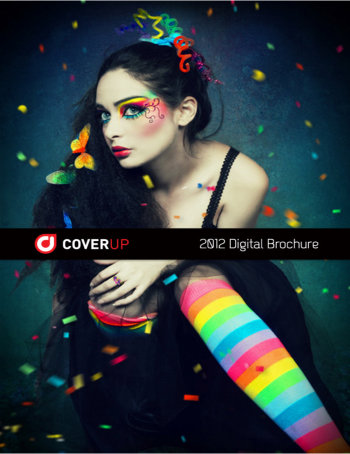 You can download the CoverUp brochure by clicking this graphicThe investment was made through authorised Mimaki reseller, Reprocentre, as its Sales Director, Eoin Honan explains;
"COVERUP has been a Reprocentre customer for some time and we have been delighted to supply, install and support a new Mimaki JV300 into the company."
Further information about COVERUP is available from its website www.coverup.ie.
Further information about Reprocentre and its products and services can be found at www.reprocentre.ie.
Full details of Mimaki's product portfolio is available via its Irish and UK distributor, Hybrid Services Ltd at www.hybridservices.ie.