Company introduce the new Magenta-Vision EcO 3.2.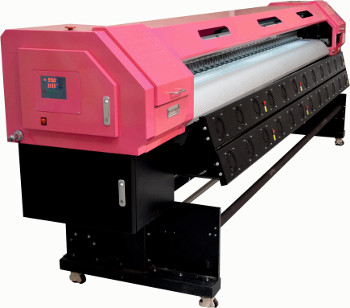 MagentaV EcO-3.2 machineEstablished in Ireland for over 20 years, Cork based Walsh Graphics has been appointed a distributor for Magenta-Vision in Ireland. As one of the largest suppliers of signage and digital print supplies in the country, this latest development is a testament to its ongoing strategy of expanding and developing its large format hardware product offering.
Headquartered in Wavre, Belgium, Magenta-Vision is a European solutions provider in the wide and super-wide format inkjet printing industry, created in April 2007 to supply and service wide and super wide format digital printers.
As a result of the deal Walsh Graphics has recently taken delivery of the first Magenta-Vision EcO 3.2 Super-Wide Format Printer in Ireland which was installed into Universal Graphics Dublin on the 4th Sept.
Billed as an 'amazing value-for-money printer', it was first showcased at Fespa Digital 2014 in Munich earlier this year.
This 3.2 metre printer uses premium European-manufactured eco-solvent inks with two high resolution Epson DX7 1440dpi printheads, has dual roll printing capability, and a heavy-duty media transport system included.
"We are very excited by this new machine from Magenta-Vision; it's a fantastic opportunity to represent such a pro-active, professional company", Michael Walsh, Managing Director of Walsh Graphics told us. "We are constantly expanding our equipment portfolio and the EcO 3.2 is the perfect fit. The Magenta-Vision EcO 3.2 is a very impressive machine at a very affordable price; we are confident once you have seen one in action you'll be ready to buy," he added.
Michael also commented that in addition to equipment, Magenta-Vision also offer one of the highest quality UV-curable and Solvent ink available in the market today. "They supply high quality products and services in a very cost-effective way, making them the perfect partner for Walsh Graphics", he said.
Charles PootBaudier, Managing Director of Magenta-Vision commented, "We are delighted to be working with Walsh Graphics and are very much looking forward to confirming and strengthening our presence in the Irish market".
http://www.walshgraphics.ie/
You can Tweet, Like us on Facebook, Share, Google+, print and email from the top of this article