Industry led summary says,
"

A good year all round it seems

,


so is the 'race to the bottom' finally over in 2015?

"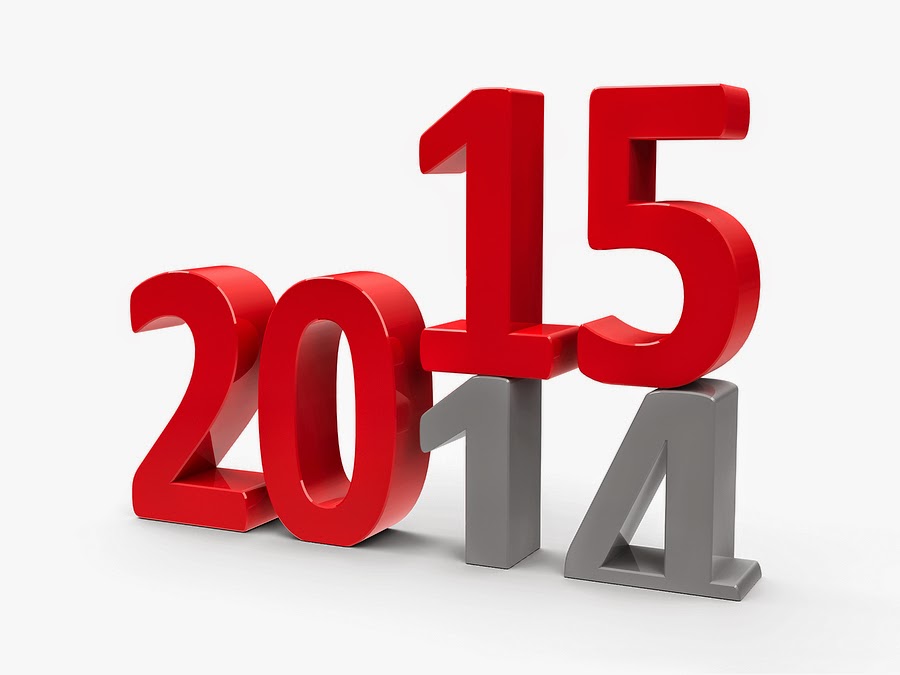 2015-2015 DPNlive WrapupIn summing up 2014, it appears many Irish and UK printers and machine/materials suppliers are relatively upbeat about the improvement in GDP rates, although the situation for some other EU countries such as France and Spain, as well as the overall GDP growth rate forecast for 2015 in other countries does not make for good reading. However, whilst our respondents official statements echo the official economic indicators, it appears that they are at odds with what is happening in the market place and also, in contradiction with some of their own 'off the record' remarks.
Growth is one thing, money supply is a totally different ball game, particularly in Ireland, and that's where the dichotomy in this picture begins.
DPNlive went on a 'hunting trail' to find out the truth.
So let's start with some Stats and official statements from Ireland & the EU and then wind down to the real economics' behind the picture', because everyone, certainly in Ireland, apart from the government, wants to gloss over GDP figures V business reality on the ground.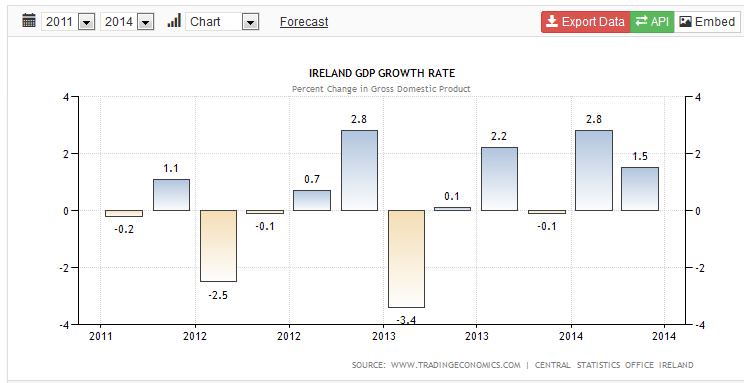 Ireland – GDP growth rate 2011 – 2nd QTR 2014 So we have a 1.5% increase in GDP in the Q2 2014. Big drop from the start of the year! And it gets better. 0.1% in Q3. I would expect Q4 to come in the same or lower. Starts to explain things, or does it!
Commenting on the latest Irish GDP figures released 11 November, the Irish Minister for Finance, Mr. Michael Noonan T.D. stated:
"Budget 2015 is built upon GDP growth of 4.7% in 2014 and 3.9% in 2015. Today's figures from the CSO show that the Irish economy has grown by 0.1% in Q3 and 3.5% over the year. As the CSO has pointed out GDP rose by 4.9% in the first 9 months of the year and therefore we are on target to meet our 2015 Budget forecasts.
The economy continued to grow in Q3, albeit at a slower rate than the exceptional growth rates seen in Q2, and most importantly this growth is translating into jobs.
The strong income tax and the VAT figures seen in the exchequer returns, coupled with the positive high frequency data, highlight the ongoing recovery in the Irish economy.
However, the recovery should not be taken for granted and there are risks. That is why Budget 2015 was designed to strengthen and broaden this recovery and targeted measures were introduced to boost key sectors of the economy including tourism, agriculture, construction and FDI.
Budget 2015 was also the first year of this Governments strategy to reduce income tax and USC, and every worker paying tax or USC will start to see an increase in their take home pay in 2015. This is designed to boost consumer confidence and demand and will further improve Ireland's competiveness and attractiveness as a destination for investment and job creation."
Ireland is unique because two of its major trading partners are outside the euro zone, UK and USA.
However, Europe is in trouble!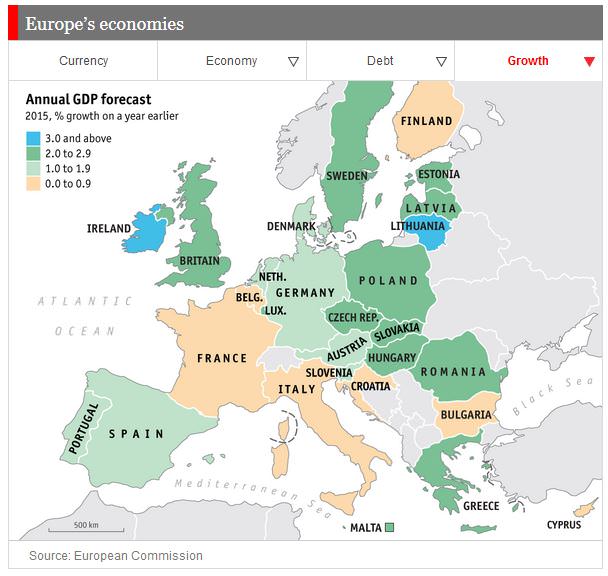 EU projected GDP forecast 2015
So let's start with Ireland first.
It is the only country apart from Lithuania, which joins the EU in January 2015, forecast to have a growth rate of three per cent + for 2015.
There are two sides to the coin here, which I think may still affect the printer and the reseller. Yes there has been investment in new kit and consumables during this year, but as one source who wishes to remain anonymous told DPNlive, "we have grown five-seven per cent in 2014 but trying to get working capital is a nightmare."
The country has had a strong GDP growth rate this year of 4.7% and 2015 looks positive too. But getting your hands on money from the banks to exploit the GDP growth rate here and in a few other countries is a whole different ball game.
Now have a look at the UK.
The UK has its own problems with day to day borrowing increasing, contrary to expeditions.
Public sector net borrowing excluding public sector banks (PSNB ex) from April to October 2014 was £64.1 billion, an increase of £3.7 billion compared with the same period in 2013/14 source (Office for National Statistics). So something has to give here which could impact Ireland in 2015.
How important is the UK to Ireland?
The UK exports more to Ireland than it does to China, India and Brazil while the UK is Ireland's largest export market.
Together the two countries trade over €1 billion worth of goods and services every week.
And what about the US!
The US was the main non-EU destination accounting for 23% (€1.55bn) of total exports up to the end of the third QTR of 2014 for Ireland.
So where does the above scenario leave the Irish printer, its reseller, Irish or international?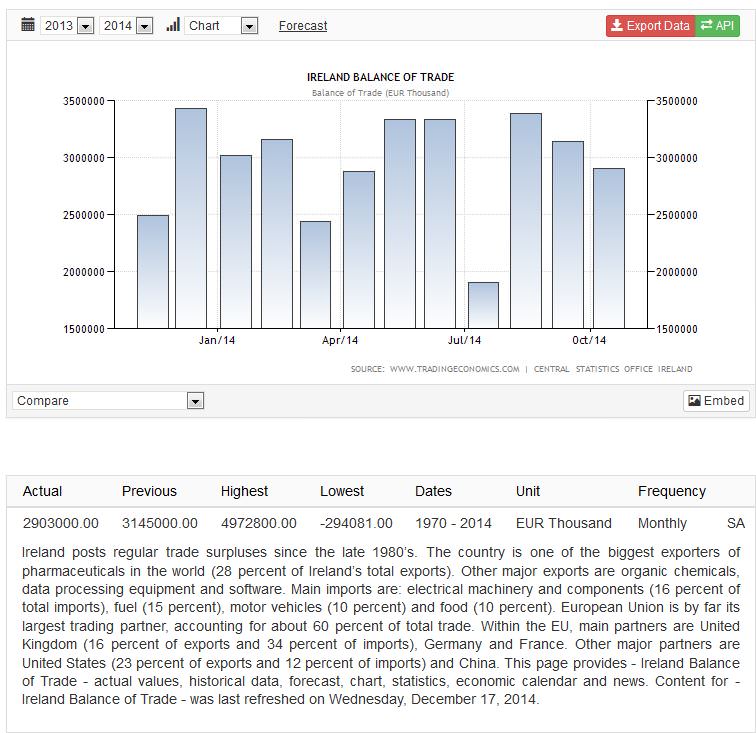 Irish balance of trade 2014 The stats show a picture of growth, albeit with major problems possibly looming on the EU horizon for 2015 which accounts for 60% of Irish exports. But then, many printers and resellers here are looking at the national figure, which from their perspective is positive.
Here are some comments you might find interesting.
The reseller first!

Irish based Datapac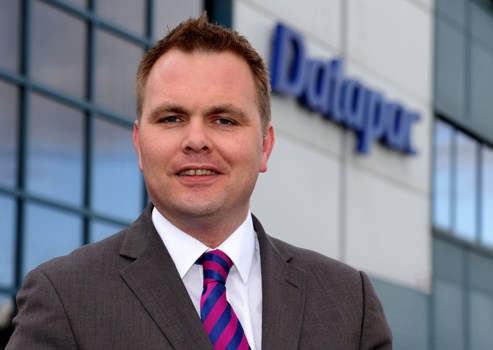 Patrick Kickham, director was first to the block.
Highlights of 2014
"2014 has been a very successful year for Datapac. We have seen significant growth across all our business units, which include print, managed print, document services and ICT consumables. The year started particularly strongly when we signed an €11M ICT consumables contract with the Office of Government Procurement. This helped us to grow our business and as a result 15 new jobs were created. Datapac was awarded the contract based on its proven ability to deliver a seamless customer experience and sustainable cost savings across a vast range of ICT consumable products.
In the past 12 months, we also acquired in excess of a two hundred new clients from across the private and public sector. Our managed print division proving to be particularly successful as small and large Irish organisations turn to Datapac to manage their entire print and document workflow functions.
Datapac ended the year with a number of high profile awards including just recently being named HP Print Partner of the Year for UK and Ireland. We were very proud to achieve this title as it is the first time that an Irish company has won this prestigious award. The judging process was open to all HP Print Partners throughout Ireland and the UK, and Datapac was selected based on its significant customer and revenue growth for HP Print in Ireland."
Predictions for 2015
"We expect to build on the success of 2014 and at this point it looks like 2015 will be another strong year. The business continues to grow and the market is recovering in Ireland. Based on our significant investment to date and our evolving solutions, (from device security to efficiency solutions) we will continue to be at the forefront of Managed Print in Ireland.
In terms of managing print and documents, workflow integration will become even more important and powerful. Incoming paper documents can be scanned automatically into, for example, accounts payable for invoices, purchasing administration for Proof of Delivery notes, stock control for warehouse deliveries and many more. Even smarter features may and will include optical character recognition so that contents of the document direct it's routing after scanning. BYOD printing and cloud print will continue to evolve and mature, although security will remain at the forefront of all investment decisions so that sensitive documents and information can't be compromised in more mobile print situations."
Ricoh Ireland
2014 – How did it go?
Paul Kealy, Production Print & Workflow Solutions, Ricoh Ireland
"It's really been an excellent year for Ricoh Ireland. We're enjoying double digit growth at present and have won a number of new contracts with enterprises and commercial printers in Ireland. As well as our direct business being successful, our nationwide partner network has also been very busy winning managed print and document service customers throughout the country.
One of the areas of business which has seen particularly strong growth is our production print and managed services facility in Park West, Dublin. With a focus on service innovation, the facility has been developed to meet the needs of customers who want extremely high quality output and short turnaround times. It also acts as a very important business continuity service for customers who need an overflow facility during busy times.

In the production print market, we've also had some very exciting new digital technologies launched in recent months. The Ricoh Pro C7100 / Pro C9100 series of digital colour cut sheet presses are the latest in the Pro C series. The Pro C7100 is ideal for small and mid-sized printers who are looking to offer more competitive applications to their customers without going over budget. The Pro C 7100x provides an optional 5th Colour option (Clear and/or White Toner) allowing many enhancements with dimensional and watermark options. Printers looking to offer banners, POP displays, window decals, textured, synthetics, magnetic and metallic media can leverage these models to create this output and differentiate themselves from the competition.

The RICOH Pro C9100/C9110, available in early 2015, prints at speeds up to 130ppm and 110ppm respectively based upon A4 at up to 1200x4800 dpi with VCSEL image quality. The series can support paper weights of up to 400gsm in both simplex and duplex while maintaining rated engine speed for increased applications and efficiency without degradation of quality. With a maximum sheet size of 330 x 700mm, a maximum monthly volume of one million based on A4, with a duty cycle of 1.75m, they offer customers greater flexibility.

In October 2014 Heidelberg extended it successful, global strategic partnership with Ricoh dating back to 2011 to include the Pro C7100/9100 series marketing the Presses under the names Linoprint CV and Linoprint.

In addition, Ricoh has also introduced the Pro VC60000, a new generation, continuous feed, inkjet technology platform for graphic arts, designed to excel at direct mail, book printing and marketing materials. The modular based system is the most versatile colour inkjet system on the market.

Last and certainly not least, one of the most exciting developments in 2014 for Ricoh Ireland was becoming a member of Business in the Community initiative in Ireland. One of only a select number of organisations in Ireland to achieve this, Ricoh has proven its credentials for responsible and sustainable business practices based on ISO26000. Ricoh is working on a number of successful projects with sustainability organisations and charities including ReCreate and Focus Ireland to provide a real and lasting contribution to local communities in Ireland."

Predictions for 2015
"We are expecting further growth for Ricoh in Ireland in 2015. Economic signs remain quite positive and we're expecting that both the enterprise sector and commercial printers will be in a position to invest in new technologies and printing presses. For those that still aren't in a position to make upfront large scale investments, there are other opportunities to take advantage of new technologies through initiatives such as Ricoh Finance or utility-style billing rather than CAPEX spend.
In the commercial print market, we believe there'll be a number of key trends in 2015. Firstly, there will be more of a focus on automation in production methods. We see printers and publishers moving more rapidly to automatic Quote-to-Delivery programs to manage their costs and inventory levels at much lower levels. They are turning inventory more often with a multi-print strategy as opposed to buying in bulk and looking at unit cost per job.
Secondly, short-run and one-off production will be an everyday occurrence and publishers need to be able to facilitate this. Thirdly, the adoption of digital printing by Irish publishers will continue to increase at pace in 2015. While we don't have Irish stats to hand, INTERQUEST recently found that 80% of UK publishers said that digital printing is a key component of their book production.
Next, we're predicting that Irish printers will finally wake up to social media and in 2015, there will be a much greater commitment to social media usage as early adopters demonstrate to the rest what benefits can be gained from engaging with customers and prospects in this way.
Additionally, we believe that there will be significant investment in the up skilling of staff in commercial printers to make sure they can adapt to the rapidly evolving print environment which requires faster output and increasing use of software.
Finally today's consumer wants to be engaged, informed, and entertained by the brands with which they do business. The Print and Packaging sector has been able to facilitate these important marketing functions with its flat, printed surfaces that are well suited to deliver cutting-edge interactive product information. New apps such as Ricoh's Clickable Paper will allow for direct mobile interaction with a printed matter, thereby eliminating the need for a separate scan able code that eats up precious branding space and distracts from a package's aesthetics. After scanning a package enabled with Clickable Paper technology, the consumer can concurrently access links to websites, video, charts, maps, blogs, shopping carts, product reviews, and other important data. Thus, unlike a QR code that only brings the consumer to a single website, Clickable Paper will connect consumers to a wider variety of rich media content."

Magco
David Magliozzi, MD of Magco as usual gave us his frank assessment of the market.
"We come to the end of another calendar year and for Magco, the financial year and I find myself more positive and hopeful for the coming year than any of the previous years since the financial crisis that decimated the Print, and Sign industries in Ireland.
There are a number of reasons for optimism that aren't simply mirrors of sentiment in the general economy.
Firstly, 2014 saw an actual increase in business for our company of 10%. While not enough to jump up and down for joy, it is certainly going in the right direction.
Secondly, capital equipment sales, i.e. printers, plotters & Laminators saw a much larger increase with more equipment sold in 2014 than any year since the Celtic tiger days.
The reason this is important, other than the obvious revenue, is that an increase in hardware sales is such a sign of confidence in our customers towards their own businesses.
Printing companies, sign & display customers are finally able to justify investing back into their businesses for the medium to long term.
Thirdly and closely related is the increase in confidence of banks and finance companies in the sign and print trades. From 2009 to 2012, and into 2013, any company related to print seemed to have an automatic black mark against them when it came to underwriting new loans. In 2014, our clients who bought Mutoh and related equipment from Magco and requested finance through our partner finance companies were all approved for either the full amount or 80% LTV.
2015 will certainly be a challenge but the challenges will be a little different from recent years.
Increased growth in sales and service need to be achieved maximising our existing resources and this can only come through constant improvement and increased productivity. Only through this continuous improvement will we be able to retain our loyal customers by offering better value and faster service.
In previous years, when we would ask customers what can we do to keep them happier? The answer was simply "cheaper, cheaper, and cheaper"!
Whilst price is still of course of the utmost importance to our customers, reliability, turnaround times and problem solving are what our customers are thanking us for and what keeps them coming back today?
Perhaps the race to the bottom is finally over? Without a crystal ball, no one can be sure but we at Magco are going to work hard to make 2015 even better for our customers and for us.
I would just like to say Happy Christmas and a busy new year to all our customers and friends of Magco.
Hybrid Services Ltd
Hybrid Services Ltd is the exclusive UK & Ireland distributors for Mimaki.
2015 – Could it be a standout year for wide format in Ireland? Here's its take!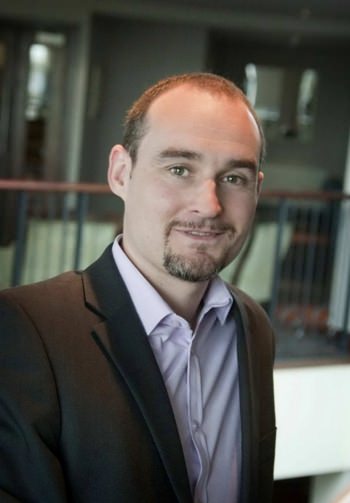 Dave Rainsford, General Manager Hybrid Services Ire With a general feeling of recovery, new investment being made by Irish printing companies and an upturn in demand for printed product, 2015 looks to have the potential of being a standout year for the Irish wide format market.
Dave Rainsford, general manager for Irish Mimaki distributor, Hybrid Services Ltd predicts exciting times ahead and with Mimaki's new sign and graphics range tabled to launch in the first few months, he anticipates having lots of new print solutions to show the industry. "The launch of the Mimaki JV300 towards the end of 2014 was just the first of our new machines," says Rainsford. "We have three more ranges of dedicated printer and print and cut machines to come in early 2015 and that will set the tone for the year."
Mimaki's reputation for innovation is hard won, but Rainsford is keen to point out that it comes as a result of understanding and listening to its market. "The new printers offer a unique blend of high speed, high quality and affordable pricing," he confirms. "The new Mimaki kit sports new inks, new print heads and new software alongside many new features geared to improving productivity for the user."
The majority of the new machines are suitable for running Mimaki's dye sublimation as well as solvent inks so are well suited to Ireland's strong sportswear manufacturing industry. Mimaki's vibrant and durable Sb53 dye sublimation inkset includes blue and a composite black ensuring the typical high density coverage required for sportswear is achieved – even at high speeds. "The new JV300 brings volume sportswear and apparel production to every kit manufacturer," says Rainsford. "With the addition of a heat press, it becomes a really strong revenue stream with remarkably low barriers to entry."
Mimaki's industrial products line-up – which includes the multi-award winning 8' x 4' flatbed LED UV JFX200 printer, along with flatbed solutions ranging in size from A3 to 10' x 5', is seeing substantial installations in Ireland and this is set to continue through the New Year, as Rainsford confirms. "The popularity of the JFX200 is unprecedented," he says. "It perfectly hits the needs of the market, being the right size, speed and price for what most people want from a high quality display graphics machine."
Mimaki's products for its three core sectors – Sign & Graphics, Industrial Products and Textiles & Apparel – look to be ensuring a steady flow of cutting edge products for almost every application and Rainsford concludes, "There's never really been a better time to invest in a Mimaki printer. They all have the capability to really maximise the opportunities which are starting to present themselves in the industry."
EFI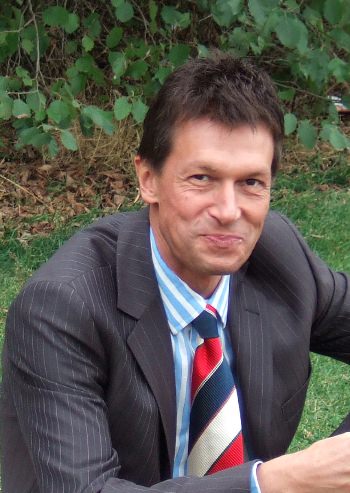 Marc Verbiest, International PR Manager, EFI BelgiumMarc Verbiest, International PR Manager, EFI Belgium, a worldwide provider of products, technology and services leading the transformation of analog to digital imaging had this to say.

EFI takes trends forward into 2015 and beyond
"Predicted twelve months ago, EFI's continued path to success has been based on sensible forecasting, on listening to its customers' requirements and expectations, and on identifying the areas across all workflow, production and administrative processes where streamlining and improvements can lead to greater efficiencies and more profitability for its users. Starting the year was EFI Connect 2014 in Las Vegas, where businesses from all over the world converged to learn more about productivity benefits and how the latest advances can be integrated into print shops of all sizes. As the year progressed, early expectations were met, with greater emphasis on the crucial areas of efficiency and profitability that are of paramount important to all digital print companies.
The first key production element where this drive for efficiency has been generated more keenly this year has been in addressing end-to-end workflow, a vital feature in all environments. Reducing touch points is particularly relevant for businesses integrating a web-to-print model and wanting to benefit increasingly from cross-media capabilities which are now playing a growing role in linking print with marketing operations.
As such, EFI's acquisition programme for 2014 has reflected the change in emphasis with job handling and linking conventional output with cloud-based options, and this lines the company's product portfolio up for the coming year with relevant productivity trends that show stronger cross-media demands. The next key element is driven by the never-ending quest for slick and creative personalisation and versioning that complements more conventional variable data printing. Already customisation now extends far beyond the transactional document market and will extend further into wide-format, labelling and packaging thanks to digital production methods.
Speed of throughput is also high on the agenda for 2015 as enhanced and streamlined workflows need to be complemented by output devices that reflect the power engendered by powerful front-ends. EFI's Fiery Print Servers and Workflow Suite encompass the high expectations of today's requirements where complex functionality must be integrated with VDP, colour matching and profiling, plus imposition and heavyweight productivity capabilities. Matching these speeds are the company's narrow-web Jetrion label presses, its wide-format and superwide-format VUTEk growing series, and industrial Cretaprint ink-jet tile printers – all designed to optimise versatility and bring users powerful and accurate results consistently. LED capabilities will also feature in more devices as the benefits of "cool cure" technology increase in popularity thanks to the ability to reduce power, operate greener practices and minimise waste, yet broaden print options across even the most difficult media and heat-sensitive surfaces.
As the need for speed and flexibility combines with the desire for customisation, EFI continues to acknowledge the need for throughput without compromise, backing this up with a comprehensive choice of MIS/ERP, web-to-print and productivity software. This link between speed and efficient accountability is now becoming increasingly important to businesses who want to thrive well into the future but need to accommodate their growing needs today in order to plan ahead through 2015 and beyond."
Antalis UK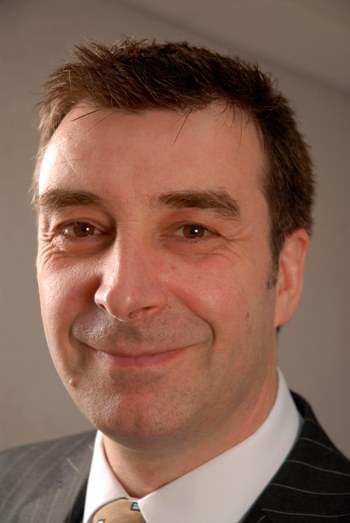 James Jarvis1 Antalis UK James Jarvis, Product Marketing Director, Antalis UK gave his view on the situation.
Highlights 2014
"We have worked hard over the past year to increase the strength and presence of our digital offering. We now have a highly dedicated and experienced support team of specialists in place to look after our growing customer base and the increase in demand for innovative solutions for digital print. As a result, we've had the opportunity to work collaboratively with our customers on a number of exciting projects. In addition, the educational and learning seminars hosted at our Digital Academy continue to prove hugely popular."
"In terms of our product portfolio, as our customers to look to differentiate their offering and add value to their printed product, so too does the demand for innovative papers. As a result, we have we have continued to broaden our range of speciality and creative papers, which continues to buck the trend by showing an increasingly healthy upward demand."
"The acquisition of the Xerox's office paper distribution business has also enabled Antalis to further expand our range of quality papers in the office and digital print media sectors, with the introduction of products, such as Premium NeverTear, giving customers an even wider product portfolio from which to choose."
Looking ahead to 2015
"Due to the popularity of our Digital Academy, we'll be replicating its set-up with the opening of a series of regional academies throughout the UK, to enable more of our customers to benefit from a 'hands-on' experience of our range of products and solutions."
"We'll also continue our commitment to product innovation as we constantly seek out new and unique products and solutions that will help our customers achieve that all important competitive edge."

printMAX

Michael Bolton, printMAX MD, a leading UK reseller of Roland and Mimaki large format machines had this input.
"The biggest highlight of the year has to be taking on the new Mimaki range to sit alongside our successful Roland products, this really allows us to grow with our customers and offer them award winning flatbed solutions.
The economy has been nothing but favourable for our industry and we have joined our customers in seeing a continuous growth and room for investment.
Sign UK was also a particular highlight; it was absolutely the best show yet. We saw more show sales than ever before along with many networking and lead opportunities.
We also launched our new website this year, with a new modern approach, mobile friendly and incorporating ecommerce for the very first time, allowing customers to order 24/7.
For our customers, a particular highlight might have been the launch of the RF-640, Roland's very competitively priced printer. At fantastic speeds and incorporating the latest and greatest technology, many were surprised that it was released into the market at such an incredible price point of £9,999.
Regarding 2015 we predict another fantastic year, much more growth for our customers and I think 2015's Sign UK in March could be a winner."
And now let's turn to some comments from a few Irish printers. Why, because they are at the coal face, they can see the demands emerging from the marketplace, and ultimately, they have to decide whether to invest in new technology or not!
Here's an Irish perspective from some of them

GP Digital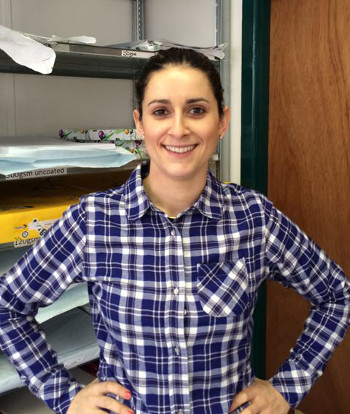 Nyssan Deeb, MD of GP Digital Nyssan Deeb, MD of GP Digital said,
"2014 saw more adjustments in GP Digital.  We focused a lot this year on digital marketing for the company and put a plan in place for same.  This has brought exciting opportunities over the year and more will follow in 2015.  One of our main staff, Pierce Ivory, moved on from the business – after 10 years.  We also became 10 years old in October.  In November we were nominated for an award under the Corporate Events category.
Who knows what 2015 will bring – no doubt some new business and maybe a new flatbed!"

Print & Display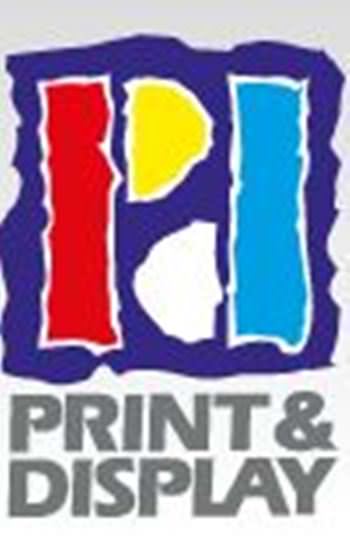 Ronan Conway, MD of Print & Display was reticent to make many comments, although he did say, 2014 has been pretty good.
"We have been pursuing a strategy of reinvestment in digital and have added a number of machines in 2014.
"A second HP FB7600, another Kongsberg iXP, a Fotoba XLD170 as well as two Mimaki JV RTR machines."
However, Ronan was reluctant to discuss 2015, no doubt down to this Irish perception of 'giving your secrets away' to competitors.

Horizon Digital Print

Siobhan Sacker, Marketing Manager at Horizon Digital Print in Dublin gave us the following summary.
Ireland's recovery after the recession and the positive refection of this in the media industry
"There was a number of important events during 2014 such as Horizon's acquirement of world leading print machinery like the AGFA Jeti Titan, the Durst P10 250HS, and the MimakiJV300. This gave the company a huge increase in production quantities, the ability to print white ink, and enabling high quality printing on cloth material amongst other substrates.
Horizon's gold win at the FESPA awards in Munich and Silver win at The Smart Marketing Awards in Dublin showed that Irish printers are competitive on the international market and within the Irish media industry."
Predictions for the year:
"We see a growth in using more inventive substrates, such as MDF, and Mirror Board, in campaigns to produce on-trend displays.
Increase in digital in-store displays and integrating them with the customer OOH and in-store displays journey.
Increase in smaller, higher quality and more targeted campaign for niche audiences. This results in an increase in the need for digital printing, which is more suitable to shorter run lengths.
Increase in software that integrates the print process, speeding up lead-times, and reducing errors.
Increase in large print companies serving more areas of the brand's marketing requirements, such as planning, design, and placement."
Select Digital Print

Tara Wilson Black, MD Select Digital Print, as usual held back no punches with her comments.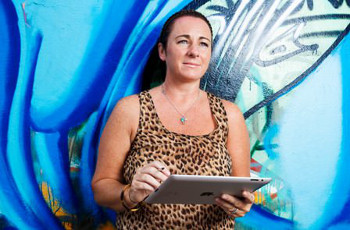 Tara Wilson Black, MD Select Digital Print"2014 was a strange year digital print wise at Select Digital Print. Our highlight was working with Web Summit for the 3rd consecutive year in a row, the installation of the Anapurna flatbed UV printer which allowed us to tackle this mammoth task with precision and speed on time and on budget. It also opens up a huge market for Select Digital and allows us to cut costs as we are now able to print direct to boards and other substrates. The print industry has been badly damaged by the recession and decisions made by this government. There is a lack of stability in the industry borne out of the fact that access to finance for most small businesses has been simply cut off by financial institutions. Small businesses are the back bone of the Irish economy.  The most recent official CSO figure relates to 2012, the CSO Business Demography results found that 68% of Irish private sector employees work for an SME. They account for 52% of total employment. Demand for finance is at 44% in this quarter of the year according to isme.ie   so what does this mean for the Irish Print Industry and in particular small printers? Small printers play a crucial role in economic and employment growth in Ireland and it is my opinion that they are not being supported. If we are lucky enough to secure finance we pay a premium in the cost of that finance compared to other European SMEs and this is putting our indigenous businesses at a competitive disadvantage. Small print houses are finding it difficult to be competitive. The lack of funding means machinery is usually outdated and costs more to run on a daily basis effecting the cost base and bottom line. The scales are tipped largely in favour of the bigger guys. Small businesses are essentially at the centre of Ireland's recovery and I believe these issues need to be addressed. We can all play a part in the interim supporting small printers from the paper mills to the cost of shipping and delivery. We as entrepreneurs have a corporate responsibility to our customers and the communities we live and work in. I believe that the emphasis should be more on supporting and influencing the effective implementation of the major policy initiatives that the government has just recently introduced to support the SME sector e.g.  Micro Finance Ireland who is working closely with Local Enterprise Boards to ensure small businesses gets the support they desperately require to grow and compete on an even keel. I am hopeful 2015 will bring more opportunities for small printers to access this finance, even if you've been declined credit by your bank Microfinance Ireland and the local enterprise boards are encouraging small businesses to apply for funding through them. If you need funds to grow your business or job creation a life line has finally been thrown to us and for this reason I am stepping into 2015 with a positive attitude and spring in my step." 

The middle man
Event marketing agency, Concept Communications
A view by Paul Cooke, Commercial Director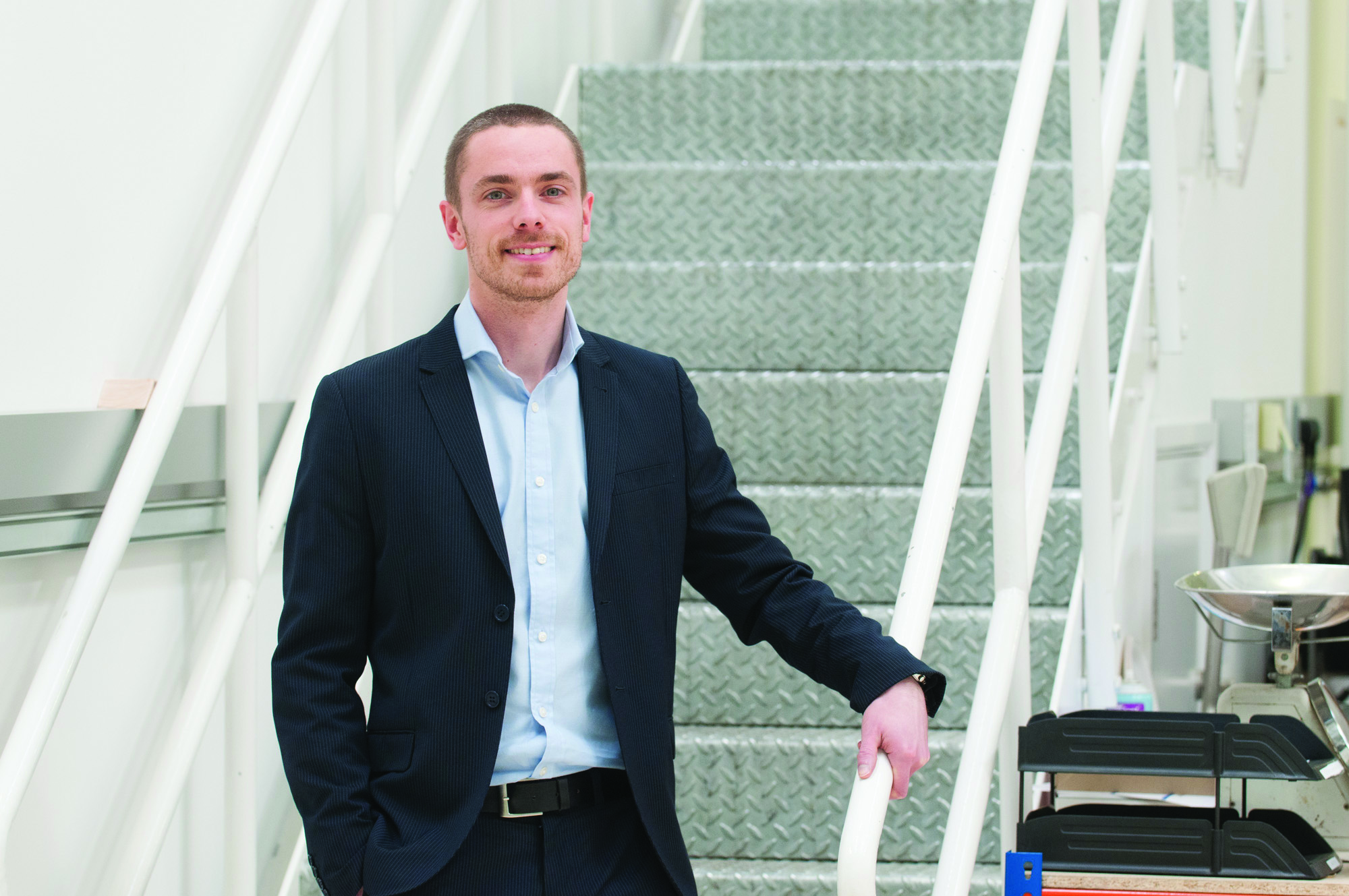 Paul Cooke from Concept Communications "In the last 12 months, the market has become a far more competitive environment than ever before. Digital technology and communications have further shaped the print industry into one that is fundamentally different and much more complex. It is this fast-paced, multi-media world that has created demand for better technologies, quicker delivery times and more cost-effective solutions to ensure that print and marketing organizations can stay at the forefront of their sectors.
Printers are expected to be able to offer and deliver far more than just a printing job. It's with this in mind that many of us have had to take a step back this year to see how we can do business differently to remain profitable, innovative and retain that all important competitive edge. Rather than implementing vast and potentially detrimental changes to our own business models, collaboration has become the ideal solution this year for companies like ours.
Collaboration allows for like-minded partners to come together and form a highly competitive offering in this crowded marketplace. For CCG, partnering with ProCo has enabled us to combine both our unique and complimentary services and technical capabilities. This combination provides compelling benefits to our customers, such as a broader service offering and enhanced technological expertise. In addition, this partnership has secured both parties 'long-term growth.
Whilst collaboration may not be considered a trend, I do think that we will continue to see many other businesses opting for partnership in 2015. Businesses will make this decision in orderto adapt quickly to changing consumer habits, as well as introduce new print and communication innovations to generate new revenue opportunities.
I truly believe that it's an exciting time to be in the printing industry and 2015 is going to be an interesting year indeed."
So certainly, hardware, software and material suppliers, both in Ireland, the UK and in Europe appear to have had a positive 2014 and believe next year will continue this trend.
Even the comments from most of our Irish printers mirror these sentiments.
But what about the official stats or the lack of liquidity in the system!
As Paul Cooke from Concept Communications said, "2015 is going to be an interesting year indeed."
By Martin O'Driscoll
You can Tweet, Like us on Facebook, Share, Google+, Pinit, print and email from the top of this article.
Copyright © 2014, DPNLIVE – All Rights Reserved.