The HP Designjet 3D Printer is now available in Austria, Switzerland and Ireland.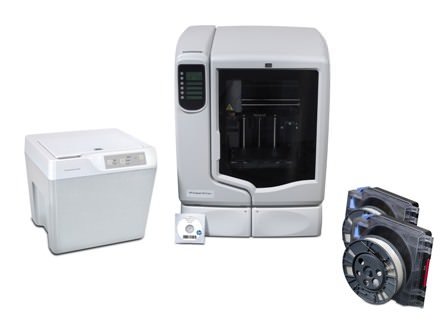 The HP Designjet 3D Printer is now available in Austria, Switzerland and IrelandThree-dimensional or 3D printing describes the process of creating three-dimensional objects from digital files using a materials printer in a manner similar to printing images on paper.
Producing 3D models and prototypes in-house gives developers' better design control while reducing costs and time-to-market. The HP Designjet 3D Printer produces models in ivory plastic while the colour version can print models in nine different colours.
Produced using recyclable ABS plastic (acrylonitrile butadiene styrene), the models created on the HP Designjet 3D printers are faithful to designs to ensure fit, form and function. HP said durable, precise and functional models can eliminate costly design faults and tooling mistakes.
Each pass of the print head puts down a layer 0.254mm thick, ensuring optimal results with the highest level of dimensional accuracy, near-moulded plastic strength and an effective time-to-model/cost ratio. Printer operation is intuitive and can be left unattended over the weekend, for example, to maximise development time schedules.
An interesting feature of this printer is that completed parts can be handled immediately after printing – no need for gloves or post-curing. Models are placed in the HP Designjet support removal system, the second component of the 3D printer solution, for excess model material removal. Neither printer nor removal system requires any special infrastructure thus avoiding unplanned incremental investments.
Since the HP Designjet 3D printers are about the size of a normal laser printer, models and prototypes can be produced in any environment including the office where they can fit perfectly next to a desk and include a built-in network card for easy workgroup sharing.
There is no special requirement for ventilation and normal plumbing is fine for the support removal system. Waste water requires no treatment before being disposed of into the office drainage system. Waste materials (models, bases and spools) are recyclable and are collected as part of HP's take-back programme.
The HP Designjet 3D printing solution is economical a low total cost of ownership because (i) it is fully automated, eliminating manual labour costs; (ii) the materials are among the most economical in the market; (iii) the system automatically adds smart supports which reduces support material needed so minimising printing and material removal time and cost.
For further information, videos, case studies and contact details of suppliers of HP Designjet 3D printers, please visit http://www.hp.com/go/3DPrinter.
Copyright © 2011, DPNLIVE – All Rights Reserved