Liverpool based Quantum UV Technologies has announced that it has developed a UV ink for the Durst Rho that can kill superbugs like MRSA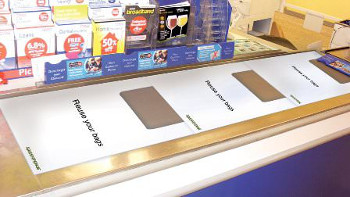 Greenpeace Tesco belt
(Methicillin-resistant Staphylococcus aureus), Salmonella and E. coli for up to 10 years on printed media if it remains intact. It also works on liquid laminates.
The company specialises in providing service and support to Durst, Roland and Vutek customers in the UK as well as in France and Belgium.
Formed by Eddie Tucker Marban whose background is in inkjet engineering, this innovative new ink was developed as a result of the company's initial quest to supply a high quality NON-OEM ink to its clients.
Marban explained:
"We became involved with the ink after seeing so many failures with cheap third party inks that caused damage to heads and gave false economy to customers," he said. "After seeing this so many times we decided to research the whole issue ourselves and started talking to ink chemists around Europe, which eventually led us to develop our own brand. It seemed perfect timing because we were also stretching our imaginations to the health and supermarket sector which gave us the idea of an ink that could kill superbugs. We eventually found a suitable chemical that could be integrated with polymers and water based inks successfully which is not affected by UV."
Quantum has named the ink "QASI" Quantum Anti Superbug Ink and it appears that it is attracting some serious interest in the UK retail sector.
Marban added:
"The supermarket sector is very interested because we've also developed an internal cleaning unit for supermarket checkout belts which can be printed on for advertising while giving protection against superbugs. The ink does work on other machines such as Nurs and some Vuteks, but we've mainly concentrated on the Durst Rho 160, 600 and 800 machines over the last few years. It works perfectly on all the usual substrates with excellent adhesion and quality.
We are so sure of the ink that we are offering a free carepack which includes unlimited telephone support and factory trained engineer callouts even against normal machine breakdowns! The ink has been tested over the last two years and has recently been introduced to our Durst Rho customers over the last few months without issues. Laboratory certificates are also available to prove effectiveness against killing these viruses. One further item of interest is our liquid laminate which has the same properties and can kill MRSA for 6-10 years."
One interesting point of note for Irish readers is that shortly Ecorock will be the first company in Ireland to use this groundbreaking ink as Quantum has been servicing its Durst printer for a while now.
MD of the company John O'Reilly said:
"We have been dealing with Quantum UV technologies for the last 24 months and have found their knowledge, service and commitment to customers second to none! Ecorock made the very cautious move after they supplied us with references from their other customers and we were impressed! Moving from the umbrella of a major manufacturer such as Durst was daunting to say the least, but it's been painless and worthwhile.
"They maybe based in the UK but can often be here the next day or sort out any issues very quickly and we have even been known to call them on evenings and weekends as they offer out-of-hours support. Their engineers are all factory trained by the manufacturer of our machines and parts are always available so we have complete confidence in them.
"Quantum UV technologies new QASI ink could open many doors for us here at ECOROCK. People are becoming more aware about MRSA, E. coli, Salmonella and other viruses within supermarkets and public environments, so we are hoping that we can offer a new breed of signage that protects and kills superbugs with a 6-10 year indoor life. We will be able to offer shopping centre graphics, signage and display units all printed with Quantum's protective ink. Currently we are printing onto Re board which we make into 3D display POS, aisle-end displays and exhibition stands. It is strong, robust and can hold the weight of humans. This new ink covering will help protect those busy little hands in shopping centres where children touch everything especially over this busy Christmas period where bugs are more active throughout the cold and damp spells.
Now that Quantum has the Patent in force for this new ink, we can market it here in Ireland. As we are the first and only company providing this innovative print solution, we look forward to offering this unique product with its many benefits to our customers."
Quantum UV Technologies
Tel: 0044 (0) 777 5428573
Ecorock
Tel: 00353 (0) 1 4570188
POS
Signage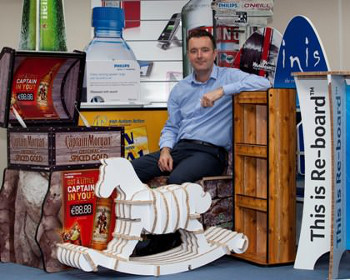 John O'Reilly from Ecorock with Re-board products