Company introduces fluorescent ink to its Texart Dye-Sublimation printing solution.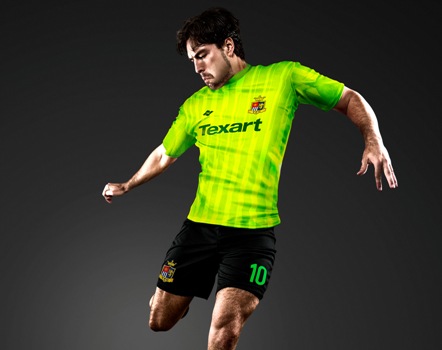 Roland Fluor Color yellow
Roland DG Corporation, a global manufacturer of wide-format inkjet printers and printer/cutters has announced details about the release of fluorescent ink specifically formulated for its Texart XT-640 and RT-640 wide-format dye-sublimation printers.
The printers were developed for dye-sublimation transfer printing, with the stated aim of delivering outstanding print quality and productivity for sportswear, fashion, soft signage, decor, promotional merchandise and much more. The new inks, Fluorescent Pink (Fp) and Yellow (Fy), can be combined with Roland DG's Texart process ink colours so that users can produce hundreds of vivid fluorescent hues. The proprietary Roland DG Fluor Color Library swatch palette can be installed in Adobe® Illustrator® and CorelDRAW® for ease of use and colour customisation. A simple click on the desired colours in the swatch palette allows an operator to quickly and easily incorporate dazzling and pastel fluorescent colours into a dye-sublimation output.
According to Yuko Maeda, division president of Digital Printing market development for Roland DG, the new fluorescent inks will be available mid-July of 2016 in a configuration of CMYKOrViFpFy for the Texart XT-640 and RT-640 printers with ErgoSoft Roland Edition software RIP. With the growing demand for custom production in the field of textile and garment creation, Yuko Maeda said.
"We believe the addition of Fluor Ink will not only enhance the versatility of our Texart printers, but greatly expand textile printing possibilities for our users, especially for sports and fashion apparel."
Roland DG is showcasing a large quantity of sample textile applications created using fluorescent ink at drupa, the world's largest international tradeshow for print and cross-media solutions which is being held in Dusseldorf, Germany from May 31 to June 10, 2016, at its booth: Hall 9, Booth E04-1.
For more information, please visit www.rolanddg.com / www.rolanddg.co.uk
You can Tweet, Like us on Facebook, Share, Google+, Pinit, print and email from the top of this article.