New appointment will extend Hybrid & Mimaki's reach across UK.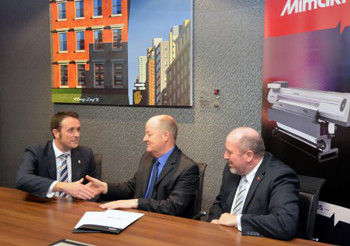 Stanford Marsh Group Graphics' Adrian Painter (left) and Danny Davies (right) confirm their appointment with Hybrid's John de la Roche (centre)Mimaki's exclusive UK and Ireland distributor, Hybrid Services Ltd., has announced the appointment of Stanford Marsh Group Graphics (SMGG) to its authorised Mimaki reseller network. SMGG's head office is based in Worcester and is the commercial graphics division of Stanford Marsh Group. It is widely regarded as a leading independent solutions provider for the wide format print marketplace.
Adrian Painter, Director of SMGG, said he was enthusiastic about this new agreement and commented, "Since Stanford Marsh Ltd. was established some 50 years ago, we've been providing informed and impartial advice, helping our customers make the right decision for their immediate and long-term business requirements.
"With customers typically investing in new technology every 3-5 years, it's difficult for them to be fully up to speed with what's available since they last looked at the market. Our wide experience and knowledge of the latest market developments brings real clarity to the purchase consideration process. This is backed by a strong and comprehensive line-up of equipment from the major manufacturers and enables us to compare and contrast the benefits of each system."
Hybrid's National Sales Manager, John de la Roche, is equally excited about the new partnership with SMGG, explaining, "It was apparent from our first meeting that the business was a perfect fit with Hybrid's reseller ethos. SMGG prefers to work with their customers by helping them grow into new markets and fully benefit from the investments they make."
Painter continued, "We've long recognised Mimaki as a major player in the graphics market and felt the timing was right for SMGG to grow its offering by adding Mimaki's innovative range of printers and cutters to the portfolio. There was an obvious synergy between Hybrid and our business – not only with the professionalism of the staff, but the attention to detail and desire to create long-term partnerships with end-users. This provides customers with a much wider choice and the opportunity to make an even better informed investment decision."
SMGG has also been developing its portfolio of consumables, which has now become a major part of its overall business. A key element to this is that the company actively encourages customers to optimise the use of their new equipment and re-order the most appropriate ink and media along the way. This is backed up with professional advice on how to get the best performance from any given machine. Painter believes that is how long-term partnerships are forged. He said, "With our own finance company to back up capital equipment sales (Stanford Marsh Finance Limited), we can also help customers make changes as new business opportunities come available or when they simply out-grow the initial investment. As such, we are able to provide a seamless business support offering."
Hybrid's de la Roche added, "With office locations throughout the UK, I'm confident that SMGG will make a valuable and significant addition to the accessibility of Mimaki equipment and consumables – especially with their flagship Bristol showroom."
Full details of the complete range of Mimaki products can be found by visiting Hybrid's website at www.hybridservices.co.uk and Stanford Marsh Group Graphics site can be found at www.smgg.co.uk
Follow us on Twitter - @DigiPrintNews
Like us on Facebook www.facebook.com/DPNLive - (click the 'LIKED' button/top of page as well)
Copyright © 2013, DPNLIVE – All Rights Reserved.