One of the first new MTEX 5032's to be delivered in the UK.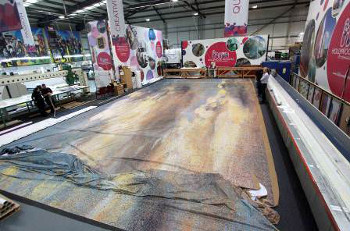 Hollywood's enormous backdrop print for Birmingham REP Theatre, printed on the MTEX 5032A new star arrived at Birmingham based Hollywood Monster last week - one of the first of the new MTEX 5032's to be delivered in the UK. At 3.2m wide, the MTEX 5032 is a direct to textile printer with in-built fixation and is manufactured and developed in Portugal by specialist textile printer manufacturer, POD Iberia. The company is one of the largest signage contractor and wide format printer in the region supplying range of graphics and digitally printed products – from A4 sign boards, banners, to the largest building wrap or structure.
It seems Hollywood were so excited about its new arrival, they shot a video of it being brought into their wide format printing facility in Birmingham. Digital textile printing it seems has well and truly arrived in the UK as Simon McKenzie, Sales Director at the company explained. "We're not shy of saying we are one of the leading wide format printers in the UK and we're proud of the reputation we have for excellence in design, print and delivery, "he said. "When you have several customers asking for a particular kind of print – like dye-sub for example – we have to listen. The demand seems to have increased certainly in the past six months, so we found ourselves on a mission to find the best direct-to-textile printer to meet these needs. The MTEX 5032, launched at FESPA London this year ticked all the boxes for us."
Hollywood Monster intends to start off by keeping it simple, printing onto backlit, display textile and black-out polyester based textiles that are tried and tested and give eye-catching visual results. Short bespoke work will also feature as will an amount of exhibition and retail displays. These will be predominantly indoor, but some short-term outdoor work will also be undertaken. The company added that the wide format direct-to-textile work perfectly compliments their existing wide format business and Simon sees it growing as the demand for flexible, lightweight and re-usable visual graphics becomes more commonplace.
The MTEX 5032 was launched at FESPA London earlier this year. It was developed to tackle printing applications such as lightboxes, home textile decoration, flags, interiors and much more. The printer has an integrated heat fixation unit to reduce waste to a minimum, and the whole solution has just one footprint, saving space, time and money. POD Iberia highlighted the fact that the MTEX 5032 prints vibrant colours and intense blacks which it said means dramatic light box and wall graphics can be produced at a standard never seen before at this price point.
McKenzie continued; "When we settled on the MTEX, we were invited to the manufacturing plant in Portugal by specialist textile printer distributor Digital Print Innovations Ltd (DPI), to see for ourselves and conduct a rigorous testing demonstration. We spent hours there, throwing all sorts of files at the MTEX 5032 and every time, without fail, it produced a vibrant finished result. We couldn't be happier with our choice and recommend anyone thinking of getting involved in direct to textile printing to speak with DPI as their honest and down-to-earth approach really helped us make the right decision for our business."
Stewart Bell, Managing Director of DPI added; "We're delighted for Hollywood Monster on their acquisition of their new MTEX 5032. We knew for sure that this new series would change the way we approach digital textile printing in the UK, and they've recognised that. No longer do you have to buy a printer and separate calendar - essentially halving production time compared with traditional digital methods. Now with the inbuilt fixation unit, the MTEX 5032 saves you time money and wastage and with unrivalled quality for the price. I look forward to seeing some of the very exciting digital textile print work that will come out of Hollywood Monster over the coming weeks and months!"
MTEX 5032 Features:
- 4 x Epson DX5 print heads
- Printing speed up to 58 sqm
- Printing width up to 3200 mm
- 1440 dpi maximum resolution
- Integrated Infrared Fixation Unit
- Dye-based: dispersed inks
- 2-litre ink bulk system
- 4 x individually controlled temperature sensors
- 10 x high-resistance INFRARED, individually controlled
- Electro-pneumatic feeding device system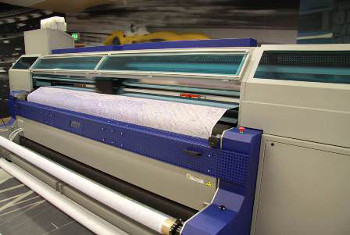 Hollywood's new MTEX 5032 prints with stunning immediate resultsOne of the first jobs that came off the MTEX 5032 was for the Birmingham REP Theatre for a production called Tartuffe. The graphic was a 30m x 9m back wall which had to be extremely light-weight and not crease. The job took round 7 hours to print and 5 hours to sew together.
McKenzie said; "The only way we could do the job was on a 220gsm fabric and on dye sub so there would be no creasing or UV cracking in the material. Also, the print quality was an important factor, and the vibrant colours work really well with the rest of the set."
Hollywood Monster also produced around 400 sqm of digital wallpaper on the set.
For more information on MTEX vist www.dpi-uk.com

For more information on Hollywood Monster, visit www.hollywoodmonster.co.uk

Follow us on Twitter - @DigiPrintNews
Like us on Facebook www.facebook.com/DPNLive - (click the 'LIKED' button/top of page as well)
Copyright © 2013, DPNLIVE – All Rights Reserved.