Enables high performance digital

polyester fabric printing.
---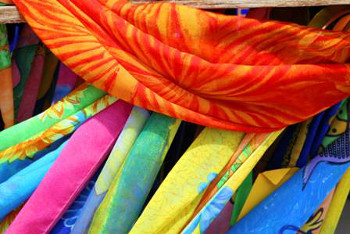 Vibrant colour performance is possible with Xennia Corundum with efficient use of materialsUK based Xennia Technology has launched a full range of sublimation digital textile printing inks for proofing and production-scale decoration of polyester fabrics under the product name, Xennia Corundum™.
---
This new range of digital textile inkjet inks is designed for high quality sublimation polyester fabric printing using both coated and uncoated transfer papers. Xennia Corundum is available for Kyocera and Epson-based systems.
"Xennia Corundum is our high performance sublimation ink for polyester textile decoration which offers customers maximum colour performance with minimum ink consumption," commented Dr Olivier Morel, Xennia's Chief Technology Officer.
This key product launch will now expand Xennia's high performance digital textile ink range.
Dr Morel commented further: "Xennia Amethyst™, our advanced reactive dye digital textile ink, has established a reputation for having the best quality and colour performance of any reactive ink on the market. The Xennia Corundum sublimation ink continues this story and uses the same technology strategy: in benchmark testing against other inks available on the market our product shows improved jetting performance, enhanced transfer efficiency from the sublimation paper and superior colour on the textile. This maximises end user benefit, as more colour gets to the fabric where it is needed and waste is reduced. We have been sampling Corundum with selected beta customers in several territories over the last year, and we are now making this fantastic product available worldwide."
Xennia's digital textile inks have been used in digital textile production environments globally for several years and have a reputation of enabling textile mills to create high colour intensity prints with excellent production reliability. Xennia's digital textile ink range includes Xennia Amethyst reactive dye ink for printing cotton and cellulosics, Xennia Moissanite™ UV curable ink for outdoor textile printing and the new Xennia Corundum sublimation ink.
For more information about Xennia, please visit www.xennia.com.
Follow us on Twitter - @DigiPrintNews
Like us on Facebook www.facebook.com/DPNLive - (click the 'LIKED' button/top of page as well)
Copyright © 2014, DPNLIVE – All Rights Reserved.