Company confirms raft of new printers to be shown at exhibition.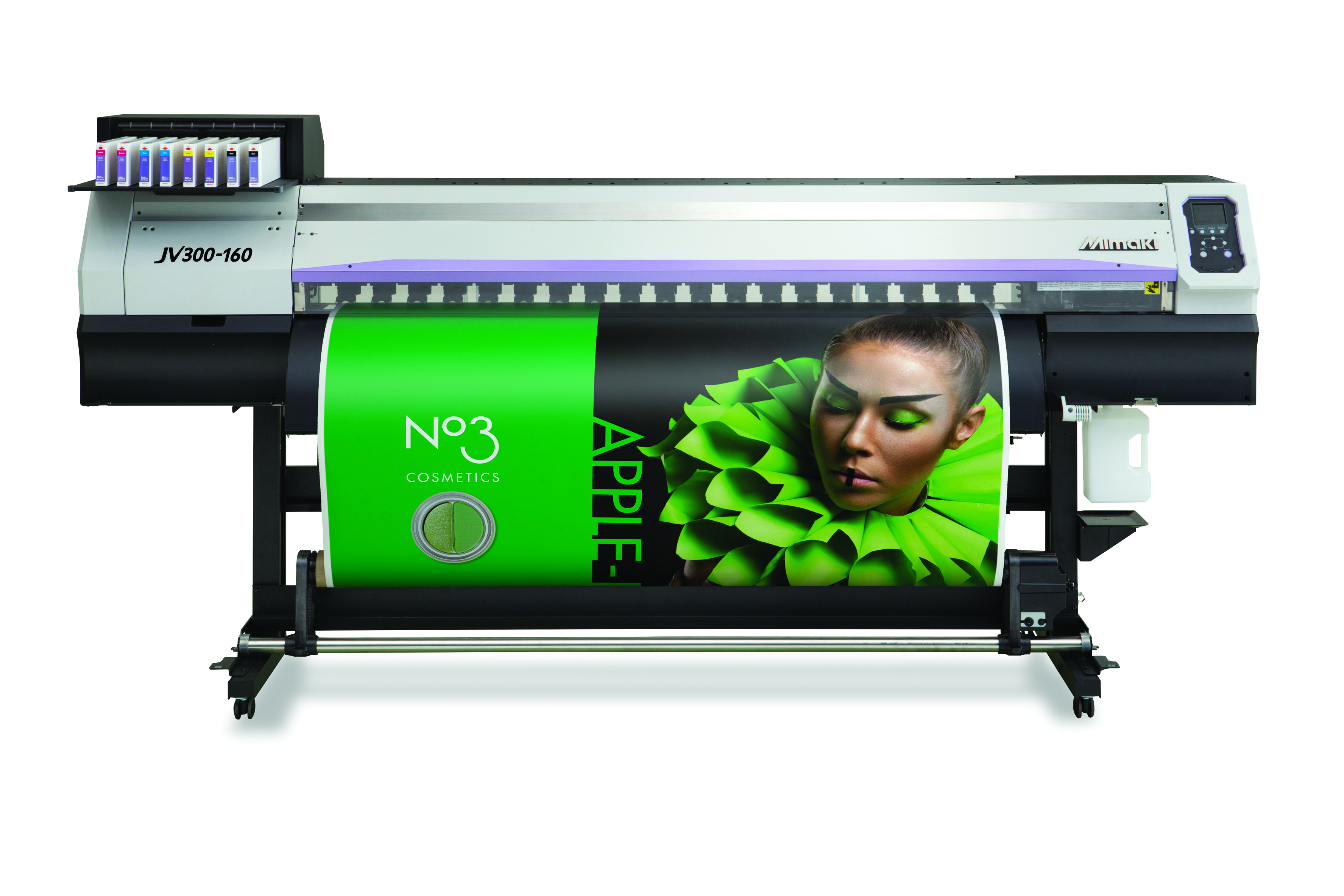 The range-topping Mimaki JV300 will be available to demo on the Hybrid stand at the show It's been confirmed that Mimaki's exclusive UK and Irish distributor, Hybrid Services Ltd will be using Sign & Digital UK to launch a raft of new wide format printers for the sign and graphics sector. The companies stand, situated at the entrance to the show, will be showcasing new products across all sizes, speeds and price points, including all new printers and integrated printer/cutters.
The company's national sales manager – sign and graphics, John de la Roche commented, "Sign & Digital UK 2015 will be the first opportunity for most visitors to see the completely new line up of ten solvent printers and printer/cutters from Mimaki and they'll feature very heavily on the Hybrid stand as well as amongst our reseller network at the show."
"The new CJV150 range of printer/cutters from Mimaki includes four different sizes of machine, from 75cm up to 1.6m and the price/performance ratio is extraordinary," he continued. "We fully expect this new printer to take the show by storm as we're confident it fits the needs of the sign maker perfectly – and at an excellent price point too."
Solvent and dye sub wide format solutions
In addition to the integrated machine, Mimaki's JV150 solvent or dye sublimation printer will be making its first UK outing alongside its ultrafast sister machine – the JV300. "We've installed a significant number of JV300 printers in not just the sign and graphics market but dye sublimation as well," remarked de la Roche. "As a highly productive fashion and sportswear printer, it fits the needs for companies seeking to ramp up their manufacturing capability perfectly."
The final part of the new wide format offering from Mimaki is the CJV300 – the company's top of the range integrated printer/cutter which features speeds of up to 105m2/h – yet boasts a very attractive price tag. "Print providers seeking to really achieve volume production of labels and shaped stickers need look no further than the new CJV300," stated de la Roche. "With Mimaki's peerless heritage in this sector, it again moves us up to a new level of performance and quality."
LED UV machines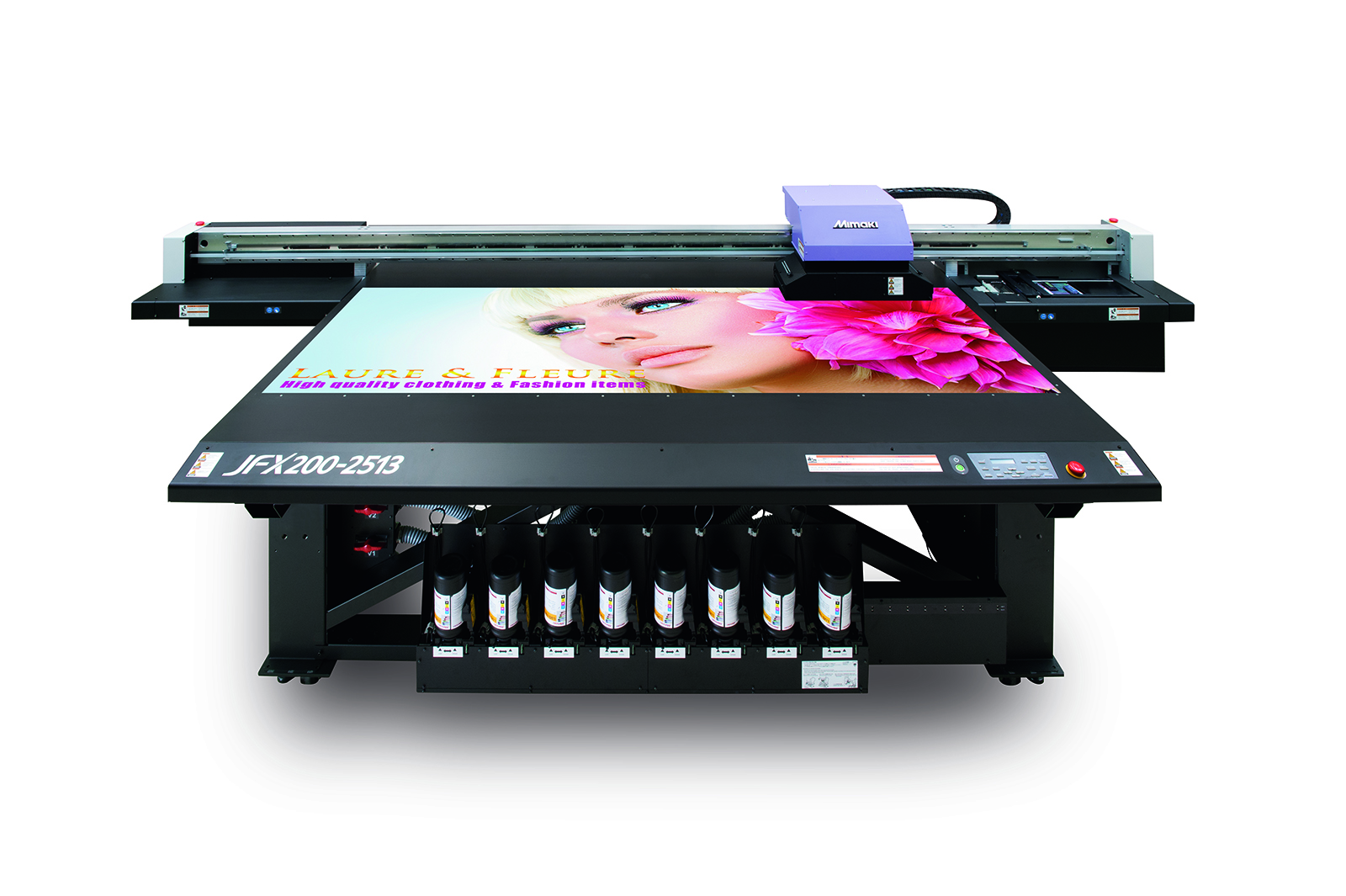 Mimaki's multi-award winning JFX200 flatbed LED UV printer will feature on Hybrid's stand at Sign & Digital UK 2015 Featuring alongside the sign and graphics machines, Mimaki's flatbed and roll-to-roll LED UV portfolio is expected to be a major draw for visitors and following a debut at the 2014 show, where the first machine was sold within 10 minutes of the doors opening, the JFX200 8' x 4' flatbed is already building on its reputation. "The level of installs simply grows and grows," confirmed national sales manager – industrial products, Stuart Cole. "Uptake of the JFX200 is unprecedented and this year's exhibition allows us to demonstrate to more people why it's the perfect solution for so many businesses looking at investing in flatbed printers."
With an 8' x 4' bed size which matches standard material sheet dimensions, very low running costs, a choice of inks including white and clear varnish, Ozone free lamps that are guaranteed for 5,000 hours and 75 per cent lower C02 emissions than alternative UV technologies, Mimaki claims that this machine leads the way with its ease of use, compact footprint and peerless quality.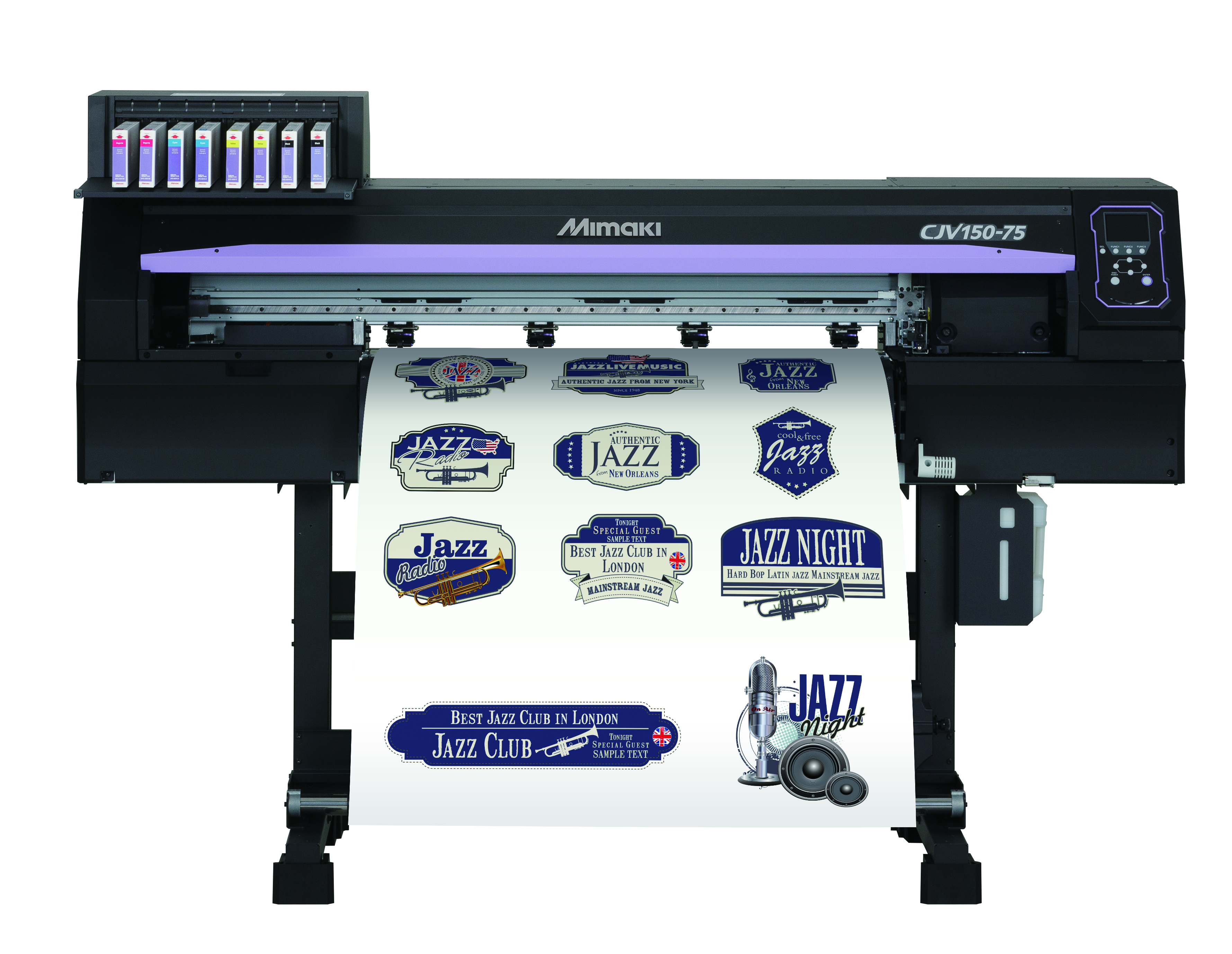 The smallest of Mimaki's new printer cutters is the CJV150-75 Hybrid will also be featuring three of Mimaki's small format LED UV flatbed printers from the UJF range – designed as the ideal solution for printing direct to object on small items to add significant value and revenue streams to almost any printing business. "We're seeing more and more manufacturing companies investing in the Mimaki UJF range," confirmed Cole. "With a choice of A2 or A3 beds and an incredible array of inks, we're installing these machines across a broad variety of businesses – all connected by their new capability of adding bespoke print to their operation."
Confirming Hybrid's intentions for the show, de la Roche welcomes visitors to the stand, "Hybrid will, as always, be offering warm hospitality alongside the opportunity to see highlights from Mimaki's range of printers, software and workflow solutions," he confirms. "It's also a great chance to meet the team and see the latest kit all in one place so we're really looking forward to the doors opening at the end of March."
http://www.hybridservices.co.uk/
You can Tweet, Like us on Facebook, Share, Google+, Pinit, print and email from the top of this article.
Copyright © 2015, DPNLIVE – All Rights Reserved.