Investment made to maintain competitive edge in the photo market.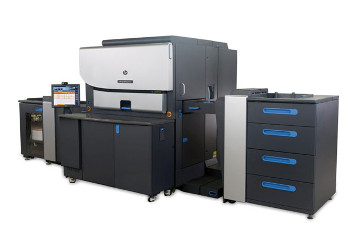 The automated on-press colour management system and substrate versatility were key features that led CEWE to install the HP Indigo 7800It was announced by HP at photokina (16-21 September, Cologne, Germany) that CEWE, one of Europe's largest photo and online printing services providers (PSPs), has installed an HP Indigo 7800 Digital Press.
Speaking at the event, CEWE highlighted the automated on-press colour management system and substrate versatility as key features that led them to install the new press. It added that these, and other benefits provided by this new technology, will enable it to increase production efficiency and explore new revenue streams.
"As a leading photo products supplier, we produce over 2 billion prints in CEWE PHOTOBOOKS, personalised calendars, greeting cards and other photo gifts each year. As such, our printing technology needs to provide a flexible, reliable solution and deliver consistent high-quality output in order to maintain the high standards our customers expect," said Andreas Kluge, managing director, CEWE Oldenburg. "The HP Indigo 7800 delivers exceptional print quality, bridging the gap between offset and digital. In addition, the colour management, inline spectrophotometer and intelligent automation tools streamline the production process. While our photo products are usually delivered individually, this increased production efficiency means that we can use this press to print our longer-run 'viaprinto.de' commercial products too."
HP explained that eliminating the need for manual colour manipulations, the HP Indigo 7800 Digital Press' in-line spectrophotometer and colour management tools help to ensure the best possible match to hard-copy proofs, colour uniformity within a page, and colour consistency between presses and sites. In addition, HP said the press features an intelligent automation capability that helps prioritise print jobs with optimised on-press job sequencing according to job length, media, and image types.
The HP Indigo 7800 is compatible with more than 2800 substrates and offers direct printing on synthetic substrates with One Shot Color technology.
"We are always looking for ways to stay ahead of the competition and offer our customers the latest, most unique products," commented Kluge. "The substrate versatility afforded by the HP Indigo 7800 presents an opportunity to expand our already extensive photo product range. In particular, we are keen to explore new products that incorporate metallic and lenticular substrates."
More information is available at www.youtube.com/hpgraphicarts
You can Tweet, Like us on Facebook, Share, Google+, print and email from the top of this article
Copyright © 2014, DPNLIVE – All Rights Reserved.