Sustainability and speed are key attributes

to the latest revision from Hollanders.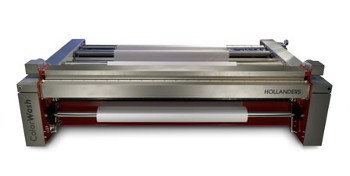 The upgraded ColorWash XL now handles higher drying speeds yet uses less energy Hollanders has now incorporated a number of upgrade refinements of its ColorWash XL washing machines which accompany its digital textile printers designed to increase sustainability and throughput and reduce noise levels.
The company said the equipment is now able to handle higher drying speeds across different polyester-based fabrics using lower energy with reduced amounts of water, both of which contribute to greener production and more efficient cleaning cycles. It added that all new systems will incorporate these features, while existing installations can have the modifications retrofitted on-site.
The most significant change to the ColorWash XL is a new suction method that is used to generate faster drying with a dedicated system to vacuum the water out of the media instead of blow-drying the fabric. Hollanders commented that this results in much drier material, leading to reduced subsequent ironing times and, by removing the water and any excess ink residue which has been captured by the detergent, improved cleaning is also achieved.
All energy used in the vacuum pump process is now also employed to heat the rinsing water. Increased sustainability has been achieved by recycling and optimising the power requirements within the system, and limiting the amount needed during the washing process.
Hollanders ultimate goal with the upgrade was to increase production rates. The revised 3.2m ColorWash XL can now process open structured light materials, such as flag fabrics, at speeds which are around 50 per cent higher, while thicker materials can be worked at nearly double the original extent. The company pointed out that where speeds might not appear to be faster because of the materials' characteristics, such as with residue, coating and construction, energy savings of up to 30 per cent have been generated. By increasing washing cycle rates, overall resources can be reduced by as much as 50 percent, resulting in minimal water consumption and lower energy usage.
There has also been a revision in the design of the forced water rinse tube which provides an additional mechanically forced washing cycle as a complementary system to the existing brushes. These brushes remain an integral element in the process as they are employed for the thorough removal of any surface particles, with the added rinse tube allowing the penetration of the fabric to ensure that all particles within the fibres are flushed out.
"After talking to customers, we realised that using water suction in the pre-drying stage is a more effective method than blow-drying the fabric. We also wanted to reduce noise levels as well as increase efficiency," explained Peter Hollanders of Hollanders Printing Systems. "Instead of having fans and tubes, the entire construction and operation is now far simpler and more effective, with noise kept to a bare minimum."
A modular roll-to-roll system that provides washing, drying and ironing, without the need for operator intervention, the ColorWash XL is fully automated. It incorporates on-board control of water temperature, washing speed, soap concentration, media tension, drying and ironing. Although it is designed to support print produced with the ColorBooster XL and ColorFix units it is also available as an independent option which can be used with other manufacturers' print and fixation machines.
http://www.hollanders-ps.nl/en/home/

Follow us on Twitter - @DigiPrintNews
Like us on Facebook www.facebook.com/DPNLive - (click the 'LIKED' button/top of page as well)
Copyright © 2013, DPNLIVE – All Rights Reserved.