One of the world's most popular

UV printers now even more accessible.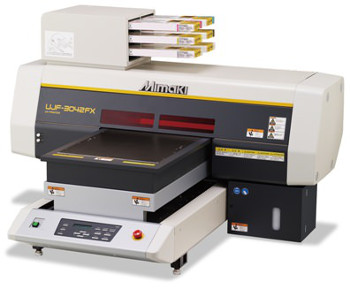 Mimaki UJF-3042FX now available at a lower price pointMimaki has announced that its A3 flatbed LED UV printer – the UJF-3042FX – has been reduced in price to just £16,995+VAT, a move designed to make this successful UV printer an even more attractive proposition for the broad array of markets that it provides a solution for.
With six ink channels and an extremely creative range of ink combinations (which include an exclusive primer, clear varnish and a highly opaque white) the printer suits the short run, rapid turnaround production of promotional products, personalised items, small format rigid signage and other bespoke jobs. Mimaki maintain that the UJF-3042FX is equally at home in studio environments (thanks to its lack of need for air extraction) as it is in a manufacturing setup. It has a 1200dpi print resolution and variable dot print head to ensure the output quality is typical of that associated with Mimaki. With a 50mm head gap, a huge variety of substrates and finished items can be printed to, adding value and functionality, said the company.
"The new price brings the revolutionary UJF-3042FX to an even broader market," said Mike Lewis from Mimaki's exclusive UK and Irish distributor, Hybrid Services Ltd. "The uptake of LED UV printing is increasing rapidly as print providers see the benefits of direct to substrate printing. We're equally finding the robustness and build quality of the Mimaki makes it suitable for fitting into manufacturing workflows, with multiple machine installs per site ever more common."
The Mimaki UJF-3042FX prints to acrylic, plastic, metal, glass, wood, polyester, polycarbonate and other rigid substrates which makes it an the ideal solution for adding value with branding and decoration for numerous end uses. "Mimaki has provided a solution that perfectly suits the burgeoning personalisation industry coupled with the popularity of web-to-print," confirmed Lewis.
The UJF Series (including the 150mm head gap UJF-3042HG and the A2 bed UJF-6042) forms part of Mimaki's industrial products range, which sits alongside the company's textile and apparel and sign and graphics machines. These are all available through Hybrid's specialist reseller network, with further details of the product line-up to be found at www.hybridservices.co.uk

Follow us on Twitter - @DigiPrintNews
Like us on Facebook www.facebook.com/DPNLive - (click the 'LIKED' button/top of page as well)
Copyright © 2013, DPNLIVE – All Rights Reserved.