Theme for the 3 day show is
'Join the textile revolution'.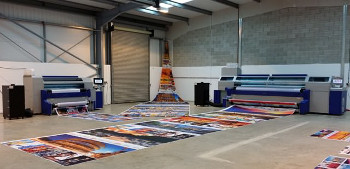 The new MTEX Technologies UK showroom
MTEX Technologies is inviting participants to the grand opening of its brand new UK showroom from 14 to 16 October, 10am - 4pm.
The showroom, based at Rawdon Business Park, Moira on the Derbyshire/Leicestershire border, will be used as both a training and demo centre showcasing the latest in direct-to-textile digital printing.
It currently houses an MTEX 5032Pro and an MTEX 1800, and visitors will also be given an opportunity to learn more about the accompanying MTEX PAD – designed to pre-treat and coat materials, and the MTEX W&D washer and dryer.
MTEX is fast becoming a market leader with total turnkey solutions for innovative, dynamic and professional digital textile printing. They have partnered with the best from across the industry to cover all aspects of digital textile printing over the three day event, including:
Design and pattern software from AVA Cadcam
Fabrics from specialist manufacturer Georg + Otto Friedrich from Digital Print Media (DPM)
State-of-the-art flatbed cutting solutions and software from Blackman & White
Innovative modular exhibition display systems from Tecna UK
A wide range of fabric tension, lightbox systems and sewing solutions from DPI.
To make the event even more attractive, registered visitors who attend will be entered into a draw to win a fabulous weekend for two in Porto, winner of the Best European Destination Award 2014 and the home of MTEX digital textile printers.
MTEX Technologies MD Stewart Bell said: "It's a very exciting time to be involved with digital textile printing, and I'm delighted to be opening this facility for UK customers.
"By bringing together experts from across the industry at this event we hope to inspire sign and display makers, exhibition designers, retail specifiers, project managers, interior designers and brand managers with the potential that digital textile printing offers.
"We will have experts on hand from MTEX and our partners to demonstrate the machines and how they link together to form complete solutions, as well as holding informal discussions about the growing market for textile printing and soft signage."
Some comments from the other companies taking part at the event.
Eiko Ichikawa, Commercial Director Blackman & White said: "'We will be introducing a new standard of multifunctional cutting at an affordable price point, at this key event - an exciting proposition for the textile print and graphics industry.
"The Versa-Tech flatbed cutter is the ultimate textile cutting solution and offers an extremely versatile multi-tool cutting capability with router, knife and now laser. We've been manufacturing and engineering flatbed cutters for 50 years in the UK, predominantly for the composites and marine industries - but the Versa-Tech was designed with display graphics companies in mind and since entering the sign and display market two years ago, we have fast become the industry's best kept secret.
"We're looking forward to sharing our knowledge and solutions with like-minded companies on these three days at MTEX."
Paul Tomlinson, DPI UK added: "DPI is really excited to be showcasing their flat pack lightbox solutions. We see this as the perfect platform to show the industry the benefits of making lightboxes pack down for easier and economic logistics - just like the fabric graphics that fit within them.
"Partnering with MTEX on this exhibition is going to be very exciting; these guys are way ahead of the game in the Dye Sublimation arena - they're leading the way. We are proud to be associated with this event and really looking forward to an educational three days."
Simeon Wicks, MD Tecna UK commented: "TecnaUK are delighted to be involved with the MTEX showroom open days. We will be demonstrating our T3 FabFrame that enables customers to create virtually any fabric structure with no tools required, from basic lightboxes through to more complex projects. This open house offers companies a unique experience that will enable them to see everything under one roof rather than having to scrabble around on the internet or attend busy European trade shows and have to mix and match different components and suppliers. To be able to offer the full production demo from print to display truly is a revolution in fabric printing and the first of its kind in the UK."
Duncan Ross, Commercial Director at AVA Cadcam said: "In our experience, digital print has been growing rapidly over the last 10 years. However, the last 2 years in particular have been booming, in terms of both digital print installations and digital print enquiries.  It seems everyone now realises digital print is a must have rather, than a nice to have.  Some companies who've recently installed their first printers are commenting – 'why didn't we do this 5 years ago!'.  AVA is usually the first port of call for customers seeking advice and reassurances about which printer, ink and media to choose. For us it's wonderful to have so many reputable suppliers and quality solutions to recommend.  We are really impressed with the machinery, prices and solutions coming out of MTEX.  It certainly adds value to the digital print market and helps reassure our customers that their investments will indeed reduce costs, reduce lead times and increase sales."
The MTEX printers on show will be:
The MTEX 5032Pro – a 3.2m wide direct-to-textile printer with integrated fixation; runs at 58 m2/h. It is the second-generation version of the 3.2m wide MTEX 5032 which has a proven track record in the industry as a leading direct-to-textile printer in Europe. This printing solution has been developed to enable users to produce a wide range of fabrics for a huge variety of applications including soft signage, interior displays, home textiles, flags, retail point of sale, lightboxes and much more.
The MTEX 1800 – aimed at medium sized display graphic and home textile companies that want a machine that will print dedicated textiles with punchy colours. It is 1.8m wide and prints extremely high quality vibrant colours at up to 48 m2/h and has a 2 litre bulk ink system for continuous printing. It is built as an integrated one-footprint unit with integrated workflow.
For more information go to www.mtex.eu or email This email address is being protected from spambots. You need JavaScript enabled to view it.. To register for the event go to http://mtex.eu/uk-opening/.
You can Tweet, Like us on Facebook, Share, Google+, Pinit, print and email from the top of this article.