Focus on fabric for new investment at Colour Graphics.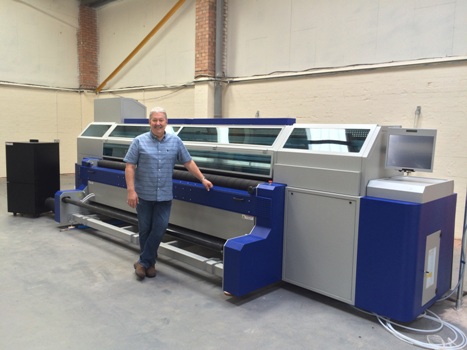 Colour Graphics director Steve Birch with the company's new MTEX 5032Pro direct-to-textile printer
UK based Colour Graphics has confirmed that it is expanding its long-standing relationship with textiles and interior design, with an investment in a new MTEX 5032Pro direct-to-textile printer.
The history of Colour Graphics goes back to when Steve and Vicki Birch – owners of Vicki Interiors started a copyshop after they realised the potential of the new colour copiers coming onto the market in the 90s.
They decided to diversify, invested in a Canon copier and a heat press, and began offering colour copies and transfer printing onto T-shirts from their interior furnishings shop. This then developed from there to include poster and banner printing, plus flatbed UV solvent.
Fast forward and digital textile printing is now the most recent addition to the company's armoury, with the purchase of the new MTEX 5032Pro. James Birch, Colour Graphics director and son of Steve and Vicki, said: "We've added extra space onto our unit to house the new MTEX in an area that will be dedicated to fabric and finishing.
"We wanted to make the move into textiles as we always try to be ahead of the wave, and the market is clearly changing and getting much bigger.
"As well as allowing us to expand the offering for our existing sign and display customers, we'll also now be able to look at expanding into new areas."
Original company owners Steve and Vicki have had 35 years' experience in textiles, and believe the new printer will be an excellent addition to its resources, allowing custom printing of bespoke fabrics for truly personalised interior design. Colour Graphics will also be providing commercial customers with products such as POS interiors, wall and window coverings and lightboxes.
In addition to the MTEX 5032Pro, the company has also recently purchased a 10ft by 5ft Multicam CNC router.
"Our existing customer base is 80 per cent trade, and they'll be able to offer this great new technology to their customers without having to make an investment themselves. With the support of MTEX, we're also looking at moving into areas outside of sign, display and interiors, into markets such as fashion.
"The capabilities of the MTEX printers and the supporting workflow, plus the introduction of new inks for printing onto a wider range fabric outside of polyester makes this a very exciting time."
The MTEX 5032Pro is a 3.2m wide, high-quality direct sublimation printer that delivers brilliant and vivid colours. It has integrated fixation, and runs at 58sqm per hour. The Pro is the second-generation version of the 3.2m wide MTEX 5032 which has a proven track record in the industry as a market leading direct-to-textile printer in Europe.
There is a new integrated platform on this Pro model as well as a new feeding and take up system, which uses compressed air. There is also a new continuous ink feeding system.
MTEX Technologies Managing Director Stewart Bell added: "We are delighted that Colour Graphics have chosen MTEX as their partner for Digital Textile Production. At MTEX we manufacture quality production printers that produce stunning results for textile in the exhibition, sign and display markets, but which also allow customers to diversify into other business areas. Our printers have inbuilt fixation which means a single pass process, simplifying the whole process whilst saving production costs and generating excellent profit opportunities."
For more information about Colour Graphics go to www.colourgraphics.com, call 0044 (0) 1543 377 918 or email This email address is being protected from spambots. You need JavaScript enabled to view it..
For MTEX go to www.mtex.eu or email This email address is being protected from spambots. You need JavaScript enabled to view it.,
You can Tweet, Like us on Facebook, Share, Google+, Pinit, print and email from the top of this article.
Copyright © 2015, DPNLIVE – All Rights Reserved.