Personalisation print specialist Halligan Raby carves out a new niche with help from CMYUK.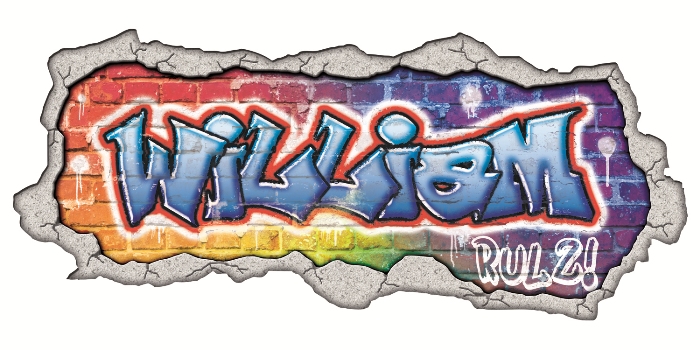 The wall mural that Halligan Raby's Jamie Mallin created using UTACK media from CMYUK and a sample 'graffiti' wall decal
UK based Halligan Raby, which specialises in personalised products, has worked with the consumables specialists at CMYUK to develop a new range of customised wall art using UTACK media.
The company has been printing and producing personalised items for around 35 years, including licensed ranges with characters such as Thomas & Friends, Paddington Bear and Beatrix Potter.
It also supplies a number of personalised ranges to top flight football clubs both in the UK and Europe, and Digital Print Manager Jamie Mallin says the drive to innovate for this market in particular inspired the new wall art products.
"The football clubs we work with are always looking for new and innovative merchandising ideas, so this year we decided to develop a wall decal based on football crests for fans to stick on their walls.

"We'd been looking at the idea of wall graphics for a couple of years, but when we tried to source material that would apply easily but not do any damage, it didn't exist at a cost effective price.

The wall mural that Halligan Raby's Jamie Mallin created using UTACK media from CMYUK and a sample 'graffiti' wall decal "Then in January of this year I contacted CMYUK after reading about their new UTACK media. I decided to try it out for myself, creating a wall mural for my son's bedroom, and linked with Aaron Clarke in the consumables team to work through some tests on our Roland Soljet Pro 3 wide format.

"We also developed a customised 'graffiti' name wall decal as well as the football crest decals. The key issue is that, while as a printer I can confidently apply vinyl's myself, it's not easy for people at home with no experience, so we needed another solution."

"The UTACK media sticks like it should but is removable for repositioning if needed and won't damage the surface of a wall. We sent sample crests to a couple of football clubs we work with and the feedback has been extremely positive."
UTACK is a thin, woven self adhesive polyester fabric on a backing paper. Its water resistant matte surface produces an excellent quality printed resolution and high definition, and it is widely compatible with any branded solvent, water based and latex ink large format printers. There's no edge-curl when the product is under tension and the durable, universal coating eliminates cracking of the ink layer due to stretching.
Aaron Clarke from CMYUK said: "The UTACK media is perfect for the wall graphics that Halligan Raby produce, as the ability to reposition the graphic without compromising the adhesive makes it incredibly user friendly for customers at home.
"UTACK can also be used for window displays, exhibition graphics, POS and so on – it's a versatile product that offers a quick and easy solution to temporary or repositionable graphics."
Mallin added that Halligan Raby is continuing its drive to innovate in higher value items. "With the advent of digital printing, any number of firms can now enter the personalisation market for volume items such as greetings cards," he said.
"We've been selling cards, stationery and other items into retailers like garden centres for many years, and while the volume is there, for these more 'run of the mill' items the margins are low.

"We're looking increasingly now towards developing higher value, higher margin bespoke products as a way forward. Working with suppliers like CMYUK to test out new and innovative medias and carve out new niches will help us keep ahead of the game."
For more information on UTACK media, visit www.cmyuk.com or for more information on Halligan Raby, go to www.halliganraby.co.uk