Revamped interactive site offers live links to

experts, greater knowledge share and innovation.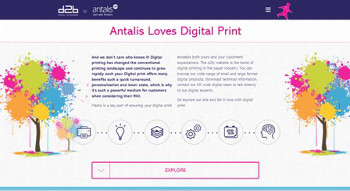 Antalis Digital2Business - Homepage Antalis UK has revamped its Digital2Business website in an effort to provide digital printers, service providers and users with additional access to a more interactive and engaging world of information, advice, consultancy and insight into digital print.
A central plank to Antalis's objective for Digital2Business is the company's need to provide its customers with a 'hands on' platform of information share, where users can engage and interact, share knowledge and obtain expert input. The revamped site has also been designed to keep people up to date with events and all the latest technology developments through close links with third party OEMs.
A new feature to the website is 'Ask the Experts', where users can ask questions or seek advice via a live link to the digital team at Antalis's centre of excellence for digital printing and technology.
Antalis has said that the revamped site also provides a wealth of technical knowledge and know-how, a gallery of innovative and inspirational case study applications, useful downloadable reference content as well a dedicated FAQs section covering a range of useful topics.
It added that users can also gain access to Antalis's entire digital product portfolio from one central location, giving them an insight into the very latest innovative substrates on offer.
Rebecca Chandler, Marketing Executive said: "The revamp and relaunch of our D2B website reflects the Antalis approach to digital printing. We are very much 'hands on' – we don't just supply digital media, we have technical advice ready for customers to download, a dedicated digital catalogue and experts online ready to answer your live questions."
For more information, visit www.digital2business.co.uk
Follow us on Twitter - @DigiPrintNews
Like us on Facebook www.facebook.com/DPNLive - (click the 'LIKED' button/top of page as well)
Copyright © 2014, DPNLIVE – All Rights Reserved.