The Handsome Prints Company sign-up for a Mimaki JFX200-2513UV Flatbed printer on the first day of exhibition.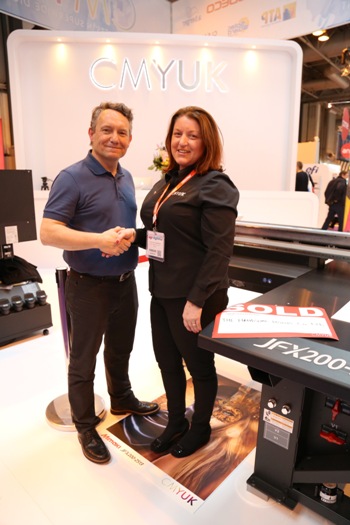 Rob Harrison of the Handsome Prints Company shakes hands on the deal with Sarah Fenna on the CMYUK stand at Sign & Digital UK
It's always nice to get that first sale 'under your belt' at any exhibition, and CMYUK were no exception at Sign & Digital UK. Within hours of the show opening, the specialist wide format print solutions provider shook hands on its stand with The Handsome Prints Co for a Mimaki JFX200-2513 UV Flatbed printer.
It was founded by industry expert Rob Harrison with a small but loyal customer base, which continues to grow and now covers East Anglia, London and the South.
The company started working initially with design houses and small format print companies who were looking to outsource some of their work. Fast forward to to-day and The Handsome Prints Co now works direct with agencies and as third party support arm to specialist large format printers who need to deliver, on occasion, a more 'bespoke' service to meet the requests of their clients.
Harrison and his team adopted the slogan, "big enough to cope, small enough to care approach", and this has seen the demand from smaller, independent businesses grow for its broad range of services.
Investing in equipment was obviously the next logical step and with the support of CMYUK, The Handsome Prints Co shook hands on a Mimaki JFX200-2513 UV Flatbed Printer at the show.
Robin East, director at CMYUK commented;
"The Handsome Prints Co is a great example of how with combined expertise, the right equipment and an entrepreneurial spirit, the wide format print industry is growing and has room to grow. We're thrilled that Rob decided to come to Sign & Digital UK today and make this announcement. It's also a reflection of the hard work that the team at CMYUK have put in to safeguard our customers at all times, so that when it comes to purchasing a Mimaki printer, we are the first port of call."
If you would like to know more about the services offered please contact The Handsome Prints team at This email address is being protected from spambots. You need JavaScript enabled to view it.
You can Tweet, Like us on Facebook, Share, Google+, Pinit, print and email from the top of this article.
Copyright © 2016, DPNLIVE – All Rights Reserved.