Create the perfect surface graphics illusion

with new Alumigraphics from Soyang Europe.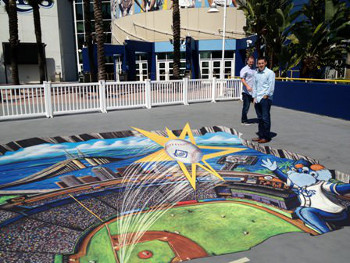 Impressive art installations are made possible with Alumigraphics Soyang Europe has announced the launch of what it terms 'another revolutionary new product' for the sign and graphics market, designed to provide further opportunities for marketers to keep 'Every Surface Covered'.
Alumigraphics is a high-tech new media; a versatile, 100 per cent recyclable, wide-format substrate made from pliable aluminium foil with a white finish that accepts a wide range of solvent, eco-solvent, latex and UV inks. It's marketed as a durable, easy to use media which can be printed direct to the surface with no over lamination required, that moulds naturally, without heat, and can be applied to virtually any rough or smooth textured surface.
Andrew Simmons, Sales Director for Soyang Europe explained; "We're confident that this amazing new media will have a massive impact on the industry. There is nothing currently available in Europe that has such a high level of durability, particularly in outdoor applications. What really sets it apart from other substrates is the aluminium foil base material combined with the specially developed top surface, allowing direct surface printing with no over lamination required. It's also really easy to apply to uneven or textured surfaces without heat or trained installers, all of which offers significant time and cost benefits to the end-user."
Awarded the prestigious 'Product of the Year' by the SGIA, Alumigraphics is available in two different surface finishes; Smooth for interior and exterior wall surfaces such as brick, stucco, concrete or tiled walls and Grip, with a slip-resistant reflective surface, perfect for external flooring applications such as concrete, asphalt or paving. Simmons said he sees huge possibilities for the new product, commenting: "The potential applications for this technically advanced media are probably only limited by the customers' imagination. Everything from pavements, walkways, escalators and stairs, to car parks, elevators, and walls can be covered with Alumigraphics, opening the door to the transformation of previously under-utilised surfaces both inside and out, into cost-effective, revenue generating, marketing platforms."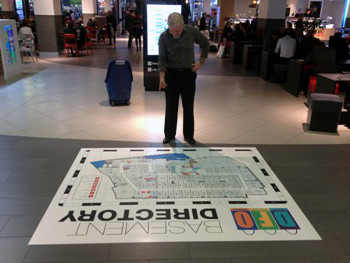 Event signage at wayfinding can be produced with Alumigraphics He was further keen to emphasise the unique nature of the substrate, continuing; "The characteristics of a foil based media are completely different to vinyl or other substrates, allowing sign and graphics suppliers to create the feeling of an arresting 'illusion' for their installs. It doesn't deform or shrink, it conforms to any rough or smooth surface, it's easy to install and equally easy to remove, but still retains amazing durability with an expected performance life of up to a year, even in extreme conditions, yet looks just like a painted graphic!"
Soyang Europe will be showcasing this innovative new product alongside its extensive range of other wide format media, including its G-Floor floorcovering substrate on Stand D4 at Sign & Digital UK at the NEC from 29 April to 1 May.
Follow us on Twitter - @DigiPrintNews
Like us on Facebook www.facebook.com/DPNLive - (click the 'LIKED' button/top of page as well)
Copyright © 2014, DPNLIVE – All Rights Reserved.