Soyang Europe to launch two new wide format materials at Sign and Digital UK 2015.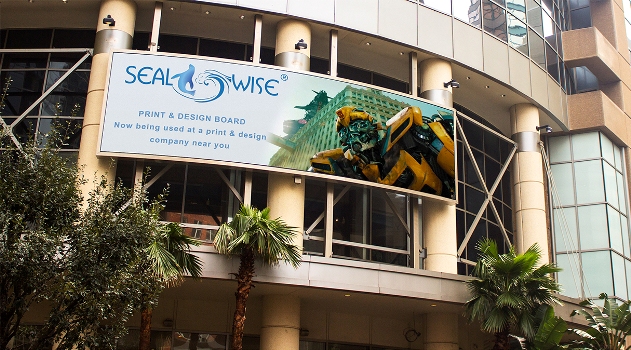 Sealwise is a new rigid material from Soyang Europe and offers light weight, rigidity and recyclability.Specialist printable media manufacturer and distributor, Soyang Europe, a specialist printable media manufacturer and distributor has confirmed it will unveil two brand new products at Sign & Digital UK this month, as it focuses on showcasing its substantial wide format portfolio at the exhibition. The company believes this exclusive European launch of the two new products; Sealwise, a printable rigid substrate incorporating closed-cell technology, and So-Netic, a printable and easily replaceable magnetic wallcovering, are expected to capture the imagination of print providers and sign makers visiting the show.
Soyang Europe, with its business philosophy of having 'Every Surface Covered', has a strong track record for bringing a multitude of innovative and revenue-creating materials to market. The launch of two further products is designed to cement its reputation in the eyes of the wide format market, as managing director, Mark Mashiter explained; "We want to encourage visitors to Sign & Digital UK to visit the Soyang Europe stand to see the breadth of our offerings, including demonstrations of our two new products, So-Netic and Sealwise.
"So-Netic is a two-part product; encompassing a magnetic lining which is affixed to the wall along with a thin, printable film incorporating a ferrous element allowing it to be placed, repositioned and removed from the lining with great ease." Mashiter went on to say, "The positive impact this product can have in the hospitality and education sectors as well as retail environments – where there is a real need for PoS graphics to remain current – is massive and it offers great flexibility. Once the initial magnetic lining is in place, it can then be easily over-laid with repositionable drops of printable graphics which can be produced on any roll-to-roll latex, solvent or UV printer."
The second new Soyang Europe product to receive its European launch at Sign & Digital UK is Sealwise; a strong yet lightweight and highly rigid material that is both recyclable and made from recycled material. Mashiter revealed the thinking behind his company's move into flat materials; "We've been waiting some time for the right rigid substrate to bring to market and Sealwise has so many benefits, we felt our customers could gain a real advantage from it in a number of ways."
Manufactured in Germany, the product is available in a range of thicknesses and is printable on UV flatbed printers. Thanks to its closed cell core, it absorbs no moisture making it ideal for external installations. Mashiter explained, "The core is made from 100 per cent recycled uPVC – the same material that replacement doors and windows are manufactured from -'impeccable environmental credentials – especially as it's completely recyclable when it comes to the end of its life." The PVC component in the face material has been designed to ensure excellent ink adhesion, scratch resistance and when printed with sufficiently flexible UV ink, can be formed into shapes after printing.
"We're confident that by adding these two materials to the Soyang Europe portfolio, we're answering very real requirements from our customers, adding revenue creating products and providing substrates printable with existing systems. It's a win/win for printers and their customers as they're able to offer new solutions to their clients with strong creative and environmental benefits."
Soyang Europe can be found on stand A8 at Sign & Digital UK and further details of these and their complete range of products are available at www.soyang.co.uk
You can Tweet, Like us on Facebook, Share, Google+, Pinit, print and email from the top of this article.
Copyright © 2015, DPNLIVE – All Rights Reserved.