Mutoh's first ever desktop direct-to-garment printer on display.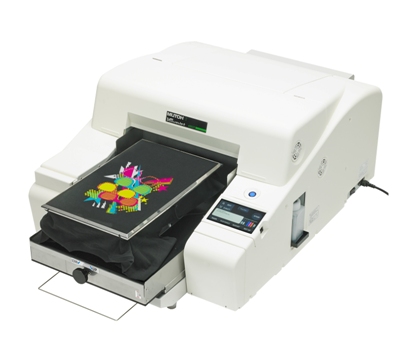 New ValueJet 405GT direct-to-garment printerAt Viscom Germany 2015, November 4 to 6, 2015, MUTOH Deutschland (Hall 8B – H31) will display Mutoh's popular ValueJet wide-format printer range covering sign & display, indoor & sublimation, specialty/industrial as well as direct to garment applications. The company aims to have showstoppers on display such as the the all-new 64" wide ValueJet 1624X and the ValueJet 405GT, Mutoh's first ever desktop direct-to-garment printer.
The company said visitors will also be able to discover how they can boost print-to-cut productivity with the combo of Mutoh's 24" (630 mm) wide ValueJet 628 CMYK eco solvent printer - offering production speeds up to 12.5 m2/h - and the ValueCut 600 signcutter, for short-run production of full-colour labels, stickers and full colour posters for indoor & outdoor use. Last but not least, Mutoh will display its ValueJet 426UF A3+ flatbed multi-purpose object LED UV printer.
ValueJet 1624X
The new ValueJet 1624X is the successor of Mutoh's ValueJet 1624 printer. The 64" (1625 mm) wide single head VJ-1624X is targeted at long term outdoor and indoor sign & display applications. It can be configured with Mutoh Eco Ultra as well as Universal Mild Solvent (UMS) inks. The new model delivers high print quality - sellable production speeds up to 20.5 m2/h - and has an easy level of use.
Integrating the latest piezo print head technology and advanced print automation features, such as Mutoh's proven Intelligent Interweaving technology and new DropMaster print automation technique, the VJ-1624X is specifically targeted at businesses focusing on production print work who want to put worry-free printing of high quality wide format outputs on top of their wish list.
ValueJet 405GT
The ValueJet 405GT is Mutoh's first ever desktop direct-to-garment printer. This five colour (CMYK + White) engine has been specifically developed for direct printing on t-shirts, caps, canvas bags, etc.
Offering high print quality, the compact ValueJet 405GT has a wide print area and an easy-to-use LCD touch screen. The printer can be equipped with different sizes of interchangeable print platens.
Mutoh's water based pigmented direct textile inks for the VJ-405GT will allow printing onto high cotton blends and 100 per cent cotton garments.
ValueJet 426UF
The Mutoh ValueJet VJ-426UF, which was recently awarded a prestigious EDP award attributed by the European Digital Press association as "Best Multipurpose Object Printer of 2015" is a compact A3+ flatbed 6-colour (CMYK, White, Varnish) LED UV printer with integrated vacuum table.
Mutoh's LED UV inks are completely VOC-free and do not contain any hazardous air pollutants (non-HAP). As such, they do not require a forced ventilation system.
Offering a print table area of 483 mm (19") x 329 mm (13"), the VJ-426UF enables direct printing onto objects up to 70 mm (2.75") thick. The multi-purpose VJ-426UF printer produces sharp, high quality output and is specifically targeted at short run items or one-off designs of products and their prototypes, personalised gifts, packaging, souvenirs, awards, specialty industrial items. The printer is also suited for specific applications such as one-off designs of labels, labels with a luxurious or specialty finish and specialty industrial labels.
http://www.mutoh.eu
You can Tweet, Like us on Facebook, Share, Google+, Pinit, print and email from the top of this article.
Copyright © 2015, DPNLIVE – All Rights Reserved.