Two new products to be showcased at exhibition this year.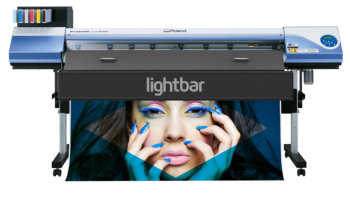 Roland VS-640i with LightbarRoland DG (UK) Ltd has confirmed it will present two new Partner Solutions products on its stand at Sign and Digital UK 2015, available to customers in the UK and Ireland.
Through its Partner Solutions programme, Roland DG (UK) Ltd actively supports companies with specialist knowledge of particular market sectors to develop new production solutions based on existing Roland print engines. Partner Solution products benefit from a full warranty, delivered by RolandCare, on behalf of the Partner Solutions provider. The Lightbar solvent-UV ink system and the Sabur Diva direct to textile printer are the most recent fruits of this collaborative process and both products will share the limelight on the Roland stands at Sign and Digital this year.
Mark Elvidge, Print Product Manager, Roland DG (UK) Ltd said, "Lightbar and Diva are excellent examples of the success of our Partner Solutions programme. With our full support and guidance, two independent companies have developed new production solutions that open up new markets for Roland print and cut technologies. Needless to say, we are absolutely delighted to be showcasing their achievements and our Partner Solutions programme at Sign and Digital for the first time."
The Lightbar solvent-UV ink system features the very latest solvent-UV ink chemistry and a stationary UV lamp unit mounted onto a Roland printer. Suitable for use with a wide range of sign and display media, the print from a Lightbar system is vibrant, very durable and ready to use, outdoors or inside, the moment it leaves the printer. There's no need to factor in additional time for drying or degassing and any requirement for post print lamination is confined to the harshest outdoor applications. The solvent-UV ink formulation contains a minimal amount of solvent to key the colour pigments to the media. The UV component of the ink is completely cured by the UV lamp. Less carrier in the Lightbar ink means more colour pigment in the cartridge. As a result, Lightbar ink is said to cover more metres per litre than alternatives like latex ink. Scratch and chemical resistance are both far superior and print elasticity is excellent too.
Elvidge added, "Lightbar will feature on our popular RF-640 printer and versatile VS-640i print and cut model at Sign and Digital UK. A highly competitive and very compelling alternative to printing with latex inks, the resulting graphics display the bright, rich colours and glossy finish that everyone expects to see from a Roland printer."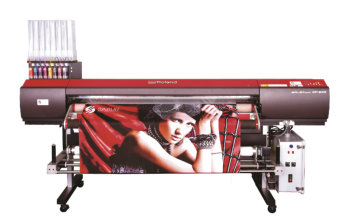 Roland Sabur DivaThe Sabur Diva is a direct to textile printer capable of printing on to a wide range of non-coated fabrics, including cotton, silk, nylon and wool, subject to the ink type installed. Based on Roland's fast, XF-640 1625mm (64") wide printer, the Sabur Diva features a proprietary fabric handling system that allows digital printing on to very thin fabrics without distortion. It uses a bulk ink system to facilitate' on the fly' ink replacement and uninterrupted printing. An automatic take up system also supports the longer print runs associated with textile printing. Already proving popular with design houses for sampling and print on demand businesses for custom print production runs, the Sabur Diva direct to textile printer is billed as combining speed, size and affordable pricing to deliver the most cost effective way to digitally print designs direct to fabrics.
Elvidge concluded: "Visitors to Sign and Digital will find the Sabur Diva printer on our dedicated soft signage and textile printing stand, which is situated adjacent to the main Roland stand. Alongside our impressive line-up of Roland print and cut technologies, there will be live demonstrations of the Partner Solutions products throughout the entire three days of the exhibition. We would encourage everyone to come and see the profitable applications made possible by the most recent innovations available from Roland."
Visitors to Sign and Digital UK 2015 can discover Lightbar on the main Roland DG stand - G30. The Sabur Diva can be located on Roland's soft signage and textile printing stand -F34. The Sign and Digital UK exhibition runs between the 24th and 26th of March 2015 at the NEC, Birmingham.
For more information, please contact Roland DG (UK) Ltd. on 0044 (0) 1275 335540.
You can Tweet, Like us on Facebook, Share, Google+, Pinit, print and email from the top of this article.