Company to increase applications capability

with new machine.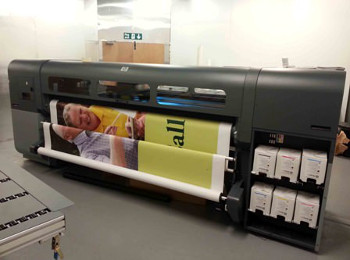 Display Signs installed an HP Scitex FB700 Printer to offer a broader range of substrates and applicationsHP has said that Display Signs, of Uxbridge, UK, has installed an HP Scitex FB700 Printer. The company made the investment to offer its clients a broader range of substrates and applications.
Display Signs purchased the HP Scitex FB700 through HP dealer, CWE Solutions, of Chessington, Sheffield and Surrey, to replace its previous UV machine so that it could provide customers with higher quality than it could previously, as well as faster turnaround times due to increased production speed.
"All the jobs we have done on the HP Scitex FB700 so far have been successful, and our customers have been impressed with the quality of the prints produced on the machine," said Alan Kelvey, director, Display Signs. "Our customers' requirements are getting more demanding, and after seeking advice from CWE Solutions, the FB700 was the obvious choice to fulfil their needs."
According to Kelvey, the ability to load while printing was another attractive feature for the company because it reduces interruptions and improves productivity.
Display Signs has already used the printer for several graphic arts projects, using flexible substrates such as acrylic and banners, as well as rigid substrates including Dibond and Correx.
"Printing directly onto rigid substrates has opened up new possibilities for us, as we can now offer an expanded service to both existing and potential customers," continued Kelvey. "Being able to print onto materials such as Correx is fantastic and is just one media that extends the range of applications we can now undertake. The wide range of substrates allows us to be flexible for our customers, and mould to their needs.
"The ease of use of the printer was also a particular selling point - we have had the least experienced person running the machine with no problems."
HP maintains the Scitex FB700 Printer increases application versatility by printing on a wide range of rigid and flexible media. It pointed out that the printer offers a printing speed of up to 80m2/hr, and has features such as an optional white ink which enables print service providers to offer new application possibilities like printing on clear substrates.
Kelvey added;
"As a company we are driven by our customers and we adapt to meet their requirements. The White Ink will allow us to add the wow factor to projects we do, and we are looking forward to utilising this new capability."
More information is available at www.youtube.com/hpgraphicarts
Follow us on Twitter - @DigiPrintNews
Like us on Facebook www.facebook.com/dpnlive - click the 'LIKED' button/top of page as well
Copyright © 2013, DPNLIVE – All Rights Reserved