Removes the need for white ink for

print inspection on translucent

and transparent substrates.
---
L-R CLP Printing Manager Moshe Reem, CLP Maintenance Director Nassimy Edmond, QuadTech Regional Sales Manager Caroline Zimmer QuadTech has confirmed that it has sold its first Inspection System in Israel, to CLP of Kibbutz Negba. Installed on a new eight-colour gravure press, the QuadTech system was chosen for its ability to inspect translucent and transparent flexible packaging materials, without the need for white ink-a process developed to simplify production and deliver substantial financial savings.
---
Prior to making its QuadTech purchase, CLP had been printing white to provide a target to help other inspection systems function on these very common substrates. As the company pointed out however, since white ink wasn't requested by customers, it was a cost that CLP had to absorb which included ink costs, but also extended to prepress time, flexo plates and gravure cylinders too.
"While quality control is a top priority for us, it was an expensive process to undertake on translucent and transparent substrates," explained Israel Moran, Supply Chain Manager at CLP. "So, when we decided to install a new Windmöller & Hölscher press, we took the opportunity to see if there was a solution on the market that could inspect without the need to print white for inspection.
"Fortunately, following a visit to the QuadTech stand at drupa 2012, we quickly established that there was. This resulted in the installation of our QuadTech Inspection System."
To eliminate the practice of printing white to facilitate inspection, the QuadTech Inspection System uses a combination of three LED lights, one of which is a reflected light illuminating the back of the web. The resulting image on the control screen can then be adjusted to show a black, white or gray background to create the necessary contrast to enable accurate fault detection and eliminate the additional ink.
The QuadTech Inspection System detects process faults including spots, streaks, mis-prints, mis-register, colour variation, contamination, dry-in and haze. With an easy-to-use operator interface and fast set-up, the inspection system has been developed to provide a high level of quality assurance for converters and their customers.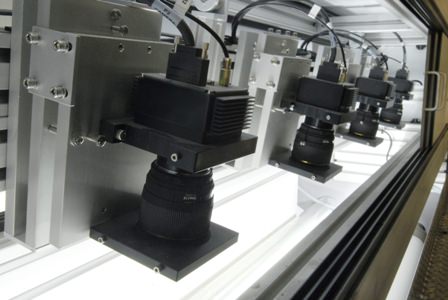 The QuadTech Inspection System utilizes the most sophisticated defect analysis in the industry to provide true 100% inspection on 100% of your print or non-print product, web or sheet, 100% of the time "We are very pleased that, throughout the process, QuadTech worked closely with us to support our needs," continued Moran. "They demonstrated a real willingness to address the challenges we faced, providing a genuine partnership approach to customer service.
"The QuadTech Inspection System has been everything we had hoped for and by eradicating the white ink step, we have been able to enjoy significant savings."
Part of the Tadbik Group, CLP serves customers in the food, medical and healthcare markets. It is widely known as a producer of high quality flexible packaging for brands, but also as a developer of innovative applications including retort laminates and pouches, taste-free water packaging and other creative solutions.
Caroline Zimmer, QuadTech regional sales leader, commented, "We were very pleased to help solve this technical challenge for CLP. With brands demanding ever more exacting print quality standards, it is increasingly important for businesses such as CLP to find technologies to meet their needs, but also, do this while reducing overall costs and increasing profitability. We look forward to further sales in Israel."
www.quadtechworld.com
Follow us on Twitter - @DigiPrintNews
Like us on Facebook www.facebook.com/DPNLive - (click the 'LIKED' button/top of page as well)
Copyright © 2014, DPNLIVE – All Rights Reserved.