Total workflow system for

technical document environments.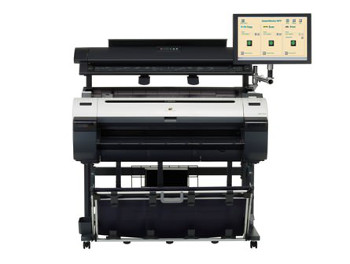 imagePROGRAF MFP M40 (iPF765) Canon Europe has just announced the launch of the Canon imagePROGRAF MFP M40 Solution, a total workflow system for large format printing, scanning, archiving and sharing of colour and black and white documents.
The solution includes a Canon imagePROGRAF large format printer, a new M40 scanner incorporated via an integrated stand, MFP software and a large, easy-to-use touch screen interface which includes an active preview function. Canon is marketing the MFP40 as the complete solution for any size of workgroup that uses technical documentation - particularly in the Architecture, Engineering and Construction (AEC) market.
Incorporating Scan-To-Copy/File/Email/Cloud Connectivity and print functions, the new MFP is designed to meet the speed and precision requirements of demanding CAD/GIS users. The Canon imagePROGRAF MFP M40 is capable of scanning images up to 40" wide at speeds up to 13" per second (in monochrome). It uses a new arrangement of Contact Image Sensor (CIS) to ensure images are captured with accurate, shadow-free line definition and at true 1200dpi optical resolution. Printing at 2400 x 1200 dpi with 4pl ink drop size, the MFP also has 'hot swap' ink tank technology which enables the ink to be changed without interrupting any print job.
Operated by the SmartWorks MFP software via the large 22" intuitive touch screen, the imagePROGRAF MFP M40 is capable of batch scanning for improved efficiency. With a built-in 250GB Hard Disk Drive, support for various file types such as PDF, JPEG and TIFF and the multiple configurations available, users can customise the solution to their exact needs and specifications. The solution is compatible with five large format printers from the Canon imagePROGRAF range – the iPF750, iPF815, iPF825 and the recently launched iPF760 and iPF765.
Yuichi Miyano, Director of Large Format Print, Canon Europe, said: "Previously architects, engineering and construction industries were the primary users of large format scanning and printing. However, as more and more diverse applications have appeared, we expect the market to grow accordingly. We're seeing increased usage from utility companies, oil and gas firms and government town planning agencies to scan, archive and reprint plans and technical drawings."
imagePROGRAF MFP M40 (iPF765) Yuichi added: "The Canon portfolio aims to respond to this demand. The new imagePROGRAF M40 system is an affordable option for high quality, large format scanning and printing. It is easy to operate, making it an incredibly versatile investment for any business wanting to boost the productivity of their imaging input to output."
The Canon imagePROGRAF MFP M40 Solution portfolio is scheduled to be available in January 2013 through Authorised Canon Partners. More information is available on the Canon website at –
http://www.canon- europe.com/for_work/products/large_format_printers/index.aspx

Follow us on Twitter - @DigiPrintNews
Like us on Facebook at www.facebook.com/dpnlive

Copyright © 2013, DPNLIVE – All Rights Reserved