Friedheim International to sell and

support IBIS products in the UK.
---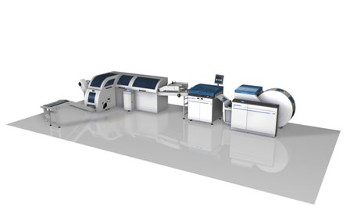 The IBIS Smart-binder being fed from a Hunkeler roll unwinder and web cutter, as available from Friedheim International UK headquartered IBIS Integrated Bindery Systems, a leading manufacturer of digital in-line saddle stitching, has signed an agreement to enable Friedheim International to sell and support IBIS products in the UK. Friedheim International is a well known supplier of finishing, converting and packaging machinery to the printing, graphic arts, and highly varied packaging industries in the UK and Ireland. This development is designed to open up new opportunities for both companies.
---
The new sales and support agreement covers the IBIS Smart-binder (saddle-stitch) systems SB-1, SB-2, SB-3, SB-4 and SB-5, as well as the IBIS Sprint-binder (perfect-binder) models PB-600 and PB-2000.
The Smart-binder models SB-1 and SB-2 produce wire stitched (stapled) booklets up to 10mm (0.4") thick (the SB-1 being for low speed applications). The Smart-binder model SB-3 includes IBIS's patented 'ISG' (Individual Sheet Gluing) process, which replaces wire-staples with lines of cold-glue 'dots' between each sheet to produce more attractive, stronger, flatter and easier-to-recycle books. The Smart-binder models SB-4 and SB-5 add an additional 'perfect-binder' module to produce both saddle-stitched and perfect-bound books. The Sprint-binder PB-600 is a dedicated in-line single clamp perfect binder and the PB-2000 is an in-line 4-clamp perfect binder.
John Cracknell, Managing Director of IBIS, said: "We are delighted to be working in partnership with Friedheim in the UK market. Since Friedheim already sell Hunkeler and MBO web processing equipment, the addition of our IBIS products further enables Friedheim to provide complete finishing systems for use with all types of digital printers. By working together, we can offer customers the ideal combination of IBIS's strong product range coupled with Friedheim's 'second to none' sales and product-support capabilities."
Mark Bristow, Managing Director of Friedheim International said: "We know that IBIS takes pride in designing and building robust, innovative and high quality digital print finishing systems. This agreement is an important step forward and a win-win situation for both companies to provide maximum benefits to our UK customers."
http://www.friedheim.co.uk/
http://www.ibis-bindery.com/
Follow us on Twitter - @DigiPrintNews
Like us on Facebook www.facebook.com/DPNLive - (click the 'LIKED' button/top of page as well)
Copyright © 2014, DPNLIVE – All Rights Reserved.