Page 1 of 2
U2 

had to reapply for the job of

best band in the world
By Bob Tallent
---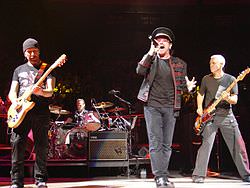 U2These five North Dublin 14 year old school kids started their band in the latter half of 1976 and called themselves Feedback - one drummer, one bass guitar, two guitarists and one singer.  One of the guitarists left to join another Dublin group called the Virgin Prunes.  They didn't like the name Feedback and changed it to the Hype.  They began rehearsing on weekends and after school as often as possible – doing Stones and Beatles covers, forming genuine friendships and developing an unquestionable chemistry in the process. After nearly 18 months of rehearsing, the band's big break came at a talent show in Limerick, Ireland, on St Patricks Day 1978. Jackie Hayden, from CBS Records, was judging, and the lads won the contest, getting a prize of £500 and studio time to record their first demo.
This was the start of the largest rock group in the world – U2, Larry Mullen (born 31st October 1961) on drums, Adam Clayton (born 13th March 1960) on bass, Paul Hewson (initially nicknamed Steinhegvanhuysenolegbangbangbang later "BonoVox of O'Connell Street" then 'Bono Vox' – cockeyed Latin for 'good voice' and eventually just "Bono", born 10th May 1960) on vocals, and Dave Evans (later nicknamed "The Edge", born 8th August 1961) on guitar. Dave's brother, Dick, also played guitar for a while and left.  Larry is the one responsible for starting the band.  In 1976, he got a drum kit and needed someone to practice with. So he put a notice on the school notice board asking people to audition for a new band.
On a sidebar here: Bono's mother died of cerebral aneurysm while she was attending her father's funeral.  He was 14. He never got on with his father, Bobby, whose unspoken message to his children was "to dream is to be disappointed."  Perhaps this is the key reason for his forming such big ambitions and becoming even more determined to follow his dreams.  Bono married his childhood sweetheart, Alison Stewart, on 21st August 1982.  30 years later they have four children and are still together today.  That has be a record in the music industry, no pun intended!!
They changed their name to U2 for the contest.  After the contest, they convinced Paul McGuinness to manage them. When they were 18, they left school and played as many gigs as they could in order to build up a fan base.
In September 1979, U2 released their first Irish single called "U2:3" which topped the national charts. In December of that year, they travelled to London for their first shows outside Ireland, but struggled to get attention from music fans and critics.
They returned to Ireland, did more shows, continued to build their fan base, brought out their 2nd single and then signed with Island Records in March 1980.  They then introduced their first album called Boy in October 1980.  This album achieved rave reviews in Ireland and UK. They then did tours outside Ireland and UK and the album got good reviews in the US where strong club shows helped driveBoy briefly onto the U.S. album charts.
In 1981, they brought out their second album called October.  Both albums had a Christianity feel to them.  Bono, The Edge, and Larry attended regular prayer group meetings and Adam was not a Christian.  Due to these meetings, they questioned their rock and roll and band lifestyle.  The Edge, in particular, was considering leaving.  They eventually decided to continue.
In 1983, they brought out their third album, War, which included Sunday Bloody Sunday.  This album achieved international acclaim and it included their first major hit single New Years Day hitting number 10 in UK and 50 in USA. Bono wrote this song and it refers to the movement for solidarity lead by Lech Walesa in Poland. After this was recorded, Poland announced they would abolish martial law, coincidentally, on New Year's Day, 1983.
In 1984, they changed direction when they brought out their fourth album The Unforgettable Fire inspired by a series of paintings drawn by survivors of the atomic bombs at Hiroshima and Nagasaki.  It included songs like Pride (in the name of love) – written for Martin Luther King, Bad – written as a result of the drug problems in Dublin.  Pride hit number 5 in UK and 50 in US. In order to promote Unforgettable Fire U2 expanded its tour itinerary to more countries than ever before, and they played to sold out sports stadiums in the U.S. for the first time. Rolling Stone magazine named U2 its "Band of the 80s," saying that "for a growing number of rock-and-roll fans, U2 has become the band that matters most, maybe even the only band that matters."
On 13th July 1985, when they were 25 year olds, they headlined the Live Aid Concert in Wembly when they played to over two billion people and Bono danced with one girl from the crowd during the 12 minute song Bad. I bet that memory will live her all her life.  Apparently, she was being crushed by the crowds and Bono motioned to security to pull her out. As they were attempting to free her, Bono jumped down from the stage to help and ended up slow dancing with her in the area between the stage and the crowd. The audience loved it and photos of Bono embracing the girl were all over the newspapers the following day. However, the rest of the band weren't so happy as they later said they had no idea where Bono had gone. They played on regardless and were very relieved when the singer eventually returned to the stage. Their performance turned out to be one of the highlights of the day. Only Queen's set could be said to have had the same sort of impact.
From here the band took off like a catapult, they released many more albums and singles, performed and sang with some of the best names in the world and created some of the most lavish shows the world has seen.
They had mixed reviews in 1989 to the Pop album and the Lovetown tour and they decided to take a break. In late 1990, after they had to "go away and dream it all up again," as Bono said during a Dublin concert in late 1989, they regrouped in Berlin and declared they were "reapplying for the job of best band in the world".  They recorded a new album called Achtung Baby which delivered a brand new sound. It was their most adventurous to this day, bringing industrial guitars, feedback, altered vocals, and electronic dance beats together.  The fans and critics loved it.  They were back on top.  At the end of a show in Giants Stadium, New York, The Police (the band) took off their instruments and handed them to U2 - an act which to many people symbolised that they were now taking over as the 'biggest band in the world'.
New world tours, new albums, new singles. More people to perform with.  There is hardly anybody of any credible standing left in the world that they haven't played with, e.g. Johnny Cash, Green Day, Leonard Cohen, Bruce Springsteen, B.B. King, Lou Reed, Luciano Pavarotti, Bob Dylan, Elvis Costello, Wim Wenders, R.E.M., Salman Rushdie, Anton Corbijn, the Corrs, to mention a few.
U2 was inducted into the Rock and Roll Hall of Fame in 2005. By that year they had won 22 Grammy awards, a historic record surpassed only by Stevie Wonder.
U2 continues their work for charity and social action. They headlined the Self Aid concert at the RDS stadium in Dublin, which was a benefit for Ireland's unemployed. They also played the six concerts on the Conspiracy of Hope tour organised by Amnesty International in the US, promoted the Northern Ireland Peace Accords, raised money for the survivors of the Omagh bombing, played in devastated Sarajevo following the war there, helped strengthen the shaky economy of New York City by playing there following the September 11 terrorist attacks, participated in the Live Aid and Live 8 series of concerts to relieve Third World debt, and continue to promote the Make Poverty History campaign. Bono has become prominent in efforts to end poverty and seek relief from AIDS and promote trade for Africa. He has become quite celebrated for these efforts apart from his music and he often finds himself publicly fraternising with presidents and finance ministers to promote these charitable ends.
U2 are on top of the world.  They are unquestionably the best band in the world today.  They are up there with The Beatles, Rolling Stones, Led Zeppelin, Queen, and ABBA.  While the Beatles are reputed to have album sales of 600 million to 1 billion, U2 have only sold 150 million.  But their stage performances are spectacular and you can see that in our article on the Top 25 Highest Earning Musicians of 20011, part 1 and part 2.
U2 are far from over and have a long way to go yet
Here is a video for you to watch. There are 14 more on the next page along with a list of their albums. Just hit the blue 'next' button below. 85 minutes of pure enjoyment.
Copyright © 2011, DPNLIVE – All Rights Reserved