Fifty years of Rare Auld' Times
Bob Tallent
---
It's 1961. English teacher Ronnie Drew returns to Dublin from Spain where he has been learning the guitar. At parties, he starts singing, playing and telling stories. His voice is described "like coke being crushed under a door". Comedian John Molloy asks him to warm up the audience at his Gate Theatre show. Ronnie brings with him Barney McKenna, a tenor banjo player. The lads then meet every Friday night in Dublin's O'Donoghue's Pub on Merrion Row. Luke Kelly, just returned from England, and student Ciaran Bourke joined them. The rest, as they say, is history, and to this day, the music has never stopped in O'Donoghue's.
I'm talking about the Dubliners, who else?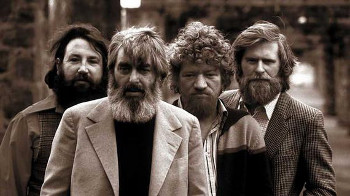 The DublinersAt the outset, a few gigs paid them a few quid. They had to have a name, so they called themselves the Ronnie Drew Group because Ronnie knew all the journalists in Dublin.
Through the years, various people joined them briefly. Mary Jordan on the spoons for instance, and Anne Mulqueen, a singer from Limerick. Peggy Gordon (you know the song), Mary's mother, set them up in the Abbey Tavern in Howth. Ronnie moved it to the Royal Hotel across the road – for more money. The Royal gig turned into a kind of mecca, attracting people from all over.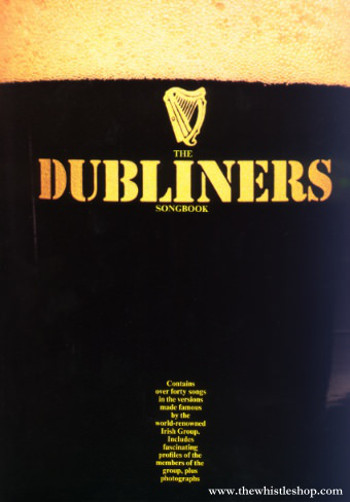 Ronnie felt too much responsibility when the group was named after him. Luke was reading James Joyce's The Dubliners at the time. Now you know how they got their name and John Sheridan became their manager.
They got a few more gigs, like the Embankment in Tallaght, every Monday and through Luke's contact in England they played the Edinburgh Festival in 1963. In 1964, they released their first album, The Dubliners with Luke Kelly. Luke got tired of the group and went back to England. Fiddler John Sheahan and singer/guitarist Bobby Lynch joined and two more albums emerged: The Dubliners in Concert and O'Donoghue's Opera. Around 1965, Luke tired of England and returned. Bobby Lynch left. The group then was Ronnie Drew, Luke Kelly, Barney McKenna, Ciarán Bourke and John Sheahan. That line-up, considered the essential Dubliners, persisted until 1974.
Throughout those years they released five albums. One single caused mayhem – Seven Drunken Nights. Radio Telefis Eireann refused to play it because of its "questionable" content. This wasn't the last time RTE would misjudge artistic content – remember Father Ted! Radio Caroline and BBC played it. The band sold 250,000 copies and appeared on BBC's Top of the Pops. In 1968, they appeared in the US on The Ed Sullivan Show for St Patricks Day. They also played on David Frost with Bob Hope. In America, Ronnie wore a suit with long hair and a beard. The Americans didn't know what to make of them.
In 1969 they toured Canada, the US and Britain, moving from the Major Minor label to EMI and releasing several more albums.
In 1972, they hit Belgium, Scandinavia and Germany. In that year, enter Jim McCann and exit Jim McCann.
On April 5th, April, Ciaran Bourke got headaches on stage and was rushed to hospital where he was diagnosed with a brain haemorrhage. He rejoined the group in Germany, collapsed onstage and was left partially paralysed. Ronnie left the group to spend more time at home with his kids.
1975, Jim McCann was asked to rejoin and he left in 1978 to return to his solo career. Ronnie, who had been in a car accident, was asked to rejoin. He did and performed onstage on crutches. They released another album in 1979.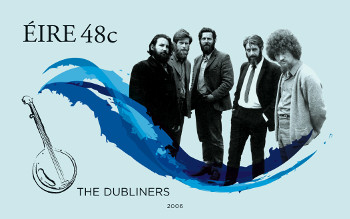 On June 30th, 1980, Luke Kelly collapsed on stage in Cork. He was operated on for a brain tumour. Sean Cannon filled his place and Luke returned part time.
In October 1982, Bobby Lynch committed suicide.
1980-83 they brought out many more albums including the CD Live in Carré, which was Luke Kelly's last recording.
In 1983, Luke collapsed on stage again, this time in Germany. He returned to Dublin where he had another operation. He made it home for Christmas, but on January 30th 1984, he died in hospital.
In Ronnie's words; "He had a huge funeral in Dublin – television, radio, all the papers were there". In fact, there were so many there they had to get police on motorbikes. Here in Ireland when you die you go to the church – the Catholic Church. His church – I mean his family's church – Luke didn't go to mass – Catholicism dies very hard in Ireland. So he was brought over to the church. But they had to go right through the city at half-past five. There were a good six guys on the motorbikes – policemen – driving the whole way in front to get through the traffic. Luke would have had a laugh because Luke used to have run-ins with the police. They were all there – politicians from both sides of the divide. It was a terrible loss."
During 1984-87, the remaining Dubliners toured Germany, Scandinavia and Australia. They produced an album The Celebration for their 25th anniversary and appeared on the Late Late Show. The show tribute included appearances by Jim McCann, Christy Moore, U2, The Pogues, Stockton's Wing, Charles Haughey and a moving recitation by Ciarán Bourke. Their collaboration with The Pogues of The Irish Rover blew the roof off and the Du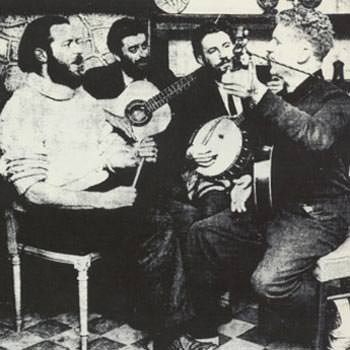 Dubliners 1962bliners, once again, experienced popularity on a par with their heyday in the 1960s.
They were reborn with numerous television appearances and sold-out concerts.
In 1988, tragedy struck again. Ciaran Bourke was rushed to hospital and died. Illness had prevented Ciaran from playing for 10 years. During that time the group paid him in full. They took on no new full-time fifth member during his lifetime.
In 1988, Eamon Campbell signed up and the line-up was Ronnie, Barney, John, Seán and Eamonn. They released two more albums.
In 1995, Ronnie left the group again. Enter Paddy Reilly. During 1995-2000, more touring, many albums and in 2000 health problems hit both Barney McKenna and Seán Cannon.
In 2002, their 40th anniversary, they released two CDs and one DVD with all surviving band members. More tragedy as Jim McCann was diagnosed with throat cancer, which ended his singing career. However, he appeared as compere on stage introducing the band.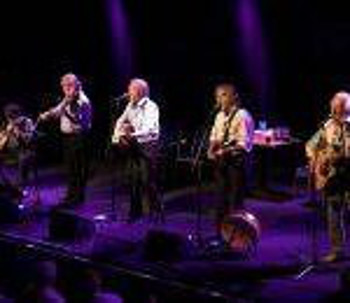 Dubliners 2010In 2005, Paddy Reilly departed because he had been left land in a will which he sold for €13 million. Patsy Watchorn took his place and three more albums appeared.
More tragedy. August 16th, 2008, at the age of 73 Ronnie Drew died of cancer. Ireland's President, Mrs Mary McAleese, led tributes:" It is with great sadness that I have learned of the death of the great Irish singer Ronnie Drew." She said he was a champion of traditional Irish music and with The Dubliners had re-energised and refreshed Ireland's unique musical heritage.
This year, 2012, marks the Dubliners 50th anniversary and tour dates have already been scheduled …
How do you top that?  They have over 70 concerts scheduled for 2012 so far. You'll have to get to at least one of them. But I dont think they have any in America because they didn't go down too well there.
I think I'll grow a beard again!
Regulars to my music articles here will have to excuse me please. I simply cant put up 'just a few videos'. The more I looked at the videos to choose which ones to put up, the less I was able to choose.  So, Here are 20 videos.  13 of them are The Dubliners. One is Liam Clancy doing a tribute to Luke Kelly.  One is a Tribute to Ronnie Drew.  And five of them show the complete series of shows that was on RTE TV "Ronnie Drew - An Irish Legend". 
You have about three hours of pure enjoyment here. Enjoy. Dip in to them and come back often. 
Please leave your comments below.
Peggy Gordon

{youtube} QgDLp-7PZbc|300|200|1{/youtube}

Dublin Town in 1962 - Patsy Watchorn

Danny Boy

The Late Late Show tribute. Ciaran recites "The Lament for Brendan Behan". This was also read at Ronnie's Funeral by his son Phelim. Ronnie sings the Auld triangle. Just look at the number of people on stage



The Dubliners & The Pogues perform The Irish Rover on the Dubliners 25th Anniversary Late Late Show in 1987.

Molly Malone - In Dublins Fair City – Live at Vicar Street

Dublin In the Rare Auld Times

The Merry Ploughboy

The Dubliners 40 Years - Live from the Gaiety.
songs: (a) Marino Casino (b) Gerry Cronin's Reel (c) Denis Langton's Reel (d) Irish Washerwoman


John Sheahan and Andre Rieu. 
The Irish Washerwoman
Recorded at the Roda JC Stadium - Kerkrade / NL

Finegans Wake.
Live at Vicar Street

The Dubliners talking and singing on Newstalk radio. 
22 Dec 2011.  This is 38 minutes long. An amazing video. They just play what the listeners ask for.

Now I know this isn't The Dubliners.
Its Liam Clancy's tribute to Luke Kelly

Tribute to Ronnie Drew on RTE. Shane McGowan, U2, & a huge crowd on stage

The Dubliners 'For One Night Only'.
This is 63 minutes long. 25 Dec 2011


Ronnie Drew An Irish Legend – number 1 of 5

Ronnie Drew An Irish Legend – number 2 of 5

Ronnie Drew An Irish Legend – number 3 of 5

Ronnie Drew An Irish Legend – number 4 of 5

Ronnie Drew An Irish Legend – number 5 of 5
Ronnie sings Auld Triangle at 8.25 when he was ill
Copyright © 2011, DPNLIVE – All Rights Reserved