The Long and Winding Road
to Success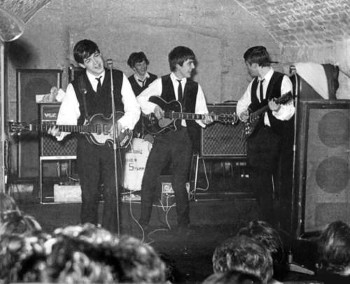 The Beatles in The cavernMid 1950's England was a dark place after WW2.  A few teenagers began busking on the streets of Liverpool. Skiffle was the style of music that thrived and influenced people.  In March 1957, The Blackjacks was formed which was changed to The Quarry Men a week later.  Colin Hanton played drums, Eric Griffiths on guitar, Pete Shotton on washboard, Rod Davis on banjo, Bill Smith on tea-chest bass and another man sang and played guitar. Bill was soon replaced by Ivan Vaughan.  The group changed musicians, singers and their name until they were properly formed in 1960.  They disbanded in 1970 and during that ten years and beyond, they were the largest influence on music and pop culture.  In 1965, the four members of the band were appointed MBEs by Queen Elizabeth II.  They are the best selling band in history having sold 1.1 billion records and have had more number one albums on the British charts and sold more singles in the UK than any other act even though the BBC banned four of their songs.
I'm talking about The Beatles.
The Beatles story is so big that I'm going to have to split it into four parts.
There are not enough words to describe The Beatles. They are probably the greatest phenomenon in the music industry and became the best pop/rock band the world has ever seen. It is difficult to summarise their career without restating clichés that have already been digested by tens of millions of rock fans.  The Beatles has become the most successful music group ever with over 1.1 billion copies sold worldwide, making them the best-selling music group of all-time. It is generally acknowledged that they are the most influential band that has, and still does, inspire many other musicians.
The Beatles line-up as we generally knew them was John Winston Lennon (1940-1980) as the band's rhythm guitarist, Richard Starkey or Ringo Starr (born 7th July 1940) as the drummer, James Paul McCartney (born 18th June 1942) as the bassist, and George Harrison (1943-2001) as the guitarist.
In March 1957, 16 year old John Lennon formed a skiffle group called The Quarrymen.  Skiffle is a type of popular music with jazz, blues, folk, and roots influences, usually using homemade or improvised instruments. Skiffle originated as a term in the United States in the first half of the twentieth century.  It became popular again in the UK in the 1950s, where it was mainly associated with Lonnie Donegan and played a major part in beginning the careers of later eminent jazz, pop, blues, folk and rock musicians.
When Paul McCartney was 15, he met John in July 1957 and joined the group as a rhythm acoustic guitarist.  In February 1958, a friend of Paul's, 14 year old George Harrison was invited to look at the band.  George auditioned, but John thought he was too young to join.  George persisted and a month later he joined as lead guitarist.  At this stage, they had three guitarists, no drummer, and a selection of other band members who came and went.  They found occasional drummers when they got gigs.
The line-up of The Quarry Men increased to seven with Paul on guitar and vocals, John Lowe on piano and George Harrison on guitar and vocals. Soon Eric Griffiths and another members left, leaving a five-piece band. The group appeared at several local talent contests but had very few gigs. By January 1959, the group was practically disbanded. Although John and Paul kept in touch, George joined the Les Stewart Quartet.
That might have been the end of The Quarry Men but they had a stroke of luck. The Les Stewart Quartet had been booked as a resident band at a new club called "The Casbah". It was run by Mrs. Mona Best to support her son's Pete and Rory. Les Stewart was upset because his guitarist, Ken Brown, who helped to decorate the club, refused to play there. Ken and George walked out of the group and George contacted John and Paul, and The Quarry Men were reunited as a quartet. After about seven gigs at the club, Ken Brown left over a disagreement about money. From October 1959 to January 1960 John, Paul and George continued as a trio with Paul on drums. They called themselves "Johnny & the Moondogs".
In January 1960, Stuart Sutcliffe joined the band as bass guitarist.  When he was offered the position, he didn't have a guitar and decided to make one by hand.  Because he was a painter, he was able to sell one of his paintings to a John Moores Exhibition and was able to buy a Hofner bass guitar and join the group.  He suggested a name change to The Beatals, which was changed to The Silver Beetles, and in August 1960, was changed to The Beatles.  John Lennon dreamed up the band's final name a mix of beat with beetle.  Around that time, they were the backing group for Johnny Gentle in Scotland.
They also began shifting drummers around, the first was Tommy Moore who toured with them through Scotland and then left. The next was Norman Chapman but he departed after only a few weeks. Finally, George suggested that Pete Best, the son of club owner Mona Best, should become the group's drummer.
Paul contacted Pete and offered him the drummer job.  He took it. The group had finally settled on the name "The Beatles" just before their first trip to Hamburg in August 1960
In 1960 The Beatles (John, Paul, George, Stuart and Pete) toured in Hamburg, Germany, which was organised by their manager, Allan Williams, which included a three and a half month residency with Bruno Koschmider. At that time The Beatles weren't considered to be a leading group in Liverpool and in most cases were looked down upon. In Hamburg they pulled their act together musically. This was caused by the fact that they had to play such long hours and were bullied by the club owner, Bruno, to "make a show".  They used a stimulant drug called Preludin to withstand the long hours.
At the time, Pete Best was regarded as the most convincing person in the band. After Hamburg, Stuart Sutcliffe left and now The Beatles were a four-piece band and Paul took over as bass guitarist. John, Paul and George were the three front-line guitarists and they alternated as lead singers and also performed vocal harmony with either John or Paul or all three. Pete Best played drums and occasionally sang one song but he had developed a distinctive drum sound called "the atom beat" which many other drummers tried to copy.  Their repertoire comprised well-chosen rock and roll, and rhythm & blues covers by such greats as Chuck Berry and Little Richard.
There they were joined by Ringo Starr, who previously played with Rory Storm and the Hurricanes. In Hamburg, The Beatles made their first studio work as a backing band for singer Tony Sheridan's recordings for the German Polydor label, however, in the credits the band's name was changed to The Beat Brothers.
Bruno converted a number of strip clubs in the district into music venues, and he initially put the Beatles at the Indra Club. However, the Indra got noise complaints, so he had to close it. Then he moved them to the Kaiserkeller in October 1960.
During this time, The Beatles, also performed at a rival club called the Top Ten Club. This breached their contract and Bruno gave them one month's termination notice.  He was so annoyed that he reported George Harrison for being underage.  George had obtained permission to work in Hamburg by lying to the German authorities on his age. The authorities deported George in late November.
One week later, Paul and Peter set fire to a tapestry in their room.  Bruno found out about it and had them arrested for arson.  The authorities deported them in December.  John Lennon returned to Liverpool in early December, while Peter remained in Hamburg until late February with his German fiancée Astrid Kirchherr.  Astrid took the first semi-professional photos of the Beatles.
During the next two years, The Beatles, moved between Liverpool and Hamburg because they had picked up a second residency in Hamburg. This was their baptism by fire, so to speak.  They developed a good work ethic.  It was during this time that Astrid cut Peter's hair.  The rest of the group copied him.  And that is how they got their distinctive hairstyle.
Around this time, Peter left the band to resume his art studies in Germany. Paul McCartney took up the bass.
From February 1961 to August 1963, The Beatles played a regular gig at the Cavern. They were paid five pounds for their first show, rising to three hundred pounds per show in 1963. In two and a half years The Beatles gave 262 shows at the Cavern in Liverpool that is two shows per week.
When Brian Epstein first saw The Beatles playing at the Cavern in 1961 he wasn't overly impressed. The four members were dressed in black leather jeans and leather jackets and looked completely out of control. "They were not very tidy and not very clean" he recalled. "They were the sort of lads I had always avoided at school, the trouble makers who didn't give a damn about anyone"
But despite the unsophisticated manners of the group - eating, smoking while playing and pretending to hit each other - Brian knew they had that extra 'something', what we now commonly describe as the X Factor. They only played five songs, but what clinched it for Brian was when John announced a song that both he and Paul had written. The track 'Hello Little Girl' was enough to convince Brian that the boys could write as well as play songs.
Brian's diplomatic way of dealing with the Beatles and with their previous manager resulted in a meeting on 10th December 1961, where it was decided that Brian would manage the band. A five-year management contract was signed by four members at the then-drummer Pete Best's home on 24th January 1962. Brian did not put his signature on it, because he wanted to give them the freedom of choice. At that time Paul and George were under 21, so the paper wasn't technically legal. None of them realised this and it did not matter to them. What mattered was their genuine trust in Brian.
When Brian signed the group, he immediately raised their wages for playing at the Cavern. He was an experienced manager fighting in a competitive industry. Liverpool alone had three hundred rock groups all competing for a record deal. But Brian knew that in order to get record companies to take notice he'd have to get the lads to clean up their act.
He changed their early image for the good. Brian made them wear suits and ties, classic shoes, and newer haircuts. They were told to update their manners on stage and quit eating and drinking in public. John remembers Brian saying to them "Look, if you really want to get in these bigger places, you're going to have to change. Stop eating on stage, stop swearing, stop smoking. We used to dress how we liked, on and off stage. He'd tell us that jeans were not particularly smart and could we possibly manage to wear proper trousers, but he didn't want us suddenly looking square. He'd let us have our own sense of individuality". Brian worked hard on both the Beatles' image and public relations. He improved their image enough to make them accepted by the conservative media. Most if not all of their communication off-stage was managed by Brian.
Brian signed them up for an audition with Decca Records where they recorded 15 songs. The head of Decca Records told The Beatles manager, "Guitar groups are on their way out Mr. Epstein". The Beatles were devastated by their failed audition.
During the year 1962, they made several trips to London and auditioned for various labels. In May of 1962 Brian cancelled the group's contract with Tony Sheridan and the German label. Brian was persistent in trying to sign a record deal for the Beatles, even after being rejected by every major record label in the UK, e.g., Columbia, Philips, Oriole, Decca, and Pye.
Brian transferred a demo tape to disc with HMV technician Jim Foy, who liked their song and referred it to Parlophone's George Martin. On 6th June 1962, at the Abbey Road studios, they passed George's audition with the exception of Pete Best. George Martin liked them, but recommended that they change their drummer. Brian fired Pete Best after being asked by John, Paul and George. After a mutual decision the band hired Ringo Starr, who duly became the fourth Beatle and they signed in what became known as one of the stingiest deals in history.
On 4th September 1962 The Beatles recorded their first hit Love Me Do (written by Paul & John), which charted in the UK, and reached the top of the US singles chart.  This song was recorded twice, once with Ringo Starr on drums and the other with a hired drummer, Andy White.
George Martin initially selected the Ringo version of "Love Me Do" for the band's first single, which was released on 5th October 1962, though subsequent re-pressings featured the Andy White version, with Ringo on tambourine.  Released in early October, "Love Me Do" peaked at number seventeen on the Record Retailer chart.  Not bad for their first single.  Their television début came later that month with a live performance on the regional news programme People and Places.
At this stage, they still had contracts in Germany and their final and fifth residency ended in December 1962.
Early 1963 was the start of Beatlemania.  This was when they entered the big league.  They found themselves invited to play the Palladium, the highest rating TV show "Sunday Night At The London Palladium", The Royal Albert Hall, The Royal Variety Show, appear with Morecombe & Wise and then take the US by storm in 1964 on the Ed Sullivan Show and record the smash hit 'I Want To Hold Your Hand' – all within one rollercoaster year!
On 11th February 1963, they recorded ten songs during a single one day studio session for their first LP, Please Please Me. The album included the four tracks already released on their first two singles.
After the moderate success of "Love Me Do", "Please Please Me" met with a more positive reception. The single was released in January 1963 (recorded in November 1962), two months ahead of the album and it reached number one on every chart in London except Record Retailer, where it only reached number two.
Allmusic's Stephen Thomas Erlewine comments on The Beatles "rushing to deliver a debut album, bashing out Please Please Me in a day".  He said "Decades after its release, the album still sounds fresh, precisely because of its intense origins."  John said little thought went into composition at the time; he and Paul were "just writing songs à la Everly Brothers, à la Buddy Holly, pop songs with no more thought of them than that—to create a sound. And the words were almost irrelevant."
London became their new home in 1963. In May and June, 1963, they made a tour with Roy Orbison. In August of 1963, their single She Loves You became a super hit. Their October 1963 performance at the London Palladium made them famous in Great Britain and initiated Beatlemania in the UK. The show at the London Palladium was broadcast live and seen by twelve million viewers. Then, in November, The Beatles gave a charity concert at the Prince of Wales Theatre in London. There, performing for the rich and famous, John Lennon made his famous announcement: "Would the people in the cheaper seats clap your hands? And the rest of you, if you'll just rattle your jewellery!"
On Thursday 7th November 1963, The Beatles came to Dublin and gave two performances in the Adelphi Cinema on the same day.  Each was seen by a capacity crowd of 2,304 people.  This was the start of their 1963 Autumn Tour.  They flew from London to Dublin Airport, where they were interviewed by Frank Hall for the RTE television show In Town, which was broadcast later that evening. Following the interview they were taken to the Gresham Hotel by Harry Lush, the Adelphi's manager.
At 1pm they arrived at the hotel where a number of reporters were also at the venue, and the Beatles gave a number of interviews. Although they checked out the stage and auditorium prior to showtime, there was no sound check or rehearsal.
The set list was ten songs, I Saw Her Standing There, From Me To You, All My Loving, You Really Got A Hold On Me, Roll Over Beethoven, Boys, Till There Was You, She Loves You, Money (That's What I Want) and Twist And Shout.
However, the ecstatic crowd of 2304 people would not let them leave the stage.  They shouted for encore after encore. Time marched on and the crowd outside gathered for the late show. The crowds met leaving and entering from Abbey Street (not Abbey Road!).  The Beatles used a van from the Independent (a national newspaper who were just next door) to exit the Adelphi and go to the Gresham.
Harry Lush remembers "The Beatles were all so nice, courteous and answered all the questions. They had respect for their seniors and called you sir. I look back on the day The Beatles came to Dublin as one of the shiniest days in my career."
As a point of interest, The Adelphi Cinema, which stood at 98-101 Middle Abbey Street, Dublin, closed in November 1995. It was later demolished, and a car park for Arnotts Department Store was built in its place.
Initially the Beatles were a guitars and drums band. In the course of their career every member became a multi-instrumentalist.
George Harrison played the lead guitar and also introduced such exotic instruments as ukulele, Indian sitars, flutes, tabla, darbouka, and tampur drums.
John Lennon played a variety of guitars, keyboards, harmonicas and horns.
Paul McCartney played bass guitar, acoustic and electric guitars, piano and keyboards, as well as over 40 other musical instruments.
The Beatles were the first popular band that used a classical touch of strings and keyboard instruments.  Their producer George Martin used Baroque orchestrations in several songs, such as Yesterday, Eleanor Rigby, In My Life, and a full orchestra in Sgt. Pepper. John Lennon and Paul McCartney played piano in many of their songs. Their jamming on a piano together led to creation of their best-selling hit I Want to Hold Your Hand in 1963.
Part 2 of this series on the Beatles can be found by clicking here
By Bob Tallent
Follow us on Twitter - @DigiPrintNews
Like us on Facebook www.facebook.com/DPNLive - (click the 'LIKED' button/top of page as well)
Copyright © 2013, DPNLIVE – All Rights Reserved.