Page 1 of 5
They Have Overcome it All –

Rows

,

Death

,

Economy

and

Near Death

.
The members of this group are all brothers.  They were born in the Isle of Man and they moved to England with their parents in the mid 1950's and to Redcliffe, Queensland Australia in the late 1950's.  They sold over 220 million albums with one album alone achieving 40 million.  They are 14th in the world in terms of highest number of album sales after the Beatles, Elvis Presley, Michael Jackson, Madonna, Elton John, Led Zepplin, Queen, ABBA, Mariah Carey, Celine Dion, Pink Floyd, AC/DC and The Rolling Stones.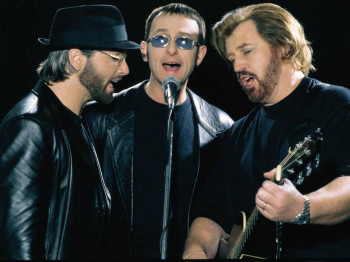 Bee GeesI'm talking about The Bee Gees.
There were three brothers in the group: Barry (b 1946), twins Robin and Maurice (b 1949) and Andy (b 1958).  Their father, Hugh played in a group, and their mother, Barbara, was a singer also.
In 1955 they lived in Manchester and mimed to music in the local cinema between films.  One day on the way to the cinema Maurice let the record fall and it broke so they had to sing instead of lipsync.  In 1958, the family moved to Australia and started to perform in nightclubs in order to get pocket money.  They also took part in many talent competitions.  They were seen by local DJ Bill Gates (not THE Bill Gates) and racetrack promoter Bill Goode. Gates and Goode renamed the brothers the BGs after their initials.  Later, the three brothers renamed themselves the Brothers Gibb, shortened to the Bee Gees.  At that time Barry started writing songs. In 1962 they signed to Festival Records.
They brought out their first LP, 'Barry Gibb and the Bee Gees Sing and Play 14 Barry Gibb Songs'.  In 1965 they began making plans to return to England. It was while relocating that they finally gained success and topped the Australian charts with the title track from 1966's 'Spicks and Specks'.  Before they left Australia, their father, Hugh, sent a demo to Brian Epstein, Beatles manager, in England
In London, bassist Vince Melouney and drummer Colin Peterson joined the Bee Gees. They found a new manager, Robert Stigwood, director of NEMS Enterprises, the company owned by Brian Epstein. The group signed to the Polydorlabel and released the single 'New York Mining Disaster 1941', a Top 20 hit in Britain and the U.S. in 1967.  Robert called them "The Most Significant New Talent Of 1967".  This created a comparison to the Beatles.
In just over a year they had 24 number 1 hits and three albums in 15 difference countries, including 'Words', 'I've Gotta Get a Message to You' and 'I Started a Joke'.
Around 1969, tensions and arguments began to appear.  Colin Peterson was fired and brought a lawsuit preventing them from using the name Bee Gees.  Robin also left the group because he felt that Robert was favouring Maurice.  Robin launched his own solo career with some small successes.  Barry and Maurice continued and they brought in their sister Leslie on stage.
Barry and Maurice brought in a new drummer, Geoff Bridgford, to replace Colin and they started recording a new album Cucumber Castle and a film to go with it, which was aired on BBC in 1971.  Then Barry and Maurice parted.  The Bee Gees were over.  Maybe!
Barry recorded a solo album which was never released, though "I'll Kiss Your Memory" was released as a single, without much interest. Meanwhile, Maurice released the single "Railroad", and starred in the West End musical Sing a Rude Song.
In 1971, the three brothers reunited and brought out a few singles like 'Lonely days' and 'How Can You Mend a Broken Heart'.  They lost listeners in the UK and hit higher charts in the US.  Throughout 1972 to 1975 they were in a rut.
They tried to assemble a live stage band that could copy their studio sound. Lead guitarist Alan Kendall joined in 1971, but did not have much to do until Mr. Natural. For that album, they added drummer Dennis Bryon and later added ex-Strawbs keyboard player Blue Weaver, completing the late 1970's "Bee Gees band". Maurice, who had previously performed on piano, guitar, organ, mellotron, and bass guitar, as well as exotica like mandolin and Moog confined himself to bass onstage.
In our article on U2, we wrote that they had to reinvent themselves.  So did the Bee Gees at this stage.  Eric Clapton suggested to the lads that they should move to Miami in 1975 to record.  They started off with ballads and eventually followed the advice of soul singer Arif Mardin and Robert Stigwood. They produced more rhythmic disco songs, including their second US No. 1, "Jive Talkin", along with US No. 7 "Nights on Broadway." The band liked their new sound on which Barry and Robin started singing in falsetto.. This was their second album to have two US top-10 singles since 1968's Idea. Main Course also became their first charting R&B album.
In 1976, they recorded chart-topping 'Children of the World', which had the singles 'You Should Be Dancing' and 'Love So Right'.  Profits went to charity.
In 1977, the Bee Gees agreed to contribute in the creation of the soundtrack for Saturday Night Fever and wrote the songs in a weekend. The album broke multiple records for soundtrack sales, and four Bee Gees hits ('Stayin' Alive', 'How Deep Is Your Love?', 'More Than a Woman', and 'Night Fever') reached number 1, This was the most popular age of disco. They also wrote the song 'If I Can't Have You' which became a No. 1 hit for Yvonne Elliman. Saturday Night Fever was so popular it stayed in the charts for 24 weeks and two different versions of the song 'More Than A Woman', one by the Bee Gees and another by Tavares, were in the charts at the same time. This album sold over 40 million copies worldwide, making it the best-sellingsoundtrack album of all time.
This was the highpoint of the Bee Gee's Career, outselling even The Beatles., Barry and Robin wrote 'Emotion' for a friend, Samantha Sang, who made it a Top Ten hit with the Bee Gees singing back-up vocals. A year later, Barry wrote the title song to the movie version of the Broadway musical Grease for Frankie Valli to perform.
Like Elvis, who created rockabilly, the Bee Gees forgot they were white Englishmen and jumped into soul music copying the funkier Philadelphia soul sounds that all three brothers knew and loved. In one fell swoop they managed to combine every influence they had ever loved.  Spirits Having Flown was their crowning commercial triumph, topping 30 million in sales and producing three more number one singles.  Andy Gibb became a major star in his own right at the end of the 1970s.
Their follow-up to Saturday Night Fever was the Spirits Having Flown album. It produced three more No 1 hits: "Too Much Heaven", "Tragedy", and "Love You Inside Out." This gave them six consecutive No. 1 singles in America within a year and a half (a record surpassed only by Whitney Houston).
In Jan 1979, the Bee Gees organised a benefit with Robert Stigwood and David Frost for UNICEF that was broadcast worldwide.  "Too Much Heaven" was their musical contribution Concert at the United Nations General Assembly.  They donated the royalties from the song to the charity. Up to 2003, this song earned over $7 million for UNICEF.
During the summer of 1979, The Bee Gees started on their largest concert tour covering the U.S and Canada. The Spirits Having Flown tour capitalised on Bee Gees fever that was sweeping the nation, with sold out concerts in 38 cities. By the end of the decade the Bee Gees had five albums which had all gone platinum.
In the early 1980's disaster struck again.  The disco era was disappearing due to  a combination of a bad economy, political chaos worldwide, and a general burnout from too many drugs and careless sex (which would cause an epidemic of sexually transmitted diseases and start the outbreak of AIDS).
Apart from Saturday Night Fever sequel, Stayin' Alive, the Bee Gees spent much of the 1980's away from the spotlight, writing and producing hits for artists such as Barbara Streisand, Diana Ross, Dionne Warwick and the team of Kenny Rogers and Dolly Parton with Islands in the Stream.  They also recorded some solo albums with minor success.  In 1981, they produced the first ever CD – Living Eyes – that was played on BBCs Tomorrows World.  .
In 1987, they released the album E.S.P. which sold over 3million copies. It was their first album in six years, and their first for Warner Bros. Records. The single "You Win Again" went to No. 1 in numerous countries.  This made the Bee Gees the first group to score a UK No. 1 hit in each of three decades: the 1960s, 1970s, and 1980s.
On 10thMarch 1988, at 30 years of age Andy died as a result of myocarditis, an inflammation of the heart muscle due to a recent viral infection. His brothers accepted that Andy's past drug and alcohol use probably made his heart more susceptible to this illness. Before Andy's death, it had been decided that Andy would join them, which would have made the group a four-piece group.  That never happened.
At this stage Barry had a serious back problems and Maurice had a serious drinking problem, which he overcame with the help of AA.  Their father, Hugh Gibbs, died in 1992.  In 1997, Barry had surgery on his back and had a heart scare, which stopped him touring.
The 1990's: they produced more albums under Polydor.  In 1997 they did a concert in Las Vegas – 'One Night Only' with Celine Dion singing Immortality with them.  That CD sold five million copies and prompted them to bring the tour around the world.
I saw them in Landsdown Road in Dublin.  I think it was 29th August 1998, two days after my birthday.  The concert was scheduled to start at 8pm.  My wife, Loreto, and I arrived around 7.10 to see Brian Kennedy performing solo on stage. He was brilliant and it was my first live show of Brian. He stopped at 7.50 and an army of riggers came on stage to set it up for the Bee Gees. We were all waiting to see who would fall first. Nobody fell.  The Bee Gees appeared at 8.05.  They were absolutely brilliant.  We were so close to the stage that we could hear the interaction between them.  One of the best concerts we have ever attended !
The Bee Gees closed the decade with what turned out to be their last full-sized concert, known as BG2K, on 31 December 1999.
The Bee Gees remained active until the death of Maurice on 12thJanuary 2003, from cardiac arrest during surgery for a strangulated intestine. Following his death, Robin and Barry decided to cease performing as the Bee Gees.
They decided to cease using the name Bee Gees because it represented all three brothers.  Since then Barry and Robin have continued to work independently and have both released recordings with other artists, occasionally coming together to perform at special events.
On 7th September 2009, Robin disclosed to Jonathan Agnew that he had been in touch with Barry and that they had agreed that the Bee Gees would "reform and perform again".
On 20 November 2011 it was announced that Robin, at 61 years old, was diagnosed with liver cancer, a condition he became aware of several months earlier. He had become noticeably thinner in previous months and had to cancel several appearances due to issues with severe abdominal pain.
On 14th April 2012, it was reported that Robin was fighting for his life after contracting pneumonia and went into a coma in a Chelsea hospital. On 20th April 2012 it was reported that Robin came out of his coma as music from his Titanic Requiem was played.   Dr Andrew Thillainayagam, who is treating Robin, said to the UK's Guardian newspaper "Only three days ago, I warned Robin's wife, Dwina, son, Robin John and brother, Barry, that I feared the worst," saying "We felt it was very likely that Robin would succumb to what seemed to be insurmountable obstacles to any form of meaningful recovery. As a team, we were all concerned that we might be approaching the realms of futility."
Robin's mother, Barbara, at 91 years old, flew from Florida to join Dwina, Barry, daughter Melissa, 37, and sons Spencer, 39, and Robin-John, 29, at Robin's bedside.
Dwina said: 'We played music to him for about ten days" She added "He is fantastic at the moment. He is laughing, he is joking, he is really happy. He just wants to get out.''  Robin John said that his father is anxious to get back singing.
Let's hope it happens.  I want to see them in concert again.
UPDATE:
Unfortunately, I'll never see them in concert again because Robin died on 20th May 2012.  You can see the full article here.  "Ar dheis Dé go raibh a anam"
Now hit the 'NEXT' button to see 14 more videos, including full concerts