A woman with many strings to her bow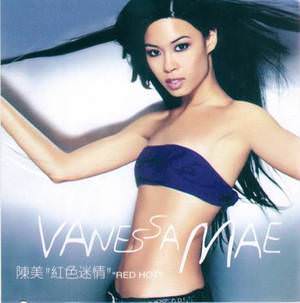 Vanessa-MaeShe uses one of two types of violin: a Guadagnini acoustic or a Zeta Jazz model electric. The Guadagnini was made in 1761 and bought by her parents at an auction for £250,000 when she was 10. It was stolen in January 1995 and recovered by police two months later. She dropped and broke it but it was repaired.  At seven she won the title Young British Pianist of the Year, then gave up the piano and turned to the violin.  At eight, she was invited by Prof Lin-Yao-Ji to Beijing to continue training by him. The course, scheduled for three years, she finished in months.
I'm talking about Vanessa Mae.
She was born Vanessa-Mae Vanakorn Nicholson in Singapore on October 27th, 1978 to a Thai father and a Chinese mother.  When she was four, her family moved to London.  After Prof Lin-Yao-Ji she travelled in 1988 to Schlezwig-Holstein for summer master-courses, where she trained under Prof Felix Andreyevsky.  That year, she started her concert appearances with the Royal Philharmonic Orchestra in London.  She was the youngest soloist in history to play Bach's, Mozart's and Kabalevsky's concertos with the orchestra.  At 11, she passed entrance exams for a one-year course at the Royal College of Music where, a year later, she became the only child in its history to gain the Professional Diploma Course.  They say of her: "What she has, like Mozart and Mendelssohn, is maturity beyond her years, for this – her spirituality – you have to go back to Heifetz, Menuhin and Kreisler. Vanessa-Mae is a violinist to transcend labels."
At 12, she played with the London Mozart Players celebrating the 200th anniversary of Mozart's death.
Fast forward.  At 21 she met Lionel Catalan in Val D'Isere on a skiing break. They fell in love instantly. Interestingly, Lionel, Vanessa-Mae's senior by 10 years, had no idea when they met that she was a world famous musician and celebrity. The relationship developed quickly and when Vanessa-Mae moved out of her family home to her own luxurious apartment in nearby Kensington, Lionel practically moved in with her. Today, they remain a very happy couple. Lionel started his own wine trading company in London.
Throughout her career, Vanessa-Mae has collaborated with various musicians. She played a track on Janet Jackson's album The Velvet Rope in 1997; she worked with George Martin for one song on a CD In My Life with special arrangements of old Beatles songs; she shared the stage with groups like The Scorpions and The Back Street Boys; she participated with many other musicians in experimental jazz session with Prince to produce an album called Xpectations in 2002 – this CD has never been released but was available for a short time as an mp3 file via the NPG Music Club; she produced and played on the album Flow Of Soul together with the Japanese rock musician Takuro. Also, Vanessa-Mae joined and participated in several promotion campaigns for high value commodities like Siemens mobile phones, Mercedes C, Rover cars, The Oriental Mandarin Hotel group and Rado watches, indicating that she is seen as an interesting partner with irreproachable reputation by these organisations.
To date, she has received more than 40 platinum awards.
Her innovative style, which she calls violin techno-acoustic fusion, has made her a multimillion-selling worldwide phenomenon and the breakthrough artist who virtually defined the fusion of classical and pop that became known as crossover.
At 23, she was voted FHM's 100 Sexiest Women in the World list in its 2001 poll. She was born exactly 196 years after Niccolo Paganini.  She classes him as special and draws parallels between herself and him. He was first and foremost a great violin performer, perhaps the greatest ever, and only secondarily a composer. He had a flashy style that caused some to consider he was being possessed by a demon. He was innovative and controversial in his day.
Vanessa-Mae has been performing concerts the world over, but I don't think she ever played in Ireland – yet.
Enjoy the videos below.
Copyright © 2011, DPNLIVE – All Rights Reserved
Look at 2.04. She falls on stage
& doesn't miss a beat

Written by Mason Williams for guitar
and she is brilliant on Violin
Go here 4th video, to hear a completely different version by Tommy Emmanuel

Written by Bach for the organ
Just listen to her violin version. Brilliant

Aram Khachadurians "Sabre Dance"

This is one of the most difficult pieces written for violin. Double-stopped trills
my fingers ache just thinking about it.

This is where she moves the boundaries